PLANO — After needing nearly three quarters to find their footing in its season opener against Trophy Club Byron Nelson, the Plano football team wasted no time hitting their stride in Thursday's non-district matchup against Rowlett.
By the time the Wildcats slowed down, they had amassed their most lopsided victory in a decade.
Plano (1-1) turned in an emphatic 60-7 blowout of visiting Rowlett (0-2) on Thursday at Clark Stadium — the Wildcats' largest margin of victory since Aug. 26, 2011 against Lakeview Centennial (56-0).
"I was really proud of how we finished last week. We never relaxed and continued to push the envelope forward," said Todd Ford, Plano head coach. "We looked back on it and knew we just didn't start fast enough. The challenge for this week was to keep doing what we were doing but just play a little smarter. Obviously, we were very pleased with how it went tonight."
It was a welcome sight for Ford after an uneven showing the week prior against Nelson. The Wildcats got untracked in a big way on Thursday, scoring the first 60 points of the ballgame despite a different face behind center. Senior quarterback Grant Garcia made the first start of his career with junior Austin Gonzalez sidelined with what Ford described as an "upper-body injury," adding that playing on a short week contributed to the decision to hold his starter out.
"If we were playing on Friday, he probably could have gone. But on a short week, you've got to be smart with something like that and let him take care of it," Ford said.
Plano didn't miss a beat in accruing 206 yards of offense in the first half, including a pair of touchdown passes for Garcia — a 38-yard pass to senior Savion Miles in the first quarter and a 29-yard strike to senior Myles Bourne-Nelson with 50 seconds remaining in the second stanza. The latter of the two granted the Wildcats a 33-0 halftime lead.
Plano 12, Rowlett 0 @ 4:26/1QGrant Garcia and the Wildcats find the end zone in just 2 plays. Garcia hits Savion Miles deep for a 38 yard TD. Plano goes for 2 but is stuffed again. pic.twitter.com/clsParVkOb

— Matt Welch (@MWelchSLM) September 3, 2021
In between, senior Ian Minter got the ball rolling with a 27-yard touchdown run for the game's first points, scored with 5:37 left in the first quarter and moments after the Plano defense recovered a Rowlett fumble. Minter found the end zone again with 9:08 left in the third quarter on a 61-yard touchdown run to highlight a three-carry, 92-yard, two-touchdown effort. Junior Kameron Jones logged a trio of rushing touchdowns to go along with 49 yards on the ground.
Garcia, meanwhile, capped his first-ever varsity start with 166 passing yards and two touchdowns on 11-of-19 attempts. Miles led all pass-catchers with 63 receiving yards.
"I'm super proud of [Garcia]," Ford said. "It's what we tell all our players — be ready when it's your turn. I'm really happy for him. He didn't know for sure, but when that light turns green you've got to go."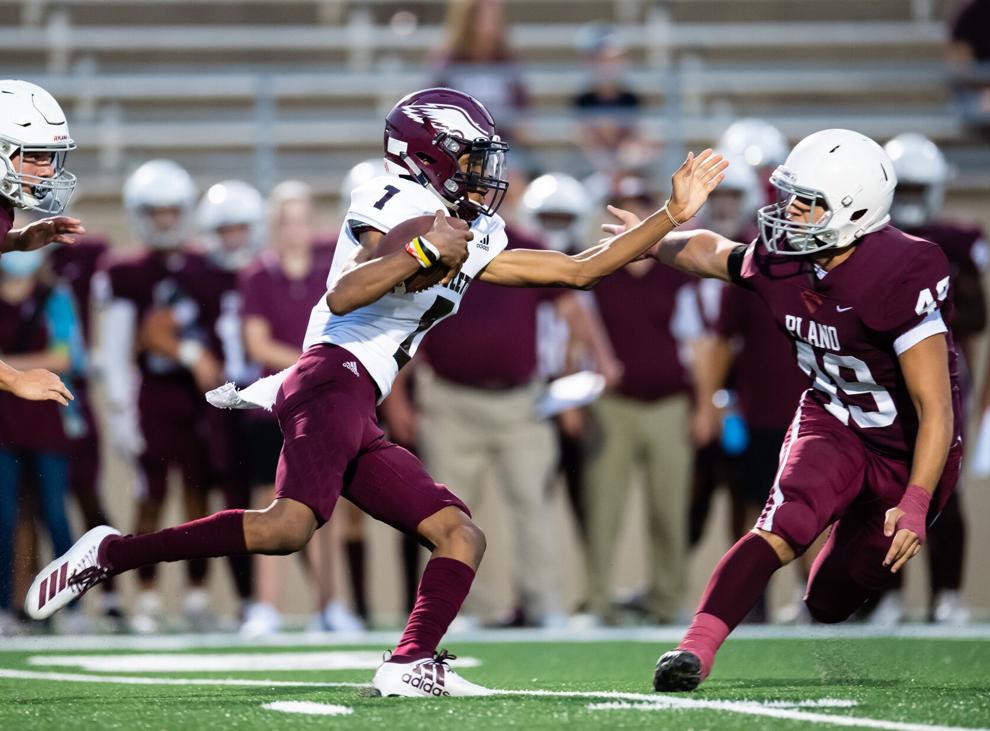 Whereas Plano knew going into Thursday's contest that it would have its backup quarterback taking center stage, Rowlett was abruptly pressed into the same situation after junior Harris Boyd exited the contest following a sack by Plano senior Cameron Robertson on just the third play of the ballgame.
The Eagles never found their footing, limited to just 131 yards in the first half and only advancing into the red zone once across its first 10 drives. And even then, the Plano defense got the last laugh after a third-down toss from junior James Okolo was picked off in the end zone by Wildcat senior Jermaine Jamabo.
That amounted to one of three turnovers by the Eagles in the first half, including a lost fumble on a kickoff return early in the second quarter. Special teams woes haunted Rowlett elsewhere, as Plano blocked two punts in the ballgame — one of which resulted in a touchdown after senior Austin Tuggle recovered the ball in the end zone with 7:05 remaining in the third quarter for a 54-0 lead.
"It's super nice. The coach in me knows we have a lot to work on, but as long as we grow each week, I like our chances," Ford said. "We improved and we grew from last week tonight, and obviously each time you play there are things to work on, but we've got a young football team. Sometimes they'll make mistakes and it's our job to fix them."
Plano 54, Rowlett 0 @ 7:05/3QWildcats get their 2nd blocked punt of the night and this time it's for a TD. Austin Tuggle recovers this one in the end zone. 21 pts over the first 4:55 of the third quarter for Plano. pic.twitter.com/MFoRYlKO5g

— Matt Welch (@MWelchSLM) September 3, 2021
One area that'll have Plano's attention is extra points — the Wildcats didn't successfully convert a PAT until their fourth touchdown, botching a try after their first score and then having a pair of two-point conversions denied by Rowlett. 
"It really has nothing to do with kicking, it has to do with the whole mechanics of the thing," Ford said. "They know I won't play around with them too much, so they've got to put that car in gear or I won't mess around and we'll just go for two.
"We screwed one up with a bad snap, bad hold — it just all looked bad. I figured we'd try for two a bit."
Rowlett, meanwhile, averted the shutout with 6:18 left in the ballgame after junior Devonta Crow scored on a 2-yard run. Crow totaled 41 yards on the ground to pace all Eagle ball-carriers, while Okolo mustered 30 yards on the ground to go along with 148 yards through the air. Junior Corey Kirkling tallied 57 receiving yards on the night, as Rowlett next attempts to right the ship at 7 p.m. Sept. 10 on the road against McKinney.
Plano wraps up its non-district schedule that same date and time on the road against Lake Highlands.
Plano 60, Rowlett 7 @ 6:18/4QRowlett is on the board. Devonta Crow notches the Eagles' first points of the night after a 2 yd TD run. Big play of the drive with a 47 yd completion from James Okolo to Corey Kirkling. pic.twitter.com/eEkeunPgCU

— Matt Welch (@MWelchSLM) September 3, 2021