PLANO — Although Plano West volleyball graduated plenty of firepower from last year's state runner-up team, the Lady Wolves showed Friday that they're still capable of playing at a championship level.
In doing so, West (9-2, 5-1) picked up its biggest win of the season — outlasting Flower Mound, ranked No. 1 in the nation by the American Volleyball Coaches Association and USA Today, after a raucous five sets (25-22, 19-25, 25-18, 18-25, 15-7).
"I think that loss on Friday (to Marcus) kind of woke us up a little bit," said Justin Waters, West head coach. "We watched a lot of film and had a solid game plan coming in. They executed it, and that's what they're capable of."
Friday marked the first five-set match for either side this season. Although both sides of the net sported their share of big-match experience over the years, the Lady Wolves used Friday's fifth set to author one of their most emphatic runs of the season — firing away for six unanswered points, capped by an ace from senior Ashley Le for a 6-1 advantage that had the home gym buzzing. 
The Lady Wolves poured it on from there, leading by as many as nine points in overwhelming the nationally ranked Lady Jaguars (9-1, 5-1). 
"We were running on pure adrenaline and energy, and that's what carried us to the end," Waters said.
West totaled eight kills in the final stanza, including four from sophomore Blaire Bayless, who totaled 12 kills and four blocks.
"[Bayless] just has to play with confidence. She's capable of being one of the best outsides in the state," Waters said. "It's just her against herself and all about her playing with confidence."
Flower Mound mustered only five kills as a team in the fifth set, unable to curtail West's avalanche and dropping its first match of the season. West junior Kaila Garnett put the finishing touches on the win with back-to-back points before being swarmed by her teammates.
"We went back to our comfort zone and not using all of our hitters," said Jamie Siegel, Flower Mound head coach.
FINAL: Plano West defeats Flower Mound, 3-2Lady Wolves take set 5 15-7 and score a shocking upset of the nationally ranked Lady Jaguars! pic.twitter.com/iIjPiteqFo

— Matt Welch (@MWelchSLM) October 17, 2020
It was a rare sight for a Flower Mound team that entered Friday's match having dropped only one set on the season. Sweeping eight straight opponents, the Lady Jaguars were dealt a shot across the bow in the opening set. West's defense stayed connected between the block and a stingy back row to make things tough on Flower Mound's star-studded hitters.
With Flower Mound rallying late to pull within 22-21 of West, the Lady Wolves retaliated with three of the next four points, capped by a kill from senior Hunter Anderson, to become the first team in 6-6A to take a set off the Lady Jaguars.
"As long as our block is in the right spot, going up strong and not floating, then it makes it pretty easy to play defense with who we have back there," Waters said. "They've got great reflexes and great reaction times. They played one hell of a game."
While players like seniors Morgan Carter and Lindsey Zhang spearheaded a strong defensive effort on the West back row, Flower Mound got its licks in as well. Senior Kaylee Cox took over in the second set with 10 kills and two blocks to fuel a bounce-back effort and knot the match at 1-1.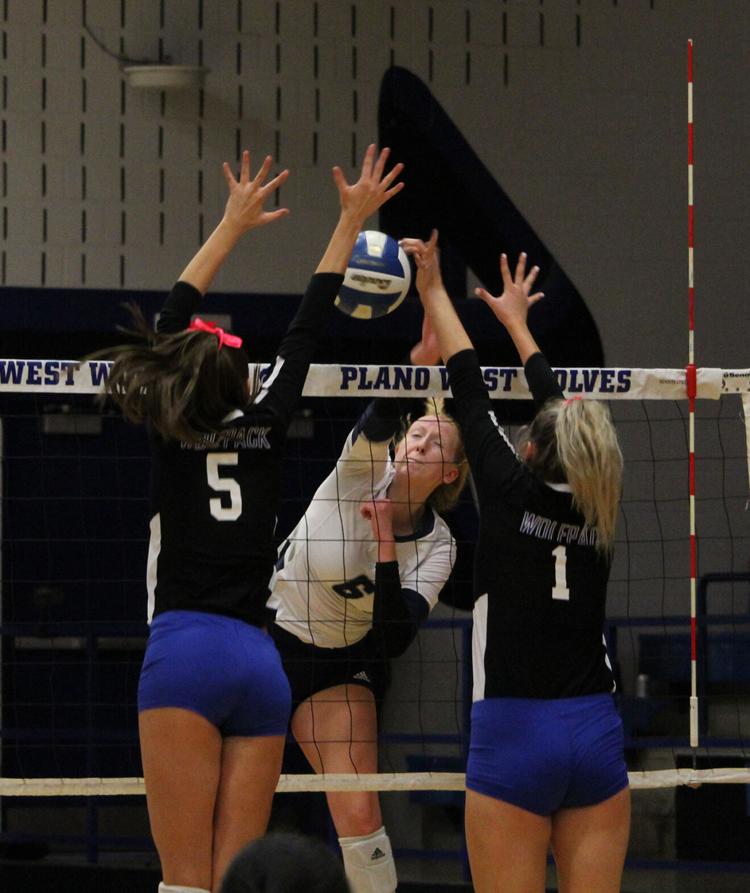 Cox finished with 27 kills and three blocks, aided by 11 kills from senior Angelique Cyr, as the two sides traded set wins up until the finish.
"This is good for them. Our girls know that it's not about how you start but how you finish, and they'll learn from this," Siegel said.
West countered with 16 kills from junior Jean Dixon and nine from senior Avery Lowe — riding the momentum of a frenzied crowd on a night when both schools' football teams were on byes.
"It comes off the bench, off the court and from the crowd. That energy made it a lot of fun to play tonight," Waters said.
The Lady Wolves get another tough test at 6:30 p.m. Tuesday when they visit third-place Coppell, while Flower Mound looks to bounce back that same night on the road against Hebron.
"If they're No. 1 in the state and we just beat them, there's no reason these girls can't get us back to state for a third year in a row," Waters said.