FLOWER MOUND — As Marcus soldiered through 6-6A last season on its way to the district title, the Marauders managed to survive a number of close calls along the way. Despite an unbeaten swing through conference play, four of Marcus' seven district wins came by an average of eight points.
Two games into this year's 6-6A campaign, the Marauders haven't been particularly interested in playing down to the wire.
Fresh off a 41-point victory over Flower Mound — its most lopsided win in the history of the annual Mound Showdown — the reigning 6-6A champs picked up where they off on Friday against Plano.
Marcus (5-0 overall, 2-0 district) found the end zone on four of its first five possessions of the night, mixing in a couple turnovers forced and cruising to a 56-17 homecoming win over the Wildcats (0-4, 0-2) to stay unbeaten on the season.
"We were tough tonight in all three phases," said Kevin Atkinson, Marcus head coach. "... We really love this team. They love each other and they love this coaching staff."
Plano had a penchant for slow starts on offense during its non-district schedule. The Wildcats tried to shed that stigma early on by advancing to the Marauders' 18-yard line on their opening drive. A heavy dose of passes between senior quarterback Oliver Towns and junior receiver Myles Bourne-Nelson fueled a promising series before Marcus drove the Wildcats backwards on three consecutive plays, including a third-down sack for senior Mark Vassar. Suddenly backed into fourth-and-19, Towns was picked off by junior Emmerick Dopona on fourth down.
And off the Marauders went.
"It's kind of a microcosm of where we are right now. We do a lot of things good and then we get in our own way," said Todd Ford, Plano head coach. "It's both sides of the ball. We need to get ourselves healthy and continue to improve and stay out of our own way."
Senior Garrett Nussmeier and Co. promptly marched downfield on the Wildcats, finding the end zone on a 9-yard run by junior Gabe Espinoza for a 7-0 lead with 5:11 left in the opening frame.
That was the first of three quick haymakers landed by the Marauders across just 15 seconds of game time. Recovering an onside kick moments later, Marcus doubled its lead on a vintage heave by its LSU quarterback commit. Flushed out of the pocket with Plano's pass rush bearing down near the sideline, Nussmeier gunned the ball across the field and into the waiting arms of junior Dallas Dudley for a 43-yard touchdown for a 14-0 lead.
Marcus 14, Plano 0 @ 4:56/1QHoly smokes, what a throw by Garrett Nussmeier!! The Marcus QB launches one across the field and right to Dallas Dudley for a 43 yd TD. WOAH!!! pic.twitter.com/G6vQaX3w3y

— Matt Welch (@MWelchSLM) October 31, 2020
"A lot of what they do is off-schedule. [Nussmeier] scrambles, his receivers know it's going to turn into that, and they catch the ball well," Ford said. "It's the extensions of the plays that makes them so dangerous. He's just so good when the play breaks down."
Nussmeier was near-perfect in the first half on Friday, completing all but one of his 12 first-half passes for 204 yards and two touchdowns. He added a 25-yard scramble in the second quarter that set up a 10-yard touchdown run by junior Caden Novarro and later found senior J. Michael Sturdivant on a short pass that the Cal commit housed for a 42-yard score.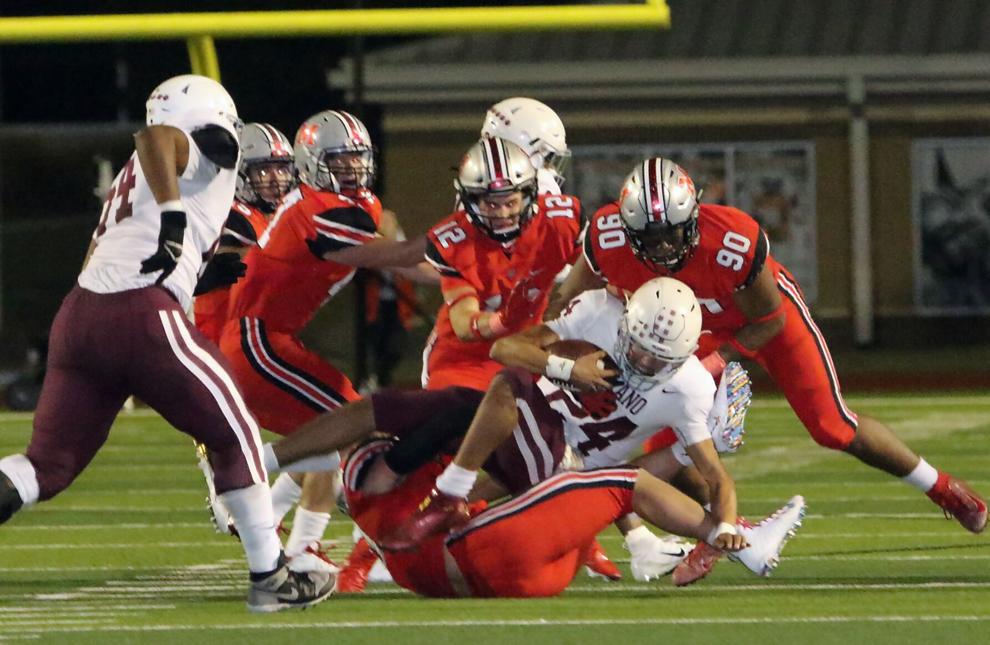 The Wildcats at last slowed the floodgates with 1:39 left in the first half with Towns finding junior Michael Dorsey deep for a 51-yard touchdown. The Towns-Dorsey connection was proficient on Friday, reignited early in the fourth quarter on a fourth-down conversion from 14 yard out for a touchdown.
"We scored, but we had the ball at the 2-yard line. You can't take a 12-yard sack beforehand," Ford said. "We were fortunate to have that pass, but it just comes down to situational football — playing it and being smart."
Even so, that score trimmed the deficit to just 49-17 with 10:04 left in the fourth quarter. The Marauders led at the half, 28-7, and poured on 21 more points in the third stanza, including Nussmeier touchdown passes to junior Connor Vaughn (10 yards) and Espinoza (29). Limited to just three quarters of action, Nussmeier finished the night with 342 passing yards and four touchdowns on 19-of-22 throws. Dudley led a group of four receivers to log at least 50 yards receiving, finishing with 81 on the night, while Novarro tallied 88 rushing yards.
"What stands out the most is that we are a bunch of selfless guys who love each other and don't care who gets the credit," Atkinson said. "We scout for each other in practice and root like crazy for each other in games."
Marcus 21, Plano 0 @ 6:04/2QAfter a 25 yd scramble by Nussmeier, Marcus is in the end zone again after a 10 yd TD run by Caden Novarro. Big drive for Novarro, who had 4 carries for 30 yds. pic.twitter.com/0GYmGEGyQ1

— Matt Welch (@MWelchSLM) October 31, 2020
Plano senior Tylan Hines ran for 94 yards in the loss, while Bourne-Nelson and Dorsey logged 67 and 65 receiving yards, respectively. Towns threw for 185 yards and two touchdowns but a pair of interceptions for the second straight ballgame.
The Wildcats look to right the ship at 7 p.m. Friday at Clark Stadium against Hebron, while Marcus visits fellow district unbeaten Coppell that same time.