As the sun set on the UIL state tennis tournament last Friday, student-athletes from Plano West, Plano and Allen all exited San Antonio with medals draped around their necks.
That included five medals won by the Wolves, who had seven players qualify for state. Class 6A's state runner-up from team tennis season last fall, West was paced by a runner-up finish in boys doubles by the team of Ethan Scribner and Kishan Kersten, while Natasha Opaciuch and the duo of Utham Koduri and Summer Shannon all advanced to the semifinals in girls singles and mixed doubles, respectively.
Across two days of competition at Northside Tennis Center, a spot in the finals didn't come easy for Scribner and Kersten, who were pushed to three sets in their quarterfinal and semifinal matches. The duo persevered on both occasions but was unable to make up for a slow start in Friday's finals against Round Rock Westwood's team of Daniel Antov and Marko Mesarovic (6-2, 6-4).  
"We obviously didn't feel like we played our best tennis in the quarters or semis, but we were able to pull out third-set wins in both of those," said Morgen Walker, West head coach. "I don't think the extra court time on Thursday played any part in how Friday. Those guys we faced are just good. We made too many mistakes and left too many points on the table that we didn't finish with some volleys, missed returns and double faults."
The West doubles team had punched its ticket to the finals behind strong third-set play the two rounds prior. In Thursday's quarterfinal round, Kersten and Scribner split the first two sets against Austin Westlake's James Cockrell and Jake Riezebeek, 7-5 and 6-7 (4), before pulling away in the third frame, 6-3.
They conjured a similar moxie in the semifinals against The Woodlands' Emilio Lopez and Jose Perez. After winning the first set 7-6 (5) and dropping the second stanza 6-7 (4), Scribner and Kersten again put their foot on the gas to win the third set, 6-2.
"We remembered who we were and how we were supposed to play," Walker said. "We remembered to play downhill and not really force the issue but control the issue. We were able to do that in the third set in both of those matches."
A loss to Westwood in the finals was a familiar tone for the Wolves at state — of the team's seven qualifiers, all were eliminated at the hands of the eventual state champion.
That included a semifinal loss for Opaciuch to Austin Bowie's MiaAngelina Ruja (6-3, 6-3) in girls singles. Opaciuch began the tournament with a two-set win over Bridgeland's Lindsey Payne in the quarterfinals (6-3, 6-3). 
"She played a girl who was a really strong player," Walker said. "We didn't know much about her. She just moved to Texas. We had some chances to get some leads there but every time we did something that girl had an answer for it."
In mixed doubles, Westwood was the Wolves' undoing once again. Koduri and Shannon got the better of College Park's Olof Persson and Caitlin Behne in two sets (6-4, 6-3) in the quarterfinals before falling to Westwood's Kinaa Graham and Sachchit Sivaram in the semifinals (6-3, 6-1).
"In mixed, once we knew who Westwood was putting in the mix, all eyes were geared that direction since that was going to be a really good team," Walker said. "We competed well with them in the semis and had chances to get a break in the first set.
"We had a lot of chances to win some games in the second set. Like in boys doubles, against a team that good, if you don't put things away when you have the opportunity it can come back and bite you in the rear."
West's girls doubles team of Janet Pham and Estefania Hernandez, meanwhile, drew the eventual state champion in the quarterfinal round as Houston Memorial's Aleksandra Dimitrijevic and Drew Morris got the better of a 7-5, 6-2 verdict.
"Once we saw the draw, we felt like there was a chance that the two best teams in that bracket would be playing in the first round," Walker said. "We jumped out quick and got up 3-0 in the first set but just couldn't maintain that spread. Those two Memorial girls really woke up and got after it and we missed some opportunities."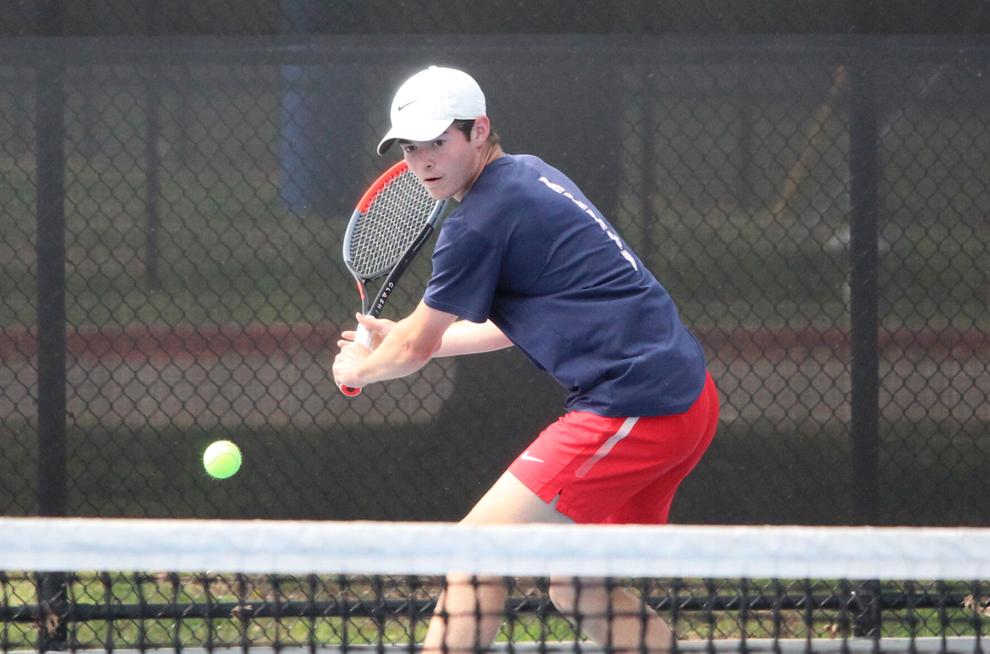 Qualifiers for Allen and Plano didn't leave San Antonio empty handed either. In mixed doubles, the Eagles were represented by the team of Cole Phillips and Jordan Mitchell. Despite placing second at regionals, the duo got the better of Rockwall-Heath's Lucas Henke and Avery Kinsey in the quarterfinals in three sets (6-3, 6-7 (5), 6-3) but had a tough time recovering from a nip-and-tuck loss in the first set in the semifinals against Austin Lake Travis' William Wang and Valerie Alexeykina (7-6 (3), 6-1).
In boys singles, Plano's Ben McDonald recovered from an opening-set loss to to Memorial's Eric Kuo before rallying to win the final two frames (2-6, 6-1, 7-6 (4)) and punch his ticket to the semifinals. Waco Midway's Brendan Boland turned away McDonald in that round in straight sets (6-3, 6-2).
McDonald, as well as Phillips and Mitchell, all played the final matches of their high school careers. Ditto for Hernandez and Pham, although West is projected to return all five medalists from its spring state run when team tennis season ramps up in August.
"No disappointments here. It was a great spring," Walker said. "We took seven kids to state and five of them came back with medals, and all five of those kids are back next year. We're definitely looking forward to team tennis in the fall."