From athletes to coaches, administrators and parents, there were plenty across the Plano ISD athletics community impacted by the news Friday on the passing of longtime Plano Senior assistant football coach Steve Thomas.
Known as "Coach T" throughout the hallways of Plano's eldest high school, Thomas coached for more than 50 years, including nearly 40 in PISD. At age 77, Thomas died Friday after experiencing trouble breathing that morning.
"I was emotional having just talked to him the week before. I still had a voicemail from him earlier in the week," said Jaydon McCullough, former Plano head football coach. "I just couldn't believe it. I kept saying, 'He has got to be alive.'"
Thomas coached in Missouri before authoring a lengthy career in Plano, hired as part of Tom Kimbrough's staff in the early 1980s. As an assistant, Thomas contributed to the Wildcats' last three state championship runs (1986, 1987, 1994), mixing in a head coaching stint at Bryan Adams in between before rejoining Plano under Gerald Brence in the 90s.
"When I was named head coach, he had just come back to PISD," Brence said. "It was an easy decision for me. We had a spot on our staff and he was the first name I called. He's such a strong influence on everyone, from the coaches to the players."
An assistant under Kimbrough, Brence and McCullough, Thomas coached offensive and defensive linemen, as well as special teams — a cog in the wheel for some of the best seasons in Plano's history. But for all the success Thomas enjoyed on staff, his influence spanned well beyond the gridiron.
"The impact on the field as a coach is unmatched by anyone I've been around, but the man off the field was just tremendous," said Scott Smith, former Plano defensive coordinator and Plano West head coach. "Just a God-fearing man who did everything the right way. He treated people right, was kind and generous and had an unmatched work ethic. Overall, the impact, we could talk hours on hours about what he was able to do for coaches and athletes."
At the high school level, football coaches are builders of men — molding teenagers for their adulthood, and through behavior that they themselves model. For all the standout players that Thomas helped develop over three-plus decades at Plano — several of whom went on to ply their crafts at the college and professional levels — it's a legacy of faith, leadership and selflessness where Thomas left an indelible mark on PISD athletics. 
"He cared about everybody, every last one of the kids — no matter how good they were or if any of them got in trouble," Brence said. "He knew everybody and cared about all of them. Everybody viewed him as a friend and someone they could count on, including all the coaches."
Thomas totaled 51 years in public education before retiring in 2018, also teaching physical education at Beverly Elementary School. Earlier in his career, Thomas was the athletic director at Carpenter Middle School.
"When he was at Carpenter, he was the AD and coached my brother (Plano East head football coach Joey McCullough)," Jaydon McCullough said. "He'd always come home bragging about him and what a great coach and person he was."
Just as Thomas helped grow student-athletes, he was a prominent voice for plenty of young coaches that passed through Plano — several of whom looked to his experience as influential in developing their own careers.
"When I was able to finally coach for the Wildcats in 1999, coach Thomas was on the staff and he made a tremendous impact on me — learning about the profession, learning about doing things the right way and with integrity, building relationships with kids," said Jeff Smith, former Plano assistant coach and current PISD athletic director. "That's what coach Thomas was all about, building great relationships and treating everybody with great respect and kindness."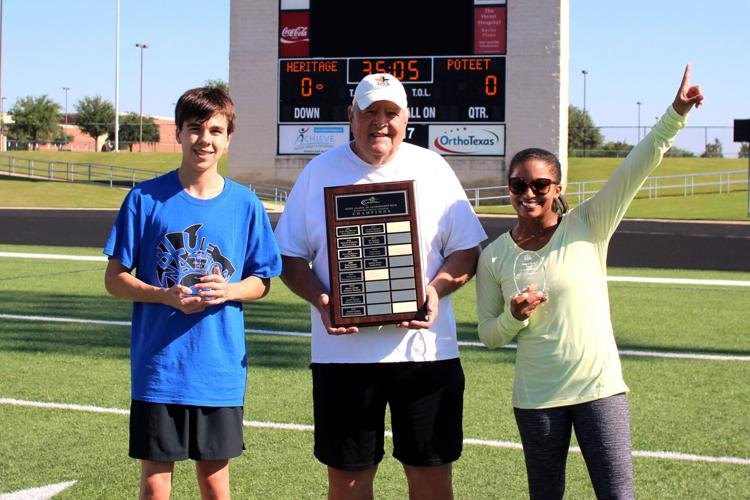 Thomas modeled that behavior off the field plenty. He was instrumental in growing the school's Fellowship of Christian Athletes program and routinely led charitable initiatives during the holidays. For decades, Thomas and other members of the football program served food and gave gifts to kids at the Douglass Community Center just before Christmas.
"When I first came to Plano about 35 years ago, I was looking for something for the football players to do to give back to the community," Thomas told The Plano Star Courier in 2016. "We started doing this at Parkland Hospital, getting gifts and then going down there as a football team.
"… It's to provide something for the kids, but my football players learn that it's not about them. That's the best lesson you can teach — that we're all here to help each other out."
On May 5, 2017, Plano devoted part of its offseason to raising awareness about sexual assault and domestic violence. The football program wore purple T-shirts, with the front reading "Plano football says #NoMore" and the back reading "Together we can end domestic violence and sexual assault." Thomas was instrumental in spearheading the effort.
"For young coaches, to have his voice and listen and see what he does, as well as coaches with some tenure to see the work ethic that goes into being the best you can be every day," Smith said. "He was in the profession for over 50 years and did the same thing every day and worked his tail off every day to be the best that he could be, even up to our last practice last year."
Smith has the unique perspective of having played for and coached with Thomas, as does fellow Plano alum Carson Meger, who's the Wildcats' current wide receivers coach. Although Meger credits Thomas as an influence on his career, those lessons were instilled well beforehand.
"Myself and a couple other seniors were lucky enough to get invited to the old Cowboys stadium for their last game against the Baltimore Ravens," Meger said. "We were the strong-willed seniors who didn't need a coat or jacket, and Coach T reminded us beforehand that we'd probably need one because of how cold it would be. Multiple times, we refused and said we'd be fine. 
"We ended up going to the game and were sitting our seats, and about 30 minutes in, Coach T sees us trying to hide our shivers. All he does is simply reach behind his seat and you see that he had brought three extra coats for each of us. That just exemplifies Coach T, though. He was there to mentor and guide kids, athletes, teachers, coaches, whoever it may be."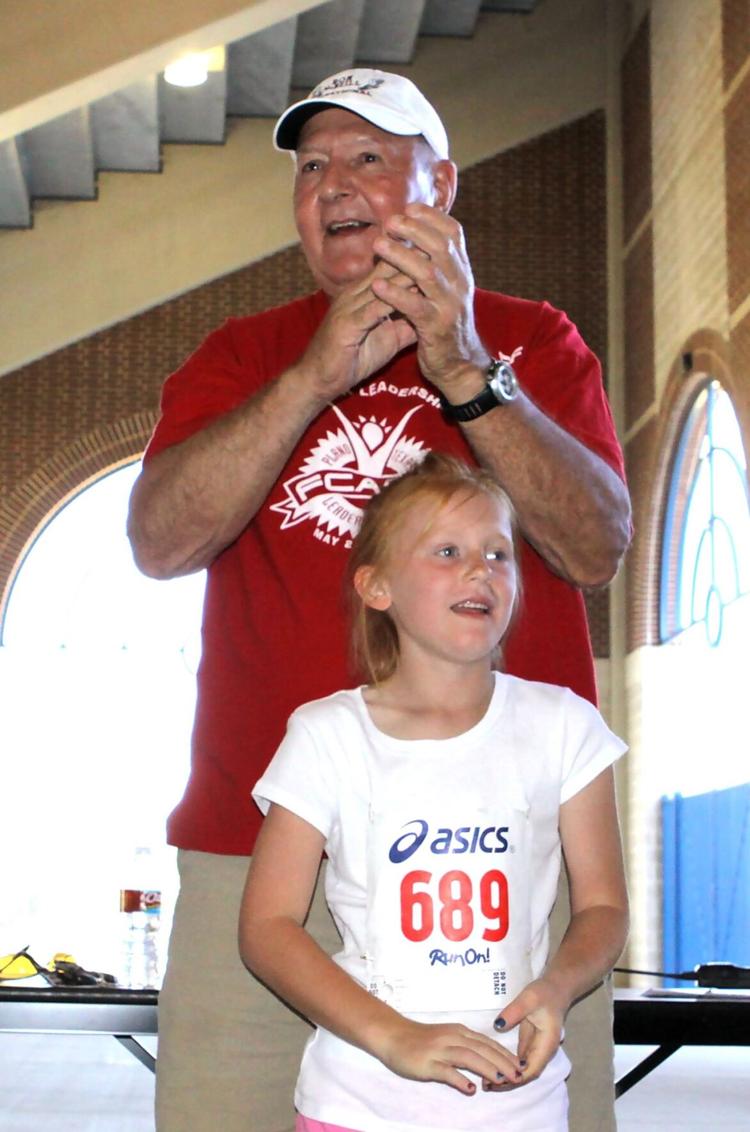 Meger recalls days when Thomas would come to school with two jugs of peanut butter and several loafs of bread — just to make sandwiches for the student-athletes. Or the times when the assistant coach dug into his own pocket to help someone in need.
Plenty of those memories resurfaced on Friday as word of Thomas' death spread. Scores of coaches and Plano alumni took to social media to offer their condolences and reflections on the coach's career.
"He took me as a 14-year-old kid and pushed me every day until I was off to college," tweeted Sam Tecklenburg, Plano alum and Carolina Panthers offensive lineman. "He was one of the most caring people ever, it was more than just football. It was one of the highlights of my life getting to play for him."
"You can't tell the story of TXHSFB without the Plano Wildcats. You can't tell the story of the Wildcats without Steve Thomas," tweeted Chris Fisher, former Plano defensive coordinator.
Thomas accomplished plenty during his extensive career. In 2009, he was recognized by the National Football Foundation & College Hall of Fame Gridiron Club of Dallas as the large school assistant coach of the year. Even following his retirement in 2018, Thomas was back on the sidelines later on coaching offensive linemen at Frisco Legacy Christian.
Smith, also on staff at Legacy, said Thomas "didn't miss a beat" even as he approached his late 70s — still on his mission and still spreading influence.
"When we coached, we went through great times together and hard times together, but he was a steady influence the whole time," Brence said. "He was a funny guy, a great storyteller, had a great sense of humor and was so much fun to be around. When it comes to coaching, guys like him are what it's all about."
"He's a great example and he'll be missed. I know that hopefully he touched a lot of coaches like me that will carry on his message and live their lives the way he lived his," McCullough added.