Just one year and 35 days removed from snapping a 34-game losing streak, the longest drought in program history, the Plano West football team is back in the playoffs.
It didn't come easy — West head coach Tyler Soukup wouldn't expect it any other way given the Wolves' 2020 season — but as Plano's last-second Hail Mary sailed incomplete, West could celebrate at last.
Behind 21 fourth-quarter points, the Wolves (6-4, 4-3 in district) clinched their first playoff berth since 2014 after overtaking the rival Wildcats (1-6, 1-4) for a 31-24 victory Friday at Clark Stadium.
"We've been in this moment for a while. We were in it all last week against Hebron, a game we didn't win," Soukup said. "It's been right there for several weeks and it's a tremendous feeling. It's a weight off your shoulders to make it happen."
FINAL: Plano West 31, Plano 24Plano's Hail Mary sails wide and that'll do it. Just over one year removed from snapping a 34-game losing streak, Plano West is headed to the playoffs!! pic.twitter.com/5MR7ZhYhM1

— Matt Welch (@MWelchSLM) December 5, 2020
Facing a win-and-in scenario for the second straight week, the Wolves stared at a deficit for most of the night, trailing by as many as 11 points and eventually closing to within 17-10 heading into the fourth quarter.
In the midst of a drive that would span 13 plays, including 12 runs, West drew even with 9:15 left in the ballgame on a 2-yard sweep by senior Tyler Harrell. Less than two minutes later, the Wolves had their first lead since the game's opening moments after an interception by senior Trevor Sessions prefaced a 36-yard touchdown run by senior Tabren Yates for a 24-17 advantage with 7:29 remaining.
The Wildcats, playing merely for pride after having their playoff hopes dashed the week prior, responded with a grinding 12-play series that saw them bleed nearly five minutes of game clock to amass just 31 yards of offense. That included nine plays run inside the 15-yard line — the last being a 1-yard plunge by sophomore Kameron Jones for a 24-24 tie with 2:36 remaining.
The Wolves chipped away with three more runs, inching near midfield before dialing up a reverse to Harrell that resulted in a 57-yard touchdown run with 1:41 remaining for what would be the game's final points at 31-24.
"We've executed those same scenarios only at the end of the first half and by kicking field goals, not scoring touchdowns," Soukup said. "We work on that stuff every Thursday and our guys don't panic. You have to resist the urge to feel like you have to score in one play. You have to let it all happen and that's all we were trying to do there."
Plano West 31, Plano 24 @ 1:41/4QTYLER HARRELL!!! Harrell takes the reverse and scores on a 57 yd run to put the Wolves back in front. 2 clutch TDs by Harrell in the 2nd half of this one. pic.twitter.com/kTGBEijrwE

— Matt Welch (@MWelchSLM) December 5, 2020
Harrell found the end zone twice on a night where the all-purpose senior racked up 75 yards on just four carries. Yates added 98 rushing yards and a score, while sophomore Vance Feuerbacher, who alternated series with senior Greg Draughn at quarterback, added 74 rushing yards and a touchdown.
What was a hallmark victory began on a somber tone, however, as West senior Carter Young was stretchered off the field midway through the first quarter with what Soukup said was a broken leg — the second time this season that the Wolves' star offensive lineman had suffered that type of injury.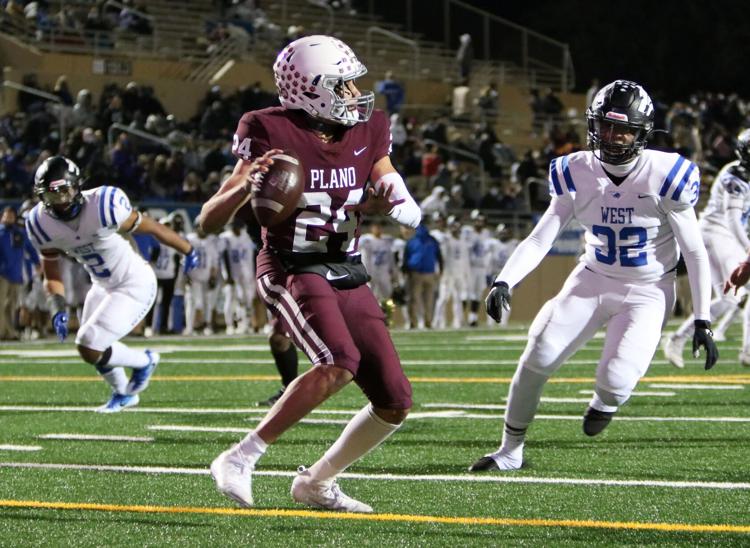 With West depleted up front, it took the offense time to find a rhythm. Plano, meanwhile, hummed early despite the absence of senior running back Tylan Hines. Jones took the reins with 42 yards and a touchdown in the loss, while senior Oliver Towns completed 26-of-38 passes for 271 yards. He added a pair of rushing touchdowns in the first half to stake the Wildcats to a 17-10 halftime lead.
"I'm super pleased with the effort that we played with. It's so fun to play with these crosstown games and Plano West is such a good football team," said Todd Ford, Plano head coach. "We went toe-to-toe with them tonight, and I feel like we've grown tremendously over these past few months. I'm really excited about our future and I think we're just scratching the surface."
Soukup could see signs of promise near the tail end of his first campaign with West as well. The Wolves snapped their multi-year losing streak last season with a dramatic fourth-quarter comeback to defeat Plano East, 36-35, on the penultimate week of the regular season in what amounted to a 1-9 campaign.
One season later, the Wolves are above .500 and headed to the playoffs in just Soukup's second year at the helm. They'll do so as District 6-6A's bottom seed in the Class 6A Division I bracket, set to square off with former district foe Allen at a time and place to be determined.
"It's incredibly rewarding for these kids who haven't experienced much recent success to be able to do this. I'm so happy for them," Soukup said.