The Plano and Plano West volleyball teams just seem to bring out the best in each other.
For the second time this season, the two Plano ISD rivals waged five frenetic sets on the hardwood, and Tuesday's rematch offered a gamut of emotions on both sides of the net. What began as a potential signature performance for the Lady Wildcats slowly gave way to the resilience of the visiting Lady Wolves, who clawed back from an 0-2 deficit to take the final three sets and survive another 3-2 victory over Plano (28-30, 18-25, 25-23, 26-24, 15-11).
The win kept West on pace for a top three seed in District 6-6A – the Lady Wolves are currently in third place at 6-2 and trail the state-ranked duo of Flower Mound (8-0) and Marcus (7-1). That pursuit nearly took a hit at the hands of an energetic Plano bunch, with the sixth-place Lady Wildcats dipping to 2-6 in district play.
"This is the first time we've really bounced back," said Justin Waters, West head coach. "I was telling them that this morning that the story of the season has been if we struggle, we tend to struggle more. It was nice to see us reverse the trend there. It's never great to get down 0-2 but we kept our composure and battled back, especially with what we were faced against."
FINAL: @planowestvb def. @planovball 3-2 (28-30, 18-25, 25-23, 26-24, 15-11)As you can tell by the scores, this was a slobberknocker. West digs out of an 0-2 set deficit for its 2nd 5-set win vs Plano. Blaire Bayless caught fire w/ 3 straight kills to close it out for West. pic.twitter.com/HOJlHGvxL5

— Matt Welch (@MWelchSLM) October 6, 2021
Nothing came easy for the Lady Wolves, who dropped an emotional first set on Tuesday and carried that malaise into the second frame. The 18 points scored by West in the second stanza tied the team's fewest in district play so far.
West turned things around in the third and ramped up its pressure midway through the fourth set behind three consecutive kills by junior Blaire Bayless to snap a 12-12 tie for a lead the Lady Wolves wouldn't relinquish.
"I think it came down a small lineup change and definitely a blocking scheme and defensive change," Waters said. "The setters were struggling to play defense so we went to block on the line and kind of rotated around — not a true rotation but rotating our defenders around. Once we put a little more pressure on the net, I think that led to a few more tips so we could be in system and run our offense out of that."
When operating in system, particularly over the final two sets, West managed to get its top two hitters — Bayless and senior Jean Dixon — on a roll. The two combined for 12 kills in the fourth set and six in the fifth. The attention to detail at the net paid off behind a pair of fourth-set blocks by senior Kaila Garnett.
"We just needed a little momentum. We're definitely a momentum team and once it starts falling in our direction, it stays that way," Waters said. "It was a matter of getting touches on defense, getting the ball up and staying in system so we could run more of a tempo offense."
Outlasting razor-thin sets of 25-23 and 26-24 to force a fifth set, the Lady Wolves got an immediate boost with back-to-back aces by senior Camille Heidemann to begin the fifth set and later distanced from Plano by scoring seven of the match's final 10 points. Bayless caught fire down the stretch with three consecutive kills to close out the contest and keep West in the 6-6A title chase.
"We haven't seen that spark since we played West the last time," said Lindsey Petzold, Plano head coach. "It's heartbreaking to lose but I think we played really solid volleyball. I'm proud of them for fighting and not giving up."
Phew, an absolute marathon first set to begin this match. Plano's Katie Kemp comes through with back to back points to at last help the Lady Wildcats take a 30-28 set win over Plano West. pic.twitter.com/mZmLP4QE3x

— Matt Welch (@MWelchSLM) October 6, 2021
The Lady Wildcats were on their game early on, piling up the more efficient output at the net behind a balanced attack that contributed to four players with at least three kills in the first set. Seniors Katie Kemp, Brooke McHale, Emmy Summers and sophomore Molly Bush all had success early on against the West defense, but the Lady Wolves managed to fight off four attempts at set point by the Lady Wildcats as part of a 58-point opening frame.
At last, Kemp rose to the occasion with consecutive points to close out a 30-28 victory. She totaled 13 kills on the night, while McHale led the way with 21 — she was particularly locked in during an eight-kill second set.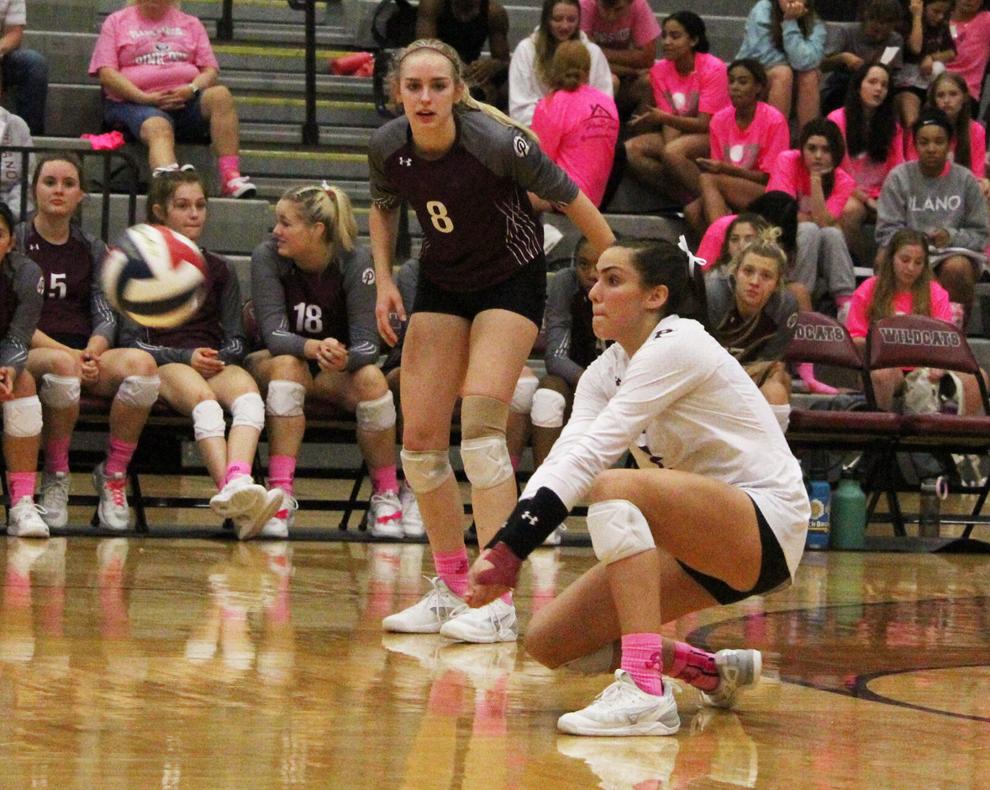 Perhaps the catalyst to Plano's hot start resided on the back row where senior libero Naylani Feliciano logged 37 digs as part of a milestone evening for the Miami commit. Plano's four-year starting libero, Feliciano eclipsed 2,000 digs for her high school career.
"She's amazing. This has been her big goal this year," Petzold said. "She's put in four years at Plano and has the ability to read the ball like no other libero that I've ever coached. I've never coached a kid like this. I'm so proud of her and there's no doubt she'll plenty many more digs before she's done here."
Tuesday's five-set bout was no aberration — Plano and West went the distance during their first meeting on Sept. 10 in an outing that saw the two sides trade set wins until the Lady Wolves toughed out a 16-14 win in the fifth frame.
"They run a really fast offense that's tough to keep up with," Waters said. "It's a lot of floating blocks, a lot of getting tooled at the net and they have a libero that can cover the entire back row. [Feliciano is] the best in the state, hands down. It's really frustrating taking big swings and she gets these great touches."
The Lady Wolves look to build off their comeback win at 6:30 p.m. Friday when they host Plano East. The Lady Wildcats, meanwhile, visit Hebron that same time.