LITTLE ELM — Plano West wasn't the only football team inside Little Elm Athletic Complex that had pitched an early-season shutout this year.
Just as the Wolves began their 2020 campaign with a 28-0 victory over Wylie, host Little Elm broke in the season by blanking L.D. Bell, 37-0, in its opener. 
Fittingly enough, it was the Lobos' defense — with some help on special teams — that sparked a commanding second half for Little Elm, which weathered a halftime deficit and claimed a 23-9 victory on Friday to hand West its first loss of the season.
Little Elm did so behind 16 unanswered points after trailing at the half, 9-7. Despite surrendering a lead late in the second quarter, it took the Lobos just 20 seconds to regain momentum during the third quarter.
Despite going three-and-out on its first possession of the second half, Little Elm (2-1) managed to pin West (2-1) back at its own 5-yard line on a punt. The following play, a miscue by the Wolves resulted in the ball winding up on the ground in the end zone and an eventual safety recorded by the Lobos to tie the game at 9-9 with 6:15 to go in the third.
"I was really debating whether to go for it there and we punted," said Kendrick Brown, Little Elm head coach. "The punt team did a great job pinning them so deep and we got a safety on the very next play. We got that safety and then we started to hit our stride."
That proved to be the case one play later as junior John Mateer went deep and connected with junior Dylan Evans for a 64-yard touchdown that put the Lobos ahead, 16-9, with 5:55 remaining in the third quarter.
"We bobbled the snap and we had a lot going on before the play … and ultimately, the ball winds up on the ground in the end zone, which is the last thing you want. That was a momentum changer for sure," said Tyler Soukup, West head coach.
The Wolves never got that momentum back, punting the ball one last time before succumbing to two consecutive turnovers on downs and a late interception by Little Elm junior Jalen Sessions. In between, the Lobos swelled their advantage to 23-9 thanks to some timely scrambles by Mateer. The third-year quarterback converted a third-and-11 with his legs to bring Little Elm inside the red zone and later added a 14-yard touchdown run on a scramble for the two-score margin with 11:48 to play in the game.
Little Elm 23, Plano West 9 @ 11:48/4QJohn Mateer shows off the wheels once again. Toughs out a 14 yard TD run on a scramble to give the Lobos their largest lead of the night. #SLMGridiron pic.twitter.com/cnzdYdVVMT

— Matt Welch (@MWelchSLM) October 10, 2020
Mateer had a hand in all three touchdowns scored by Little Elm on Friday, juggling his two second-half scores with a 33-yard touchdown pass to junior Vashawn Thomas II in the first quarter for the game's first points. Overall, Mateer passed for 266 yards and rushed for 54 more, and Thomas led all pass-catchers with six catches for 77 yards.
"John Mateer will take us to where we need to," Brown said. "He's a junior who started as a freshman and we're seeing the fruits of him playing so early. He has a bright future and I'm really pleased with the poise he played with in the second half."
Little Elm 7, Plano West 0 @ 4:15/1QLobos strike 1st! John Mateer really found a groove that series and polishes off a 96-yard drive with a 33yd TD pass to Vashawn Thomas II. #SLMGridiron pic.twitter.com/pnpwG7fEOZ

— Matt Welch (@MWelchSLM) October 10, 2020
While the Lobos played at their pace for most the night, Little Elm's defense forced West out of its comfort zone. The Lobos limited the Wolves to just 123 yards on the ground on only 3.7 yards per carry, including just 70 yards for senior Tabren Yates, who went over 100 in each of his first two ballgames.
Yates accounted for West's lone touchdown on a 1-yard score on fourth-and-goal in the second quarter for a 7-6 deficit. Senior kicker Jesse Velez later converted a 28-yard field goal with one second remaining in the second quarter to put West in front for the first time all game, 9-7, heading into halftime.
"They switched up their personnel a bit and showed us some stuff we hadn't seen on tape," Soukup said. "They made us do some things we didn't want to do and made it hard to do what we wanted to do."
"We wanted to lock in defensively. We felt like in a 9-7 game at the half that we were right there defensively," Brown added. "We had to make some adjustments but we didn't get away from what we were doing defensively. We had to tighten some things up and play with some discipline, and then eventually the offense got hot."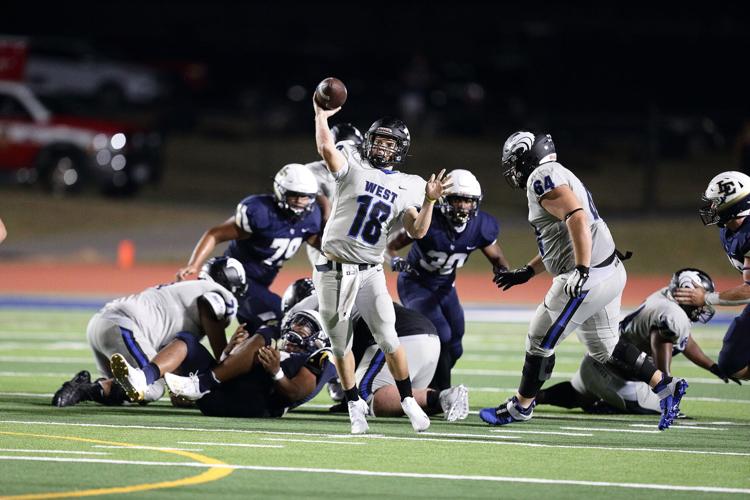 With the run game largely muzzled, that put the onus on West's passing game. After attempting just 17 passes in their wins over Wylie and North Mesquite, the Wolves went to the air 34 times against the Lobos. Senior Greg Draughn completed 17 of those balls for 208 yards, while senior Jabrayden King-Woods led the Wolves with four catches for 57 yards.
"I was really proud of the way our skill kids grew up tonight. We made plays with our skill kids in the passing game that we weren't making in the first two games," Soukup said. "We're all disappointed, but you have to look for the good and I really liked how our guys got to throw and catch a bit more tonight against tight man coverage."
West hopes that carries over into the start of district play, with the team set for its bye week. The Wolves open 6-6A action at 7 p.m. Oct. 22 against Lewisville, while Little Elm hits the road for its final non-district contest in a 7 p.m. Friday kickoff against Keller Fossil Ridge.
Panthers' comeback bid denied
There aren't many secrets between rivals Plano East and Jesuit these days, and that familiarity resulted in a razor-thin non-district meeting between the two on Friday. Ultimately, it was the Rangers' defense who turned away a potential game-winning drive by the Panthers for a 23-17 victory.
East trailed Jesuit at the half, 23-14, before holding the high-powered Rangers off the scoreboard over the final two quarters.
A 41-yard field goal by senior Ben Woodard closed the gap to 23-17 with 6:10 left in the game, and after forcing a Jesuit punt, East had a chance at the win. A roughing the passer penalty moved the Panthers just outside the red zone, with senior Dylan Hayden then rushing for 18 yards to stake East at the Jesuit 6-yard line. 
That would be as close as the Panthers got, however. A penalty backed East up 5 yards and three incomplete passes followed to secure the win for Jesuit.
In defeat, East got a big night from junior Ismail Mahdi, who logged 195 rushing yards, 67 receiving yards and a pair of touchdowns in the loss. Hayden added 90 yards on the ground, as East dipped to 0-3 heading into its bye.