Only one of the two soccer teams who took the pitch Tuesday night at Clark Stadium is headed to the playoffs, but it wasn't the one who was celebrating when the final horn sounded.
Although Plano West's postseason hopes had fallen by the wayside last week, the Wolves still managed to close their 2021 campaign on a high note — getting a late goal from junior Santiago Sanchez to eke past rival Plano, 1-0. 
The Wildcats, already assured a playoff berth, entered the match with a chance at improving their standing in District 6-6A in advance of the postseason. Tuesday's loss did Plano (8-6-0, 24 points) no favors in that respect as it finishes tied for third place with Flower Mound (7-4-3, 24). The Jaguars win the tiebreaker on goal differential from their head-to-head split with Plano, meaning the Wildcats will be the No. 4 seed for the postseason.
West concludes its district campaign in fifth place at 6-6-2 and 20 points.
"Every time you play Plano Senior, it's the kind of game these boys live for," said Brennon Satre, West head coach. "Coming into tonight, we wish we were in position to go to the postseason … but it was a good year for the boys. They performed at a high level. The rivalry against Senior is awesome. We hadn't beaten them in my first two years here and this season we swept them. It's a good feeling and good energy to go into the offseason."
The Wolves got a lift in the 69th minute on a set piece. Junior Iago Gerber sent the ball into the box and right into the crosshairs of Sanchez, who headed the cross into the bottom right corner of the net to put West in front, 1-0.
"It's fun to watch that kid. [Sanchez] doesn't seem like someone who could be dominant in the air, but he's so physical and his positioning is so good that he just finds ways to get into those positions to score," Satre said. "That's his third or fourth header on corner kicks this year."
Opportunities like that were sporadic for the Wolves on Tuesday. Plano's ball control forced West into more of a defensive contest with opportunities on goal seldom available. The Wolves' back line was up to the challenge, especially early on against an aggressive Wildcat attack, with players like Sanchez, senior Nicholas Lee and juniors Mathias Pretet and Jaime Hazan-Cohen disrupting any activity in the box by Plano on top of some stout work in net by senior Blake Rossley.
"They came after us those first 15 minutes and had us on our heels," Satre said. "We had to bend but not break. Against a team like Plano that breaks so fast and throws so many numbers forward, you've got to take advantage of everything and, fortunately, we did on a set piece."
That defense has been a calling card for West and helped keep the team in the postseason mix until the penultimate week of the regular season. Prior to besting Plano, the Wolves managed a scoreless draw against district champion Marcus on March 2.
"This team bought in on defense this year. Going into next year, it's about how can we build from that defense to transition to better offense," Satre said.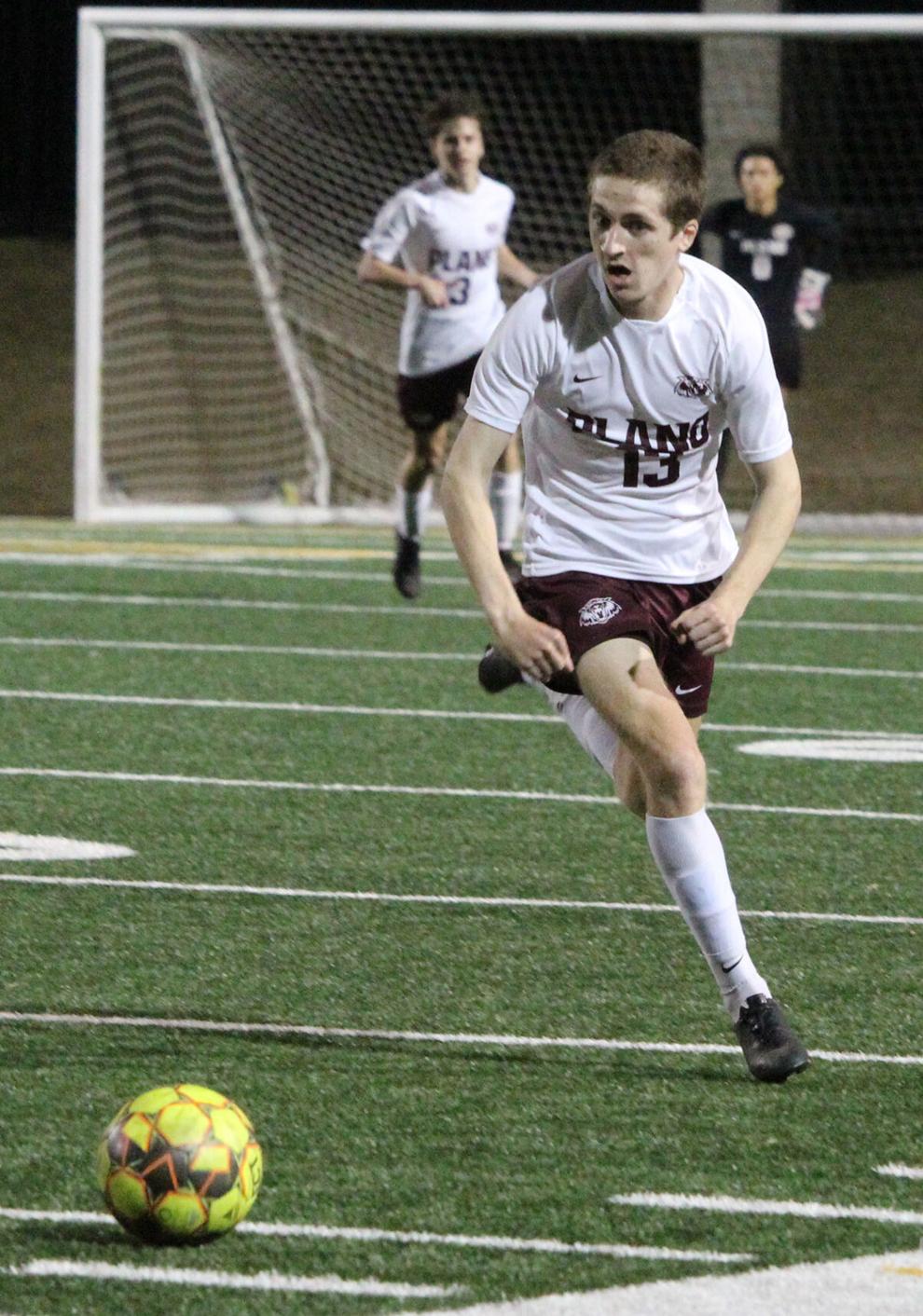 It was enough to slow what had been one of the more formidable offenses in 6-6A, with Plano entering Tuesday's contest having scored multiple goals in nine of their prior 13 district matches. The Wildcats had their chances with junior Aaron Myers and senior Caiden Chapel pacing an attack that built an advantage in shots on goal over West, but sneaking one past the West defense never materialized.
"We just need to get healthy. Credit to West, they played great — they were hard to get through in the back," said Tex McCullough, Plano head coach. "They did a good job on the corner and we didn't get set up fast enough. They played that corner pretty fast and caught us out of position.
"Overall, I wasn't mad with how we played. We had chances, but I feel good about our chances going forward no matter who we play. We just need to get healthy and we've got time. We were in an incredibly tough district and did our job."
The Wildcats get a chance to heal up in advance of their first playoff appearance since 2014. The bi-district round won't begin until March 25, with Plano currently projected to square off against former district foe McKinney Boyd, who currently leads 5-6A.
"I'm super proud of them. It hadn't happened in so long that someone needed to be the team that did it," McCullough said. "Winning is a habit and these guys set a great expectation for the future of our program. They've won 13 games and I can't remember the last time this program did that. It feels like the program is headed in a good direction, and I know these kids will give it all they've got."
Lady Wolves rock Plano's playoff pursuit
The West boys weren't the only side playing a spoiler role on Tuesday. Just across the parking lot outside Clark Stadium, the Lady Wolves scored a noteworthy verdict after shutting out Plano 2-0 at Clark East Field.
Like their counterparts on the boys side, the West girls recently had their playoff hopes dashed but looked no worse for the wear in blanking a Lady Wildcat bunch still alive in postseason contention. 
Senior Lily Hargrove put the Lady Wolves in front after finishing a rebound on a strike by junior Morganne Eikelbarner, and senior Brooke Roberts added an insurance goal, also assisted by Eikelbarner, roughly 10 minutes later.
It was an ill-afforded decision for Plano, which is among three teams vying for one of the remaining two playoff spots in 6-6A. Flower Mound clinched the top seed last week and Marcus assured itself a return to the postseason with a 5-1 win Tuesday against Plano East.
That leaves Hebron (7-4-2, 23 points), Coppell (6-3-4, 22) and Plano (6-4-3, 21) to decide the remaining two playoff spots. 
The Lady Wildcats' hopes now rest on a win Tuesday against district champion Flower Mound, plus some help elsewhere in the district. Plano takes on the Lady Jaguars at 7:30 p.m. Tuesday at Clark Stadium, needing a win and a loss by either Coppell or Hebron (or a draw for Coppell) to secure a playoff berth.