COPPELL — It was only fitting that Tuesday's regional quarterfinal between the Plano West and Marcus volleyball teams — the season's third meeting between the state-ranked district foes — required five sets.
The Lady Wolves and Lady Marauders had already gone the distance once during district play, but Tuesday's rubber match presented a heightened set of ramifications with the fate of each squad's season resting on a race to 15 points after two hours of back-and-forth, high-level volleyball.
All too acquainted with those stakes, West pulled out a 15-9 victory in set five to extend its season to the regional semifinals for the third time in four years — outlasting Marcus 3-2 (25-19, 12-25, 25-19, 19-25, 15-9) from Coppell High School. The Lady Wolves will next meet Keller at 5 p.m. Friday at W.G. Thomas Coliseum in Haltom City.
"We're clearly used to it and clearly have the endurance down. It feels like we've been repping it out all season," said Justin Waters, West head coach. "It's really just a momentum thing. Eventually some bounces are going to go our way and balls will start to fall. Marcus was playing some incredible defense, but we just felt the balls would start bouncing our way in the end."
@planowestvb advances!! Plano West turns up the heat midway through set 5 and rolls to a 15-9 win to take a thrilling regional quarterfinal 3-2 over Marcus. Blaire Bayless with match point to send West to the regional semis for the 3rd time in 4 years. pic.twitter.com/Ma4YN4fhdf

— Matt Welch (@MWelchSLM) November 10, 2021
The Lady Wolves had a hand in that effort, with Waters dialing up a change within his rotation to help suppress some of Marcus' firepower.
"Their right side (senior Haidyn Sokoloski) was having a great game and we just couldn't key in on her," he said. "I had to flip the rotation to get a bit of a bigger block on her after going through it a few times with our other outside, so I decided to rotate it and get a new outside on her and I think that made a bit of a difference."
Those dividends paid off as West caught fire midway through the fifth set to gain separation. After committing consecutive errors to give Marcus a 5-4 lead, the Lady Wolves responded with a 5-0 run that included an ace and four kills from four different West players to open up a 9-5 advantage.
The Lady Marauders would rally to within two points at 10-8 following an ace by senior Madison Dyer to prompt a West timeout. Before Marcus could catch its bearings, the Lady Wolves poured on a quick three points and then got back-to-back kills from senior Camryn McGough and junior Blaire Bayless to tough out a grinding regional quarterfinal.
"In those big moments, it's something that our kids haven't really been through much of before with their backs against the wall," said Danielle Barker, Marcus head coach. "A lot of the time we played Plano West, we got to that fifth set and got down again. Those big-time moments, we just haven't had a lot of practice in that. Usually they surprise me, but unfortunately it didn't go our way this time."
Tuesday was Marcus' sixth five-set match of the season versus the 11th for the Lady Wolves. West is 8-3 in those situations (Marcus is 3-3) and has won five in a row, including a 3-2 verdict over the Lady Marauders on Oct. 15.
The Lady Wolves continued to thrive in close quarters on Tuesday despite waging four prior sets that were never in doubt down the stretch. Each of the night's first four frames were decided by at least six points, including a commanding start to the match for West.
The Lady Wolves sprinted out to a quick 3-0 lead that was capped by an ace from senior Camille Heidemann for the first of four aces tallied by the Lady Wolves in the opening stanza. West led by as many as nine points, bolstered by four early kills for Bayless and three for senior Kaila Garnett to open up a 1-0 lead after a 25-19 win.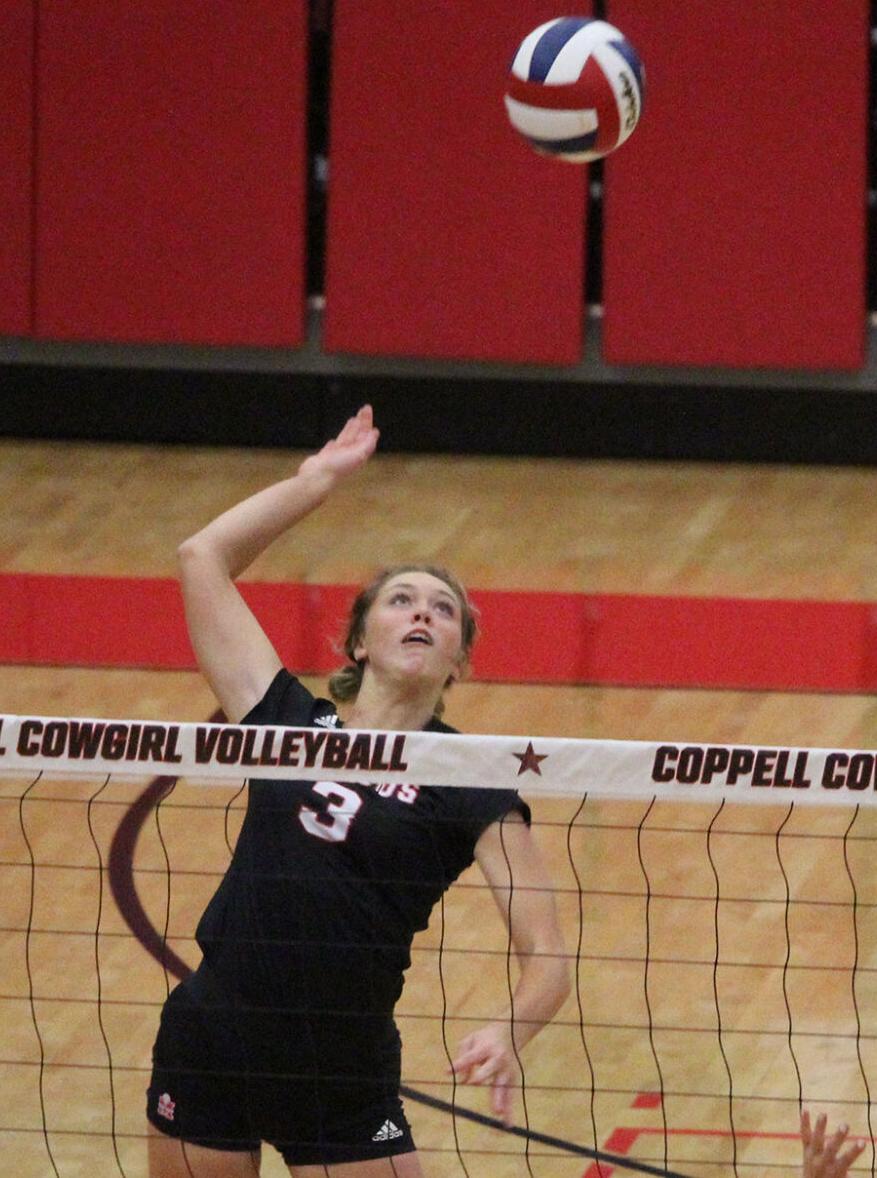 Marcus responded in a big way and thanks in large part to the play of Sokoloski. The Oklahoma State softball commit hammered away at the West defense to the tune of nine kills in the second set, while  Dyer and senior Maggie Boyd combined for four aces to hand the Lady Wolves a lopsided 25-12 setback.
"There's a reason why they're top five in the state. For them to still be playing at this level without Ifenna (Cos-Okpala) is incredible," Waters said. "Their defense is so frustrating and Maggie Boyd deserves to be the district MVP with all the tools she has. Tonight just happened to be our night."
Sokoloski again caught fire in the fourth set, piling up eight kills to complement six from Boyd as Marcus managed to force a fifth set. Boyd added six of her match-high 23 kills in that frame as well.
"[Sokoloski] is such an athlete. She only plays volleyball three months out of the year," Barker said. "I get her the week after tryouts until we're done and she's that much of an athlete to where she can just walk in and be that impressive. She stepped up big tonight and looked unstoppable at times. She knows how to compete."
As if there was any doubt, this one is going 5. @MarcusHSvb1 wins set 4 vs Plano West 25-19 on the strength of a combined 14 kills between Haidyn Sokoloski and Maggie Boyd. Race to 15 for a spot in the regional tourney. pic.twitter.com/Jgtvmq7yVW

— Matt Welch (@MWelchSLM) November 10, 2021
Barker said that mentality was invaluable in helping shape this season's Marcus squad. The Lady Marauders closed out their season on Tuesday at 31-8, including a 12-2 run through District 6-6A for a three-way tie for first place with West and Flower Mound. Marcus advanced to the regional quarterfinals for the first time since 2011.
"Marcus hasn't done anything like this in over 10 years. This group has done so much and this senior class is the most special one that I've ever had. This might be the toughest group I've ever had to say goodbye to at Marcus," Barker said. "This one changed us. It changed us as coaches. It's an incredible season and they grew so much. I didn't expect this at the start of the year, but they fought, grew and pushed each other."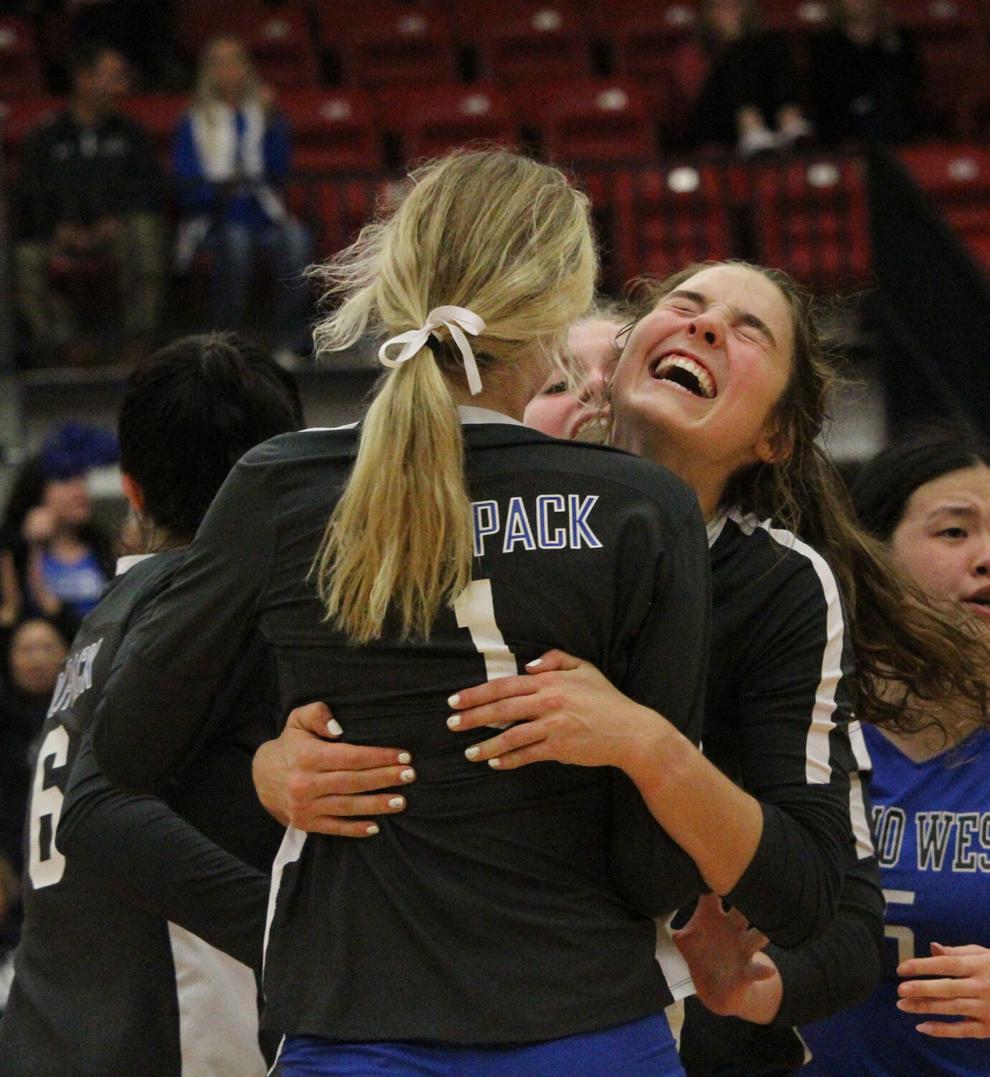 The Lady Wolves, meanwhile, have conjured a resilience and endurance to build an 11-match winning streak that dates back to Oct. 1. West leaned on that once again Tuesday, responding to Marcus' 13-point win in set two with an even-keeled bounce-back frame. Bayless, senior Jean Dixon and junior Katelyn Ruhman all had four kills apiece to help the Lady Wolves pull away late to reclaim the lead on the Lady Marauders with a 25-19 win in set three.
"The story of the season is that it just comes down to how we play," Waters said. "We feel like we're in control of the game and when we look back at our losses and what happened, it never felt like it was just the other team punishing us — it just mistakes on our end or a lack of discipline on defense. If we play our game and keep the mistakes on the other side of the net, I feel like we'll be OK."