For two hours on Saturday, a procession of nearly 40 cars ventured around central Plano to pay tribute to the Plano baseball team's seniors.
With their season cancelled by the ongoing COVID-19 pandemic, the Wildcats enjoyed a unique sendoff from a score of fans over the weekend, as the program's booster club organized a parade to celebrate Plano's 16-person senior class.
"I thought it was a really nice way to do it. It was pretty surreal," said Rick Robertson, Plano head coach. "I was sitting there and taking in all the emotions again from the season being cancelled, but it was just nice to see the guys again."
Those opportunities have been far and few between over the past month-and-a-half as the Wildcats anxiously awaited the fate of their season. For the disappointment and frustration that set in with the UIL's announcement on April 17 that all remaining sports from the 2019-20 school year would be cancelled, Saturday's festivities offered some solace for those involved.
Plano's booster club, captained by co-presidents Bobby and Tricha Hawkins, took the reins in organizing a parade that began at 2 p.m. Saturday and included a visit to the houses of all 16 seniors. All the while, each family decorated their front doors and yards with all manner of Plano memorabilia — including posters, decals, balloons, letterman jackets and uniforms.
"We have a great booster club and have since I've been here. They think about things like that and came up with a great way to honor those kids," Robertson said. "That, plus the logistics that it took to bring something like that together and design that parade rout with as many cars as there were. To go as smooth as it did, and it helped that there were a lot of right turns, the group that put it together did an outstanding job."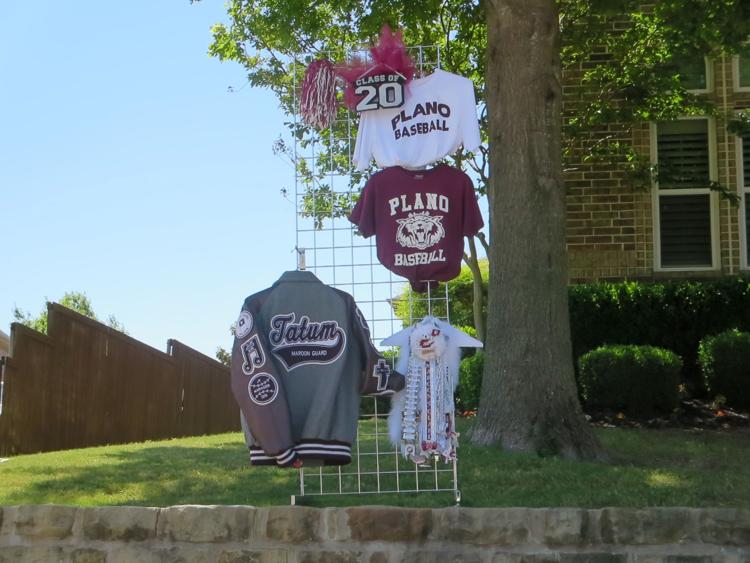 The booster club devised a parade route that began at a Suncreek neighborhood in Allen, with a line of cars weaving around the corner of Furman Court to visit senior Jonathan Huff and his family, and later concluding just south of Preston Meadow Park at senior outfielder Jackson Tooker's home. In between, the parade of cars visited seniors Brannen Blakley, Austin Smillie, Kavin Patel, Dillon Scott, Hunter Reid, Carson Hart, Cole Foster, Zach Vetal, Clayton Berryhill, Bradley Burnside, Sam Marvin and Austen Hall, as well as team managers and seniors Anthony Tatum and Stephanie Tabor — with all honorees showered in well wishes, waves and honks from all cars that passed by.
"Some of them came out on the sidewalk and I was able to say some things to them. It was just great to get to just look them in the eyes as we went by," Robertson said.
It's a senior class Robertson won't soon forget — one that forged a goal of getting the program back on track after Plano had an eight-year playoff streak snapped last season. The Wildcats had taken steps toward righting the ship with a 10-1 record, which helped the squad to a No. 25 state ranking by TXHighSchoolBaseball.com — one of five teams from District 9-6A that was state-ranked at the time. It was a 7-3 victory over No. 13-ranked Spring Branch Memorial on March 12 that marked the final time Plano's sizable senior class would don the maroon and white.
"This is a special group. They had done a tremendous job working hard since the beginning of school," Robertson said. "They were playing well and playing well together, and it would have been real interesting to see what kind of magic they had in them."