In a district teeming with parity among its middle class, Friday's rivalry installment between Plano Senior and Plano West is pivotal.
Both teams surrendered their District 9-6A opener last week, albeit to a pair of formidable opponents in Allen and Jesuit, and the pursuit of that first conference victory looms large in a matchup where neither team can afford an 0-2 start to league play.
"This is a very dangerous game that we're playing on Friday," said Jaydon McCullough, Plano head coach. "There's a rivalry there and I know our kids aren't taking this one lightly. I feel like they've put the Allen thing behind them and they know we've got to move forward."
That means shifting focus to a West ball club looking to snap a three-game losing streak to the Wildcats. Overall, West's skid has reached 30 consecutive losses, a slump that just passed its three-year anniversary on Sept. 22, and the motivation of not wanting to be the team the Wolves right the ship against is ever present for the Wildcats.
But only four of those losses have come under the watch of new head coach Tyler Soukup, something the former Hebron offensive coordinator has reminded his players of plenty this season, and from what McCullough has seen, there's a difference in how the Wolves are going about their business.
"The bottom line is that West is getting better and we see that on film. But we feel like we're getting better too and that we can still do some good things," McCullough said.
It'll mean working with a shorter deck than usual, at least regarding Plano's skill-position players, with senior Nolan Williams out for the first half of Friday's contest, set for 7 p.m. at Clark Stadium, after being ejected from last week's loss to Allen. The Wildcats could also be without senior defensive back and receiver Isaiah Calhoun, who suffered a neck stinger in that very contest, an injury that saw the Plano captain stretchered off the field in an emotional scene for the program.
"It was very tough and very scary. Whenever you see something like that, you naturally expect the worst," McCullough said. "I was just trying to see if he was moving his hands and feet and if he was talking. A stinger really hurts and is very painful, but the good news is there's a quick recovery."
Without Williams for a half, McCullough anticipates some minor changes in personnel packages. Players like senior running back Cody Crist and junior Tylan Hines could see more receiving work, and senior tight end Christian Sabatini could also line up outside a bit more often, McCullough said.
The Wolves, meanwhile, will look to recover from last week's 35-point setback against Jesuit — one where West, much like Plano against Allen, was doomed by a difficult first quarter after falling behind, 21-0. Overall, West managed only 105 yards in the first half of its most lopsided loss of the season.
The contest was the latest in a brutal schedule to begin the season, with the Wolves having squared off against four teams — Frisco Reedy, Flower Mound, Mesquite and Jesuit — with a combined record of 11-4.
Postgame, Soukup lauded the play of junior linebacker Jacob Stephens, while West's offense still managed to generate 5.5 rushing yards per carry — things the program will try and carry over into Friday against the Wildcats.
"It goes without saying that this is an important game for the Plano Wildcats, and we know that it means just as much to Plano West," McCullough said. 
Matt's Pick: Plano by 17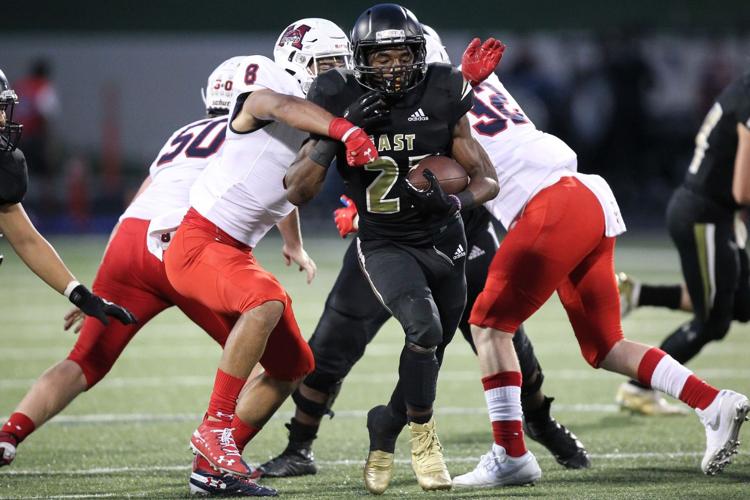 Plano East at Prosper
Friday, 7 p.m. at Children's Health Stadium at Prosper ISD
Taylor Raglin: The crux of Plano East's preparation for this week's road contest against undefeated Prosper, which will also mark the Panthers' first trip north to the Eagles' impressive new digs, will be whether junior quarterback Dylan Hayden can suit up.
Hayden suffered a shoulder sprain in his non-throwing arm in last week's win over McKinney Boyd, likely caused by a late hit from the Broncos after a Hayden rushing score.
Though he was in a sling Saturday and has been restricted from contact this week in practice, East head coach Joey McCullough said the signal-caller will likely be a game-day decision.
"There is no fracture. He was just very sore and was having trouble raising it above his shoulder line on Saturday. ... He was a lot better (Monday). Of course, there's not going to be any contact all week," McCullough said. "He did go through a little practice and throwing the ball. The good thing is it is his non-throwing shoulder. It's an AC sprain on his left side. I think he will be (good to play), but we'll have to evaluate that every single day."
If Hayden can't go, the Panthers will likely utilize both senior Ryan Foust and fellow senior Donovan Henry, and the pair has split time in practice this week.
Senior corner Elliott Reed, McCullough said, should be good to go for Friday's matchup.
While the program has been buoyed by its first victory of the season, Friday's test will be an even better measurement of where the Panthers stand.
Prosper, 4-0 and coming off of a 49-14 dismantling of McKinney, has put up at least 31 points in each of its first four contests and has eclipsed 45 three times, including in a 57-34 thrashing of potential 6-6A favorite Flower Mound.
The Eagles' offense, which features a variety of weapons, will test an East defense that held McKinney Boyd to just two scores a week ago.
"We know we've got to be sound in all of our alignments and things like that," McCullough said. "Our defense is going business-as-usual. What I see is they're really balanced with what they do. ... We've got to be balanced in everything that we're doing, get lined up right and continue to do what we've been doing, which is tackling and not giving up the big play."
Overall, particularly if Hayden isn't 100%, the Panthers could have a difficult time keeping pace with a program that appears to have established itself as a clear No. 2 in the conference behind Allen.
Still, regardless of the result, McCullough said he's simply keying on further improvement from his 1-3 squad.
"It's going to be a challenge on the road, but it's a challenge that I think prepares us and kind of shows us a little bit more, in district game two, how we're progressing," he said.
Taylor's Pick: Prosper by 21