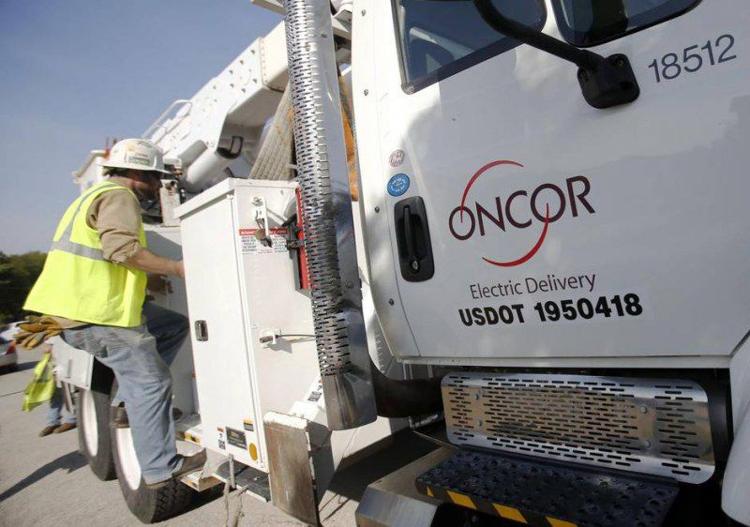 Plano Fire Rescue stayed busy Sunday following an intense 30-minute storm that caused several downed power lines, broken tree limbs and power outages for over 300,000 residents across North Texas.
About 160,000 homes were affected by the storm in Collin County. There were no injuries, but Plano Fire spokeswoman Peggy Harrell said crews responded to several broken tree limbs, downed wires, building and residential alarms and moderate property damage. The calls were widespread across the city from Legacy Drive and Preston Road to wires down at Alma Drive and 15th Street and everything in between.
A few cars stalled out in high water at the intersection of Plano Parkway and Ohio Drive, but after the water receded drivers were able to move about the city.
Oncor has restored power to several homes in the area, but there are many across North Texas who haven't had power since Sunday afternoon. Oncor spokesman Grant Cruise said the power company is still in triage, as its working to assess the full scope of the damage from the storm.
"We were hit with the equivalent of a tropical storm – 60 to 80 MPH winds," he said. "This was one-of-a-kind. It came out of the blue. It just popped up on us."
No transformers were reported damaged from the storm; however, falling trees and brush knocked over several power lines due to the high winds.  
Oncor serves several North Texas counties as far west as Tarrant and Denton counties to Dallas and Collin counties. Directly after the storm, more than 350,000 homes systemwide were without power. Late Monday, power had been restored to about 100,000 homes, but there's still more work today.
Cruise said Oncor crews are working overtime on site to repair the structural damage to many power lines. They've also called associates from around the state to lend a hand and help with the overwhelming work orders. Since the outages were mainly caused by structural damage, crews are coming to rebuild and repair from scratch.
"It's not just a simple matter of we get out to a neighborhood and flip a switch. We're talking a full reconstruction in a lot of cases, and there's a lot of that work to be done," he said.
Oncor does not have an ETA when power will be fully restored, but some homes will be getting power sooner than others.
"We understand it's frustrating," he said, "but we're asking for people's patience and to just look out for their neighbor and just do the best they can."