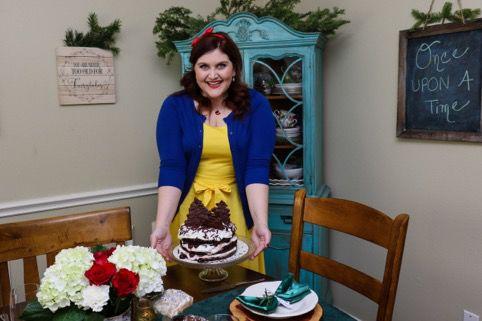 The Rose Table creator Katie-Rose Watson recently wrapped her 12th dinner party in the Disney Dinners series: Snow White. The Rockwall native is the creator behind The Rose Table, a food, travel and entertaining website started by the self-proclaimed foodie in 2014. Her website focuses on original recipes, party menus, in-depth travel guides, farm-to-table cuisine and more. For more information, visit therosetable.com. 
What is your education/career training/background?
My degree is in German, my career is public relations and my passion is food. I've always adored writing and I started taking food photos long before it was a thing. My mom used to pick up photos from the printer and say, "Why are there so many photos of waffles?" I have no formal culinary training, aside from a few random cooking classes here and there. My mom is an excellent cook, and I loved to sit at the kitchen island and watch her make dinner. I was always a baker and had no interest in touching raw meat. I didn't get serious about cooking until college, where budget was my driving force. I was a huge foodie by college with no dining budget to speak of and I quickly learned that you can make a five-star meal for yourself for a fraction of the cost of eating out.
What inspired you to jump into the world of blogging?
They say PR is one of the most stressful jobs you can have. At the end of a twelve – sometimes fifteen - hour workday, all I want to do is pour some really great wine, turn on jazz, light some candles, and cook for my friends. I love to grow my own food and rinse something off straight from the garden and toss it on the grill, playing a little croquet with friends until it's time to eat. People told me all the time to start a food blog. I remember riding my horse with my dear friend Jessica Blackmon when she started harping on me to start a blog. "Who would read it?" I asked. "Who wouldn't read it?" she replied.
It wasn't until a friend of mine posted a photo of my bacon avocado crab salad that I actually got started. Tons of people asked for the recipe so she asked me to write down how I made it. I did and the next week, she sent me a screenshot of a text from her friend. It was a photo of my bacon avocado crab salad with the caption, "This is the best <bleep>ing salad I've ever had." I read that text and decided right then and there to start a food blog!
How much planning goes into the creation of each dinner including the décor?
So much planning! I was ill prepared for how much planning would go into each dinner when I first got the idea to do Disney Dinners. I rewatch the movies months before each dinner and make notes on my phone about lines or elements that I could use in my dinner décor. I can usually see the dinner in my mind before it happens but I make a lot of last-minute adjustments. For instance, the snow light machine at Frozen was added just days before the party and now I can't imagine it any other way. I used to decorate the dining room one week in advance, panic, and buy more décor but now I decorate two weeks in advance to give myself more time. Moana was the hardest for me décor-wise. It did not come together until 24 hours before the party, when my mom had the brilliant idea to hang her Hawaiian pareos up to pay homage to the tapestries in the movie. She's a keeper, my mom.
Some menus were easy, like Beauty and the Beast, which is entirely inspired by dishes named in the song Be Our Guest. The Pirates of the Caribbean menu was inspired by my own travels to the Caribbean. Cars was inspired by Cars Land in Disneyland. Others, like Hercules and Alice in Wonderland, took more work. I had never cooked a lamb chop in my life before recipe testing for Hercules but I'm extremely stubborn and had it in my head that that would be the most Greek and look the most Herculean. The recipe testing for Disney Dinners took by far the most time. I started testing recipes 3-4 months out. By the time I hosted Disney Dinners: Aladdin, I had eaten Persian Chicken half a dozen times. It took five batches of cupcake to get the perfect Painting the Roses Red Cupcake for Alice in Wonderland. My friends come over and taste test with me and if they say, "It's good!" I keep working. I shoot for, "This is the best gumbo I've ever had!" Those are the recipes I want on The Rose Table.
Are your recipes entirely created by you, family recipes, or a mixture?
They're almost all created by me. When I was learning to cook, I would always veer off from the recipe, much to my mother's frustration. I did explode her Pyrex once as a teenager. I would also look at a recipe and think, hmm, this would be better with XYZ. So really it comes from a place of wanting to customize everything to suit my own tastes and whimsical ideas. In my early days of The Rose Table, I would just sort of experiment in the kitchen and if it turned out really great, I would jot down how I did it in a note on my phone while walking my dog after dinner. That Sunday I would write a little article to go with it. For Disney Dinners though, since the menus were so specific, I did test recipes again and again and again.
Do you plan a script for your videos or wing it?
Wing it, absolutely wing it. I do plan out my intro for my Disney Dinners but other than that, there is no script. Much of my entertaining videos, such as Disney Dinners, is done through voice over and I just talk as I watch the footage, the way I would talk to one of my friends. I usually pantomime through my cooking videos right before I roll, just to make sure I have everything set in a way that makes sense for filming. It's much more casual than people probably think. At Disney Dinners, we film for maybe two minutes at the start of each course and then we relax and enjoy. All of the footage is done on my iPhone. I film the walk through and my friends grab my phone and film me while I'm cooking. We don't even bother with a tripod. It's all very casual. I think my fans like that. They can tell that it's real.
Did you grow up speaking German or did you learn it later in life?
I grew up speaking German. My mom speaks German and gave me this "My First 1,000 Words in German" book that I memorized early on. I used to look at it all the time. If you know one thousand words in German, you practically know them all. German is a much easier language than English. I took German all four years of high school and was the first female at Rockwall High School to pass the AP exam. I was also the first registered German major at TCU. For my German degree, we had to take the international Goethe exam, which is used for visa applications. I passed and it's good for 10 years so every time I have a bad day, I joke that I'm buying a one-way ticket to Germany.
How would you describe German cuisine to someone unfamiliar?
Having spent a summer in Germany, I was surprised at how much lighter it is than people expect. People think it's all potatoes and schnitzel but I lost 10 pounds when I went to Germany! They walk so much and they eat a ton of vegetables and seafood. It's not nearly as heavy as Americans think it is. The portion sizes are also considerably smaller. My friends wanted to stop for gelato one afternoon and I groaned because I had eaten a large lunch (which is a bigger meal than dinner in Germany) but they handed me a cone that was smaller than a child's portion in America. I giggled because it was so miniature and cute!
What's your favorite Grimm's fairytale?
Probably Rapunzel, because it's one of the few Grimm's fairytales that actually ends happily, or Cinderella (Ashenputtel) because the German version is fabulously intense.
What's your favorite Disney fairy tale? 
When I very young, Beauty and the Beast was my favorite Disney movie. When I was in college, Hercules was my favorite. It's still one of the most watchable Disney movies in my opinion. As an adult though, Mulan holds my heart. She's just the best. She fearlessly saves her father and the whole country and I love the theme of honor. I hope my Disney Dinner did my love of that movie justice.
What has been your favorite travel destination so far and why?
That's too hard to choose! Fairmont Chateau Lake Louise was a positively magical experience. I can't recommend that dreamy Canadian lake to enough people. I had the best time on a girl's trip with my friend Sarah in Turks and Caicos. It's only a four-hour flight - nonstop! – from Dallas and is home to the world's best beach. Ultimately, I have to say Greece. I studied abroad in Greece in college and it was a life changing experience that introduced me to a whole new world of culture and history. The way the Greeks eat for hours, sharing that time with family and friends, is beautiful. And you can't beat the food!
What are your top 5 bucket list places to visit?
At the very top of my list is Positano, Italy – the Amalfi Coast. Italy knows food. Can you imagine watching the sun set over the Italian coast eating a bowl full of freshly made pasta? Sign me up! I would absolutely love to visit France, especially some of the charming villages like Riquewihr. I'm also dying to travel the Fairy Tale Road in Germany, where you can see the various places that inspired the Grimm brothers. I'm slowly making my way through the Caribbean and all the locals seem to love Dominica, which also happens to be where they filmed much of one of my favorite movies, Pirates of the Caribbean: The Curse of the Black Pearl. I would love to see the cherry blossoms in Japan once in my life.
Who's been a big influence in your life? And how?
My mom, for sure. She always let me "help" her in the kitchen even though I'm sure I just slowed her down when I was young, but it sparked a lifelong love food in me. I would also say Michael Chiarello. My mom and I loved watching Napa Style together and I used to dream about that kind of life: eating al fresco on a gorgeous vineyard. His show heavily influenced my cooking style.
What can your fans look forward to in the coming months?
Next up is my Cinderella Ball! It's been a long time since I hosted a big party so I think my fans will enjoy that quite a bit. I'm working on a ton of new recipes that will go live in January and I plan on posting more lifestyle content in 2019, especially garden content. I have an exorbitant amount of entertaining ideas that I want to share. One of my fans once told me, "The Rose Table is my favorite escape." I love giving my little corner of the internet a sanctuary full of good food, flowers, and fire pits. I'm ready for more adventure in 2019.