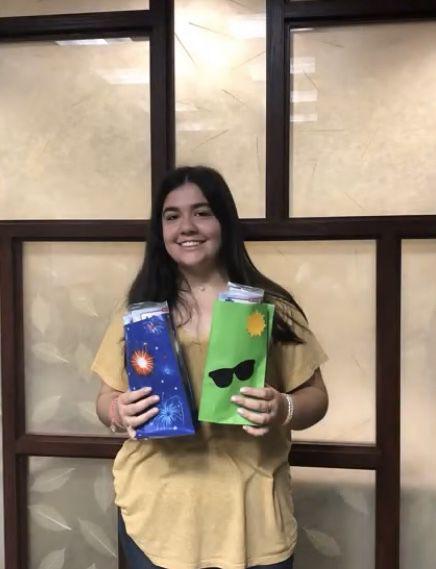 Rowlett High School junior Avery Acevedo was recently named a Gold Award recipient, Girl Scout's highest recognition. She created hundreds of coloring bags for children who wait in the emergency room at Baylor, Scott and White Medical Center as a way to keep them occupied before they see a medical professional.
How does it feel to win the Gold Award?
I have been a Girl Scout since I was a Daisy in kindergarten. Earning the Gold Award has been something I've wanted to achieve for several years. So, for me, earning the Gold Award was very exciting and rewarding because I was able to reach an important goal.
Why did you choose to do coloring bags for Baylor, Scott & White as your project? What was your inspiration behind that?
I chose Baylor, Scott & White for my project because I started volunteering at the hospital when I was a freshman. I began volunteering in the geriatric unit and soon was promoted to the labor and delivery unit, and then I was eventually able to start volunteering in the NICU. I began volunteering there because I want to be a nurse. I saw children coming into the hospital who were having to wait a long time with nothing to do. I felt like I could help, and I wanted to try to make a difference.
What was your favorite part of your Gold Award project?
My favorite part was after I met with the hospital's volunteer coordinator and other hospital staff. They told me they liked my idea so much that they wanted to fully fund it! I also really enjoyed getting feedback from the nurses because they told me that the bags were a huge success!
What has your experience with Girl Scouts taught you?
It has taught me that when you are passionate about something, that you can make a change. If you put your mind to something, you can accomplish great things, and that if we all try, we can make the world a better place.
What have you learned about yourself during these unprecedented times? 
I've learned that sometimes in life, unexpected things can happen. I feel that so many people, including myself, took a lot of things for granted. I never really thought about how important it was to just simply be able to see my friends and family and be able to go to school. I think mostly what I've learned about myself, though, is that when unexpected things come my way, it's all really up to me how I choose to look at things and respond or react to them. 
Would you recommend Girl Scouts to young girls? If so, why?
I would recommend it because I have found my best friendships through Girl Scouts. You can make a lot of friends while also learning how to be responsible, how to be a leader, and also how you can use your voice and talents to make the world a better place.
Your senior year will look different than expected, what are you looking forward to?
I feel like I was just in kindergarten. This all happened so quickly. I am looking forward to hopefully being able to create many more special memories with my friends and family throughout my final year of high school. I hope that we are able to return to school and be able to do things like before. 
What are your current post-graduation plans?
I plan to go to college and become a nurse practitioner. I am hoping to attend either A&M Commerce or UTA. 
If you could change one current event in the world, what would it be and why?
There seems to be so much pain and negative energy in the world lately. I just wish people would have a more caring heart. Some people seem to have so much hate in their hearts, and it's really difficult for me to understand why. I wish that everyone was loved and treated the same. Everyone deserves to be treated with respect.
What are some of your hobbies?
I am a member of the Rowlett High School Mighty Eagle Band. I like hanging out with friends and going shopping. I also really liked volunteering before the pandemic.