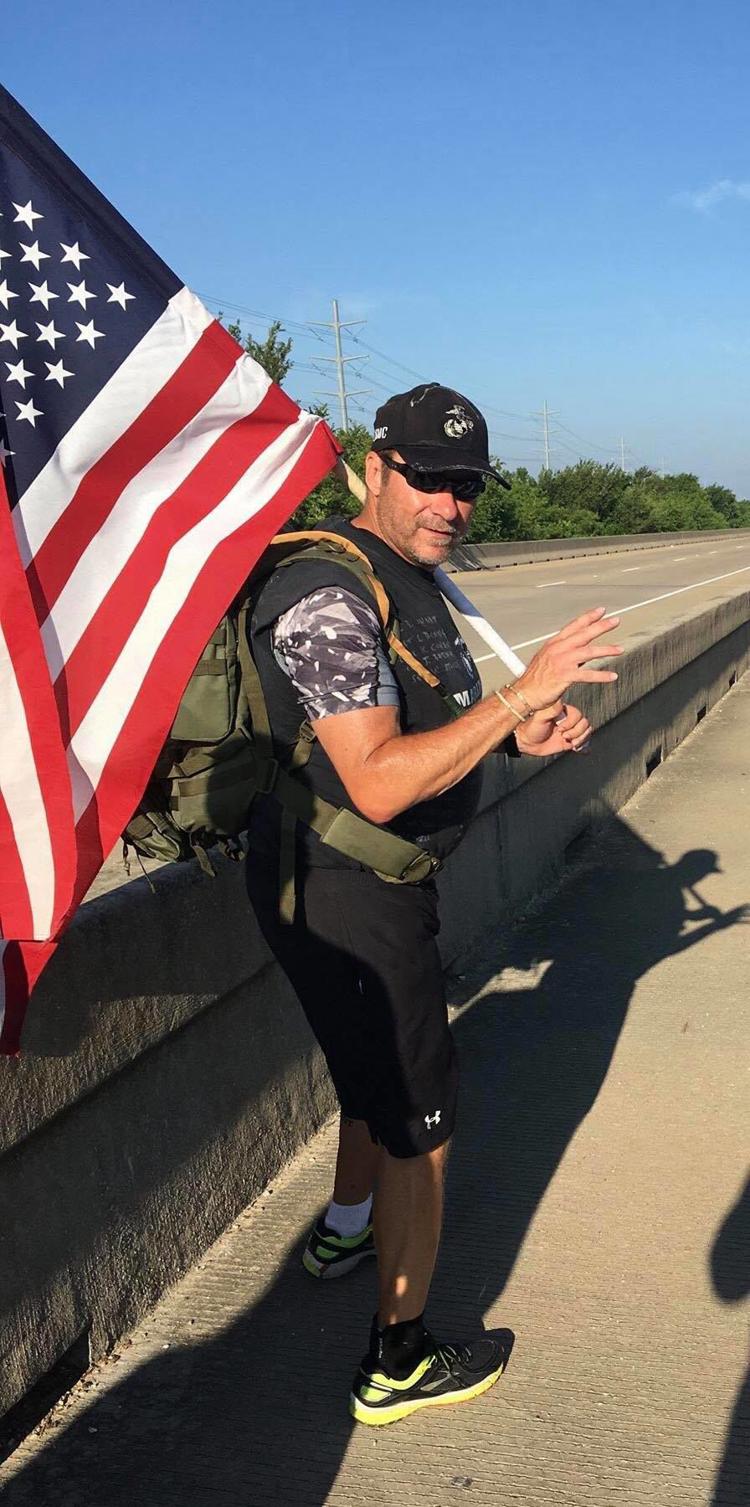 Rowlett veteran and actor Jeffery Gray takes it upon himself to walk the four miles (two miles one-way) across SH 66 between Rowlett and Rockwall on a near daily basis, carrying a 50-pound backpack and the United States flag.  
He signed up for the Marine Corps as a senior in high school and his MOS was artillery, which took him around the world where he was stationed in Sofia, Bulgaria; Vienna, Austria; Okinawa, Japan and several other places. This tradition of walking with a flag began when he starting putting up flags for 9/11 and walking for veterans, fallen police officers and first responders, and he'll occasionally walk for a friend who's died from cancer. Gray said he does this because he can, and there was a day when TxDOT wouldn't grant him permission to put up his flags, and State Rep. Cindy Burkett came to his aid. Gray is an actor on the side and has done about 50 productions in the last three years.
Why did you join the Marine Corps?
At the time I didn't want to go to college and I wanted to become something quick, and I chose the Marine Corps because it was, to me at the time, the hardest out of all of them. I wanted to become part of something big and it was a challenge. 
How long were you active? And how was the transition to civilian life?
About 12 years. At first it was pretty difficult; when you come from something very structured, your days planned out from the time you get up to days you go to bed, to being 'normal'. 
What did you do entering civilian life?
I joined the sheriff's department in Collin County and did that for about two years and found it just wasn't for me at that time. It was structured but not in a way I was used to.
How was military life?
I got to be places you would never see as a tourist because I lived there. You see people in a different light. It's not bad or good, but I think that made me a different person. When I was in Bulgaria, you get the word that they're Communist – some of the people didn't like it, but they did what they had to do to survive. 
If I was going to live anywhere in the world it would be Austria. It's very clean, and people are really nice. 
What has been your favorite place to have lived?
Austria. We lived in a mansion basically, but we worked all the time and we became like a family. 
What was the hardest place you lived?
The Philippines because of what they deal with, people don't realize the struggles. There's war and famine, and people doing whatever they can do make a living. I saw a lot of good and bad there, just like anywhere in the United States. 
What would you say your travels have taught you?
Being in a different country makes me love my country even more, but you also get to learn how much freedom we actually do have. I guess we get complacent with a lot of our freedoms when people die over the littlest things over there that they don't have.
How and when did you start doing your walks across SH 66?
About four years ago I weighed close to 400 pounds and I was getting around basically on a walker. I was in pretty bad shape – I had diabetes, taking pills for everything, feeling sorry for myself. I'd had about three knee surgeries at that time, and every excuse I could think of I was coming up with.
I had a cousin, Jerry Gray, he was terminally ill and almost on his death bed, he said, 'I may not be able to see, but Jeffery, you're fat. I want you to do me a favor, do something. I can't but you can. I know I'm going to die, but you're not, but you will if you don't take care of yourself.' It took a little while longer and I started doing different things for myself, and when my mother passed she left me money and asked me to take care of myself. So I got the gastric sleeve surgery and then I started to walk, the weight started coming off quite a bit. I started with walking down street, to around the block, to a couple of blocks, then I saw the bridge and I walked the bridge. 
Then I got involved in social media more and got to talking about the 22 suicides a day (veterans) so my friends from Rockwall and I decided to put some flags out to honor veterans. 
I started carrying the flag because I felt it needed to be done. I was given this opportunity to help others, and in the meantime it also helps me. I was giving back what was given to me, a second opportunity at life. 
How do you go from Marine life to getting up to nearly 400 pounds?
I was working all the time, and right before I was about to get married I started gaining weight because I couldn't do as much as I was before. I was a football official for seven years, then I ruptured my achilles and I just tanked. I started going down and lost my will and passion. I was depressed, I have PTSD, and the excuses kept piling up. I still have all of that, but I get up and do it. I live for my wife, my family, but you gotta live for you first. 
I believe that you should get up every day and not only do something for you but do something for somebody else. 
How'd you get into acting?
It was kind of a fluke. I saw a post on Facebook and went to a casting call – it was called "My all American" – and I fell in love with the process. To be able to do something that's not actually happening, you're living in a fantasy world, you make people laugh and cry, but you gotta like the process. It's a very long process; it's a very tedious 12-15 hour days.