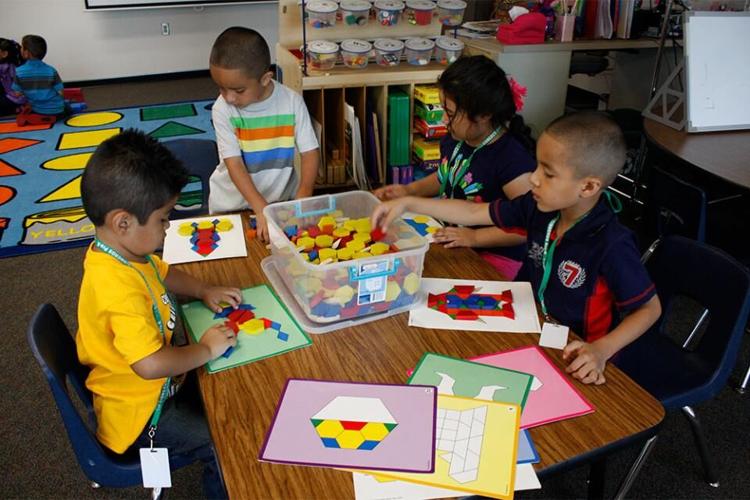 Garland ISD is now offering families more options for their youngest learners. Eligible families can now enroll for new full-day and half-day pre-K options for the 2020-21 school year. The district's enhanced pre-K program will launch at 27 campuses as well as two prekindergarten centers in August. The program features full-day, half-day and Spanish or Vietnamese bilingual options.
"GISD is invested in academic excellence and understands the importance of early learning development and future readiness. The state of Texas is expanding funding for pre-K students, and GISD has adopted a model to phase in full-day pre-K for all students over the next three years," said Early Learning Program Administrator Megan Frankenberg.
"Pre-K offers children an opportunity to develop social and emotional skills via exposure to others outside of the home," Frankenberg noted. "In pre-K, children are learning the expectations and setting the stage for their school experience, and it is our goal to provide students with a fun, playful and academically rich environment. In GISD, children will engage in a curriculum that promotes literacy and sets up students for academic success later in life."
GISD is the only district in North Texas to offer a Vietnamese Dual Language program, according to the district.
"Vietnamese is the third most spoken language in our district. Historically, we have served our Vietnamese students through English as a Second Language (ESL), but we know that the most effective instructional program is Dual Language, thus why we now offer this for our students," said Student Services Coordinator Karina Trotter. "We also wanted to be equitable and offer our Vietnamese-speaking community the same opportunity that we offer our Spanish-speaking community."
She added that the district currently has over 88 seats available for Vietnamese families who wish to enroll their pre-K student in our Vietnamese Dual Language program. For the 2020-21 school year, in addition to Parsons Pre-K Center, GISD has expanded the Pre-K Vietnamese Dual Language program to be offered at Hickman and Lister elementary schools, where the program continues on through the elementary grade levels.
Although pre-K is a much needed service, many families may wonder if it's safe given the current situation.
"The safety of students and staff is our top priority, and we remain focused on providing the best and safest education possible," said Frankenberg. "Garland ISD will adhere to local, state, federal and CDC safety guidelines. Teachers and staff will be trained in safety protocols to ensure the safest environment possible for each student."
Students new to GISD can enroll online through Skyward. The district stated on its website that as a preventative measure due to COVID-19, offices will remain closed to the public and all summer enrollments will continue to be completed and processed remotely.
"We still have full-day and half-day pre-K seats available at several of our pre-K locations. The sooner parents enroll, the better to ensure a seat at their first-choice campus," said Trotter.
Details can be found on the district's pre-K page regarding eligibility criteria and enrollment information at garlandisd.net/prek. Parents interested in pre-K can also contact the pre-K campus data clerk or email Student Services at askstudentservices@garlandisd.net.