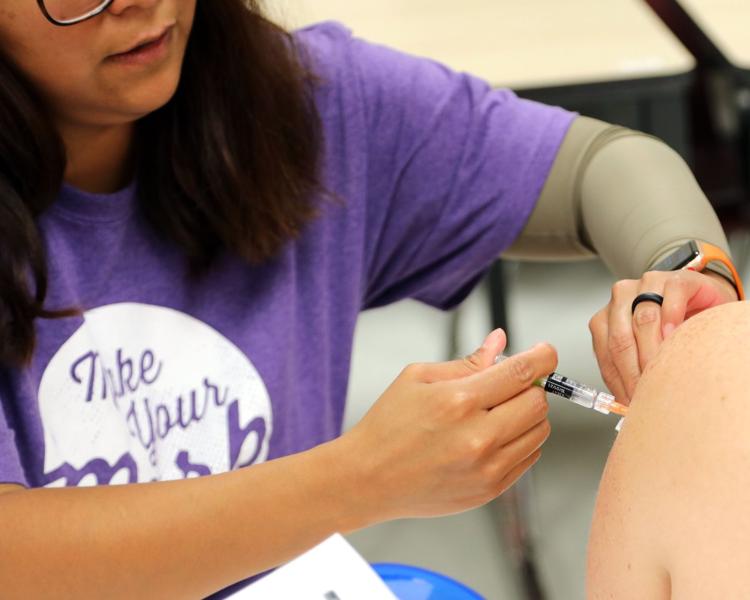 In 2018-19, the flu caused 22,311 missed school days in Garland ISD, 1,538 hospitalizations in Dallas County, and 135 pediatric deaths nationwide. To help combat this, GISD Health Services has partnered with the Garland Health Department, The Doctor Spot, Blue Cross Blue Shield and CareVan to offer several flu shot clinics throughout the district until Nov. 13.
Director of Health Services Renee Kotsopoulos said although hand-washing is effective, the single most effective way to prevent the flu is to get a flu shot.
"This is the first time we're doing flu shot clinics on campuses. We wanted to make sure parents have equal opportunity to get the flu shot if they need to, and some parents don't have transportation or there's other barriers that prevent them from getting it," Kotsopoulos said. "So we decided that if they can't go to the flu shots, we'll bring the flu shots to them."
"While getting the flu is a minor illness to some, most people get very sick. It's not only that; if your child has the flu, the more likely you as an adult are going to get the flu," she added.
As a result, kids not only miss school, but parents are likely missing work, causing a financial burden on the family.
Kotsopoulos noted that there's already been some flu activity with the first pediatric death of the flu this year in California. Children under the age of 6 and the elderly are at the highest risk of complications with the flu.
"Anybody is at risk for the flu; it's just so easy to spread because it only has a two-day incubation period," she said.
Kotsopoulos also noted that the most common misconception is that people can get the flu from a flu shot, which is not true.
"You're not getting a live virus injected into your arm," she said.
"Just know that if you do get the flu you'll be out of school or work for a minimum five to seven days, because you have to be fever-free for 24 hours without fever-reducing medicine, and usually it takes that length of time for you to be well enough to return to school," she continued. "Some people have secondary infections to the flu, so it's not just the flu. That virus then turns into secondary bacterial infection. So you're getting over the symptoms of the flu and then you end up with a second bacterial infection, and that's what usually keeps you out for longer."
Kotsopoulos said those with respiratory conditions are considered a high-risk category, meaning if they get the flu it'll be worse.
"The flu virus attacks your whole immune system, and in order for your body to get rid of the virus it produces a lot of fluid, and that fluid gets trapped in your lungs. That fluid that's just sitting there trying to shed the virus out sits there – and bacteria loves to grow in fluid – and the bacteria grows in your lungs, and that's why these kids end up with pneumonia," she said.
Kotsopoulos said even those in the low-risk category are in danger of giving the virus to someone they come into contact with.
"So you may not die of the flu, but the kid that you're taking care of may," she added.
The clinics do not require an appointment. They are on a first-come, first-served basis and open to everyone.
Vaccination events:
Oct. 23:  Cooper Elementary, 1200 Kingsbridge Drive, Garland; 7:30-9 a.m.
Oct. 24: Stephens Elementary, 3700 Cheyenne Drive, Rowlett; 7:30-9 a.m.
Oct. 28: Enrollment Center Clinic, 720 Stadium Drive, Garland; 5-7 p.m.
Oct. 29: Cisneros Prekindergarten, 2826 S. 5th St., Garland; 5:30-7 p.m.
Nov. 5: Bradfield Elementary, 3817 Bucknell Drive, Garland; 7:30-9 a.m.
Nov. 6: Spring Creek Elementary, 1510 Spring Creek Drive, Garland; 7:30-9 a.m.
Nov. 7: Parsons Prekindergarten, 2202 Richoak Drive, Garland, 5-7 p.m.
Nov. 8: Daugherty Elementary, 500 W. Miller Road, Garland; 7:30-9 a.m.
Nov. 13: Curtis Culwell Center, 4999 Naaman Forest Blvd., Garland; 5-8 p.m.
Nov. 13: Shugart Elementary, 4726 Rosehill Road, Garland; 7:30-9 a.m.
Every Thursday:  Freeman Elementary, 1220 W. Walnut St., Garland; 8:30 a.m. – 3:30 p.m.
Every Friday: Southgate Elementary, 1115 Mayfield Ave., Garland; 8:30 a.m. – 3 p.m.
Shots are free for those who qualify, no appointment required; for more information visit garlandisd.net/shotclinics