Each month Garland ISD recognizes two district employees at the regular Board of Trustees meeting for Going the Extra Mile (GEM).
This recognition is a district acknowledgement of those GISD employees who display superior commitment, innovation, leadership, work ethic, accomplishments and/or initiative. Garland ISD GEM recognition is open to any GISD employee, and anyone can nominate an employee as a GEM. Those selected are notified and recognized at a GISD Board of Trustees meeting once a month.
May's two GEMs, Janet Alber and Gabriel Medina, were recognized at the May 28 meeting.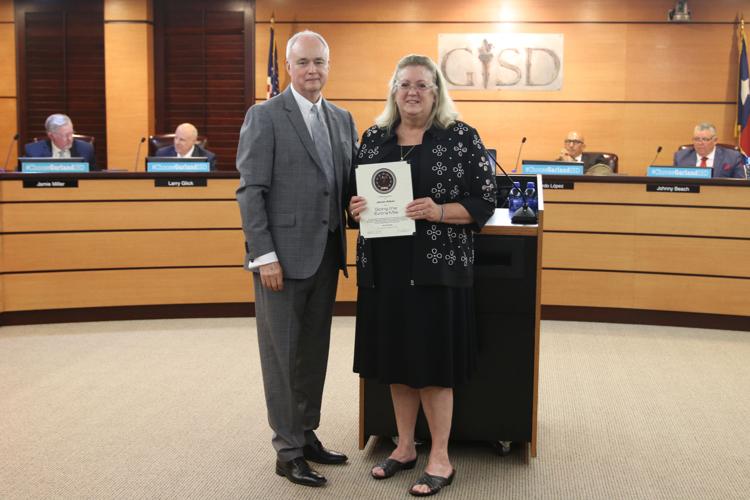 Alber is the Southgate Elementary cafeteria manager and was nominated by Principal Jennifer Fowler, who said she shows up every day arriving before the other staff and ready to care for students and ensure they have the meals they need to be successful at school.
"Janet observes the students and takes those who need extra attention under her wing," said Mida Milligan, executive director of Communications and Public Relations. "She noticed one student who would often hang his head and seem to fall asleep in line. Janet was worried about the child's well-being and safety and reported her concerns to administration to look out for this child. They were able to uncover more serious issues and help the student because of Janet."
According to Alber's student nutrition supervisor, Carl Jones, she is a manager who puts everything she has into providing a quality experience for everyone in her cafeteria.
"Carl said it's fun to watch Janet's interactions with students. She not only knows all their names, but she knows a little something about them," Milligan said.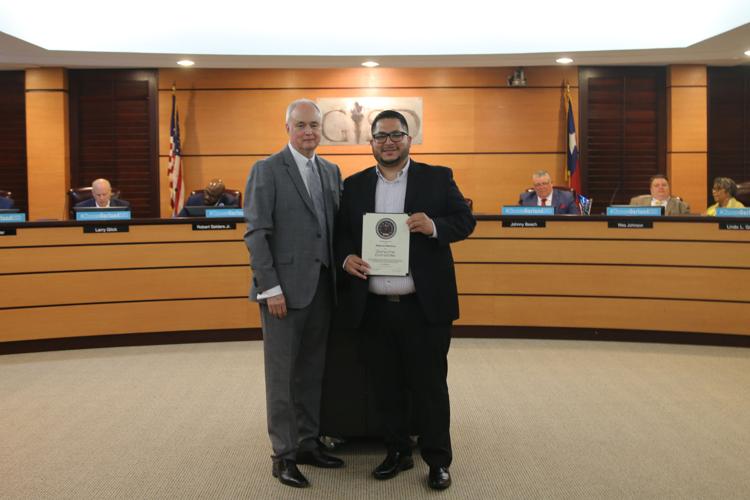 Medina is an AVID teacher at Sam Houston Middle School and was nominated by EL coordinator Deb Tietjen. She described him as a trailblazer for the AVID Excel program.
Milligan said Medina grew up like many of GISD's EL students and was the first in his family to graduate from college.
"He credits a teacher for supporting him on this path," she said. "He is absolutely determined to pay it forward and do the same for his students, using every method he can to connect with and support them, whether it is flying to Mexico to attend a student's quinceanera, visiting students in the hospital, creating a mentor program for at-risk males, cheering for them at athletic events, or using an Instagram-famous teddy bear he created called Lil Panchito to engage them in tutorials." 
Milligan added that when Medina found out about the Early College High School program at South Garland High School he set his mind on getting as many students in that program as possible and succeeded."
"The AVID Excel students from Sam Houston make up 40 percent of the AVID Excel students accepted. To accomplish this, he made phone calls home, helped them with their applications and, in some cases, hounded them until they had everything completed and turned in. Gabriel is truly an AVID Excel rockstar," she said.