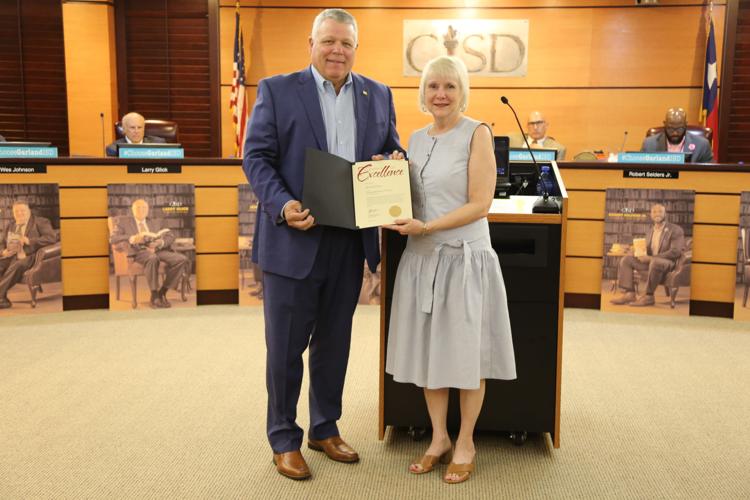 The Garland ISD Board of Trustees recognized Brenda Hass with the Evidence of Excellence certificate Tuesday night for her original composition, "Dream of Me," that was published by Heritage Music Press.  
"What started out as an idea with pencil and staff paper ended up becoming a masterpiece that will soon, if not already, be a part of all music libraries in the United States of America," said Joseph Figarelli, director of Visual and Performing Arts. "This music selection that I am referring to is called 'Dream for Me' and was written by our very own Ms. Brenda Hass."
"Several years ago Brenda Hass composed a piece of music for the Children's Chorus to sing at the Garland ISD convocation. The message of the piece was for our teachers, administrators, bus drivers, cafeteria workers – anyone who touched the lives of our students on a regular basis in Garland ISD," he continued.
In 2017 the fifth-grade Garland Children's Chorus was invited to perform at the Texas Music Educators Association Convention in San Antonio. As the music repertoire was selected for the program, "Dream for Me" was the perfect piece to dedicate to the elementary music teachers of TMEA.
"A cello part was added with pensive harmonies that blended with voices of the children for a stellar performance. Following this performance, the music files were submitted to Heritage Music Press for publication consideration," Figarelli said. "We are pleased to share that 'Dream for Me' has been published by Heritage Music Press, and teachers across the state of Texas have this wonderful piece available to use in their instruction."
Hass introduced her parents to the audience and credits them for her accomplishments.
"They are the people that invested in me as a child. They were the ones that helped me dream my dream, and then to see it all transformed and to become a part of Garland ISD has been a very special adventure for me as a teacher and as an administrator," she said.