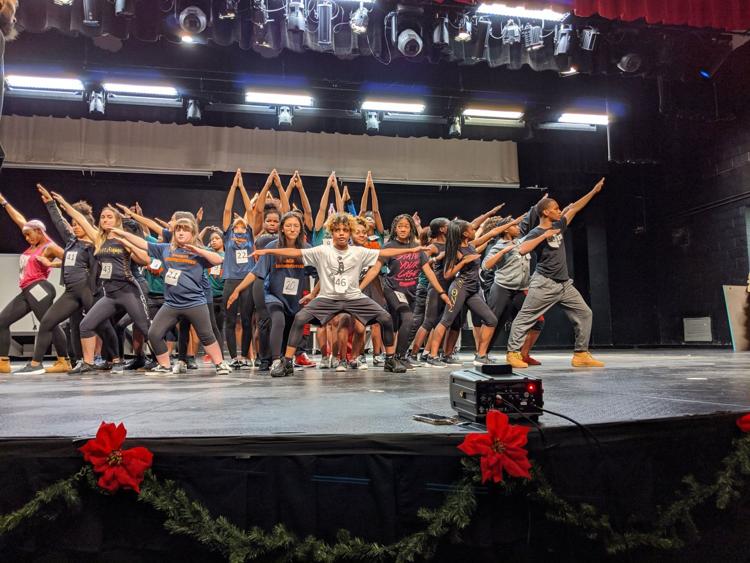 Garland ISD's districtwide step team received a one-of-a-kind opportunity to open for the Blue Man Group at 6:30 p.m. Jan. 16 at the Winspear Opera House.
The district step team, UNIvsALL, is made up of step members from each of the district's seven high school teams. Their combined number is 56, and the team is made up of the best of the best from each team.
Becki McDonald, theatre director at North Garland High School and North Garland's step coach, said she was approached by the education outreach coordinator at Dallas Summer Musicals, who also happened to be a student of hers when she taught Junior Players, with the chance to have her step team open for the Blue Man Group.
McDonald wanted to extend this opportunity to other GISD students and offer them the opportunity the same way she was given a chance to learn and grow as a student.
"I want them to have as many opportunities to grow and put this on their resume," she said.
McDonald collaborated with the other step coaches to bring together the best of the best who were willing and able to balance the workload of being on their campus team as well as the district team. What was meant to be a one-time collaboration to open for a major group that turned into a districtwide team.
The team began practicing in the fall about once or twice a month. She noted that since each of the schools have their own stepping style they decided to do their own take on the film, "Avatar: The Last Airbender."
"We're basically retelling the story of 'Avatar: The Last Airbender.' Each school will represent an element," McDonald said. "That was our way to try to take each style and make it work."
"We have one student who is a middle-schooler, he normally steps with Garland (High School) and he will be our airbender, and he will be the one that unifies all of these elements together," she continued. "Then we have a giant unity step that happens that they all had to learn."
With there being only five elements and seven GISD high schools, they did some improvising. Rowlett High School's element is soul.
RHS senior and step captain Serenity Drake has been with the team for two years and is also part of the district team.
"This takes dedication and hard work," she said. "Being on the districtwide step team has shown me a lot of new things. It is also building my skills as a stepper. You also get to meet new people that share the same passion as you. [I] couldn't be happier to be a part of this group. I can't wait to see where this goes."