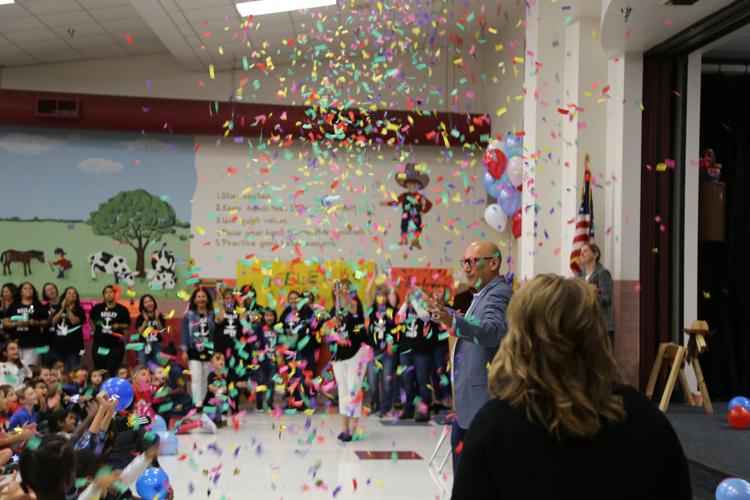 Garland ISD students are getting a chance to honor campus staff for helping them achieve exemplary performance. On Oct 17, the first set of Rowlett schools hosted pep rally-style celebrations, and students got to personally present a custom-made pin to staff members for receiving "A" or "B" TEA accountability designations.
A total of 46 events are scheduled from Oct. 11-Nov. 22 throughout Garland, Rowlett and Sachse. The Oct. 17 celebrations include Keeley, Steadham and Herfurth Elementary.
Keeley is the only campus in Rowlett to earn an "A."
Keeley Principal Sheri Taylor said most schools that earned an "A" designation were magnet schools with the exception of Keeley and Spring Creek Elementary.
She noted that in the state of Texas, only 19.8 percent of schools were "A" schools out of about 8,000 schools in all grade levels including public and charter schools. 
"It's great and it's humbling because I know how hard the teachers work and how hard the kids work," Taylor said.
She also attributed their success to the parents who are highly involved with what their kids are doing.
"What I love about the new system is that we start looking at growth. It's not just pass or fail percentages, it's 'did that kid make a year's growth?' because we have some kids that come in from charter schools or home school that haven't had the same experience or foundational background in education," Taylor said. "As long as we can get them to grow a year or more and recognize those kids, that's our main goal – to grow kids every day."
Each "A" or "B" campus received enough custom-made pins for everyone at their campus. Each pin is customized for each campus, and all staff members got to choose a student to pin them during their campus celebrations.