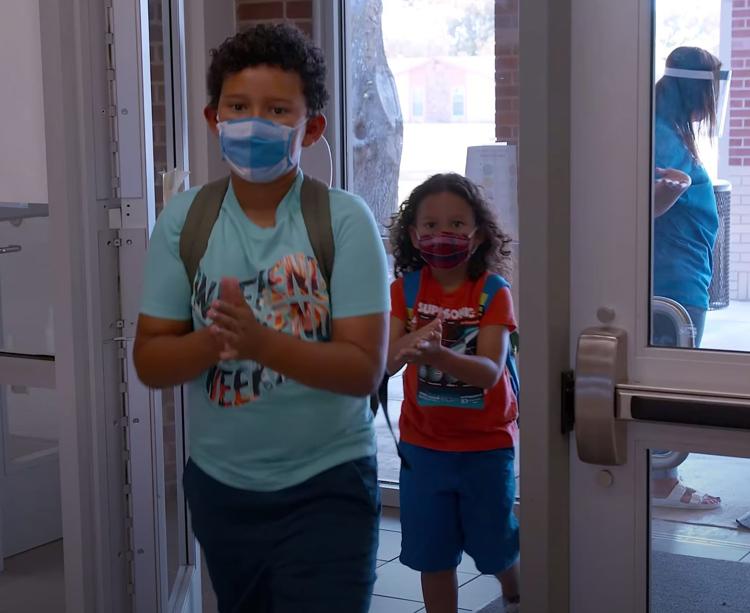 Tuesday, Garland ISD welcomed students whose families selected face-to-face learning.
Approximately $4 million of CARES Act funding was invested in safety measures implemented in district facilities to ensure the safety of students and staff.
Families physically returning to school will see plexiglass shields, social distancing visual markers, disposable trays and utensils in the cafeteria and more.
Giddens-Steadham Elementary Principal Jade Hobbs stated the school has been preparing for this day for weeks by sending out newsletters and emails, and the district has put out videos on the importance of wearing a mask, how to properly wear PPE and more. Parents have been encouraged to help their child get accustomed to district protocols and what to expect upon their return to campus.
"From the moment they walk through the door we already have protocols set. That's what we've been doing these last couple of weeks," she said. "We've been training staff on new health protocols, on safety protocols (and) what parents can expect from the moment they drive up."
"Whether they're a car rider, a walker or a bus rider, they'll get their temperature checked at the door. As long as they have a temperature lower than 100 they'll be (allowed) in. We've already notified our parents of the procedure if they do have a temperature," she added.
Staff also did practice drills on arrival, dismissal and bathroom rotation schedules that have been put in place to ensure social distancing in the hallways.
"The district has provided shields for all of our desks for the students, as well as in the cafeteria. We have seating charts for our students in the classroom as well as how they're going to be sitting in the cafeteria to ensure that we're social distancing," Hobbs said.
Students are also provided with reusable mask and face shields. The district has provided extra custodial staff during the day, and teachers have also been provided cleaning materials.
"We are encouraging all of our students to wear a mask. We do understand that students may have a bad day, we've already trained our staff on what we call SEL(social-emotional learning) training so we know that they may be sensitive to different things," Hobbs said. "With COVID we don't know how that's affected our students as far as from not being at school, and now transitioning back to school, that's a lot for a kid. So we've trained our staff on different techniques to use."
She added that the staff, including counselors will be on hand, working together to help students feel safe and comfortable wearing their mask.
"We have a lot of things that we're putting in place. COVID was unexpected so this is something that throughout the process we always go back to the drawing board to ensure the safety of our students," Hobbs said.