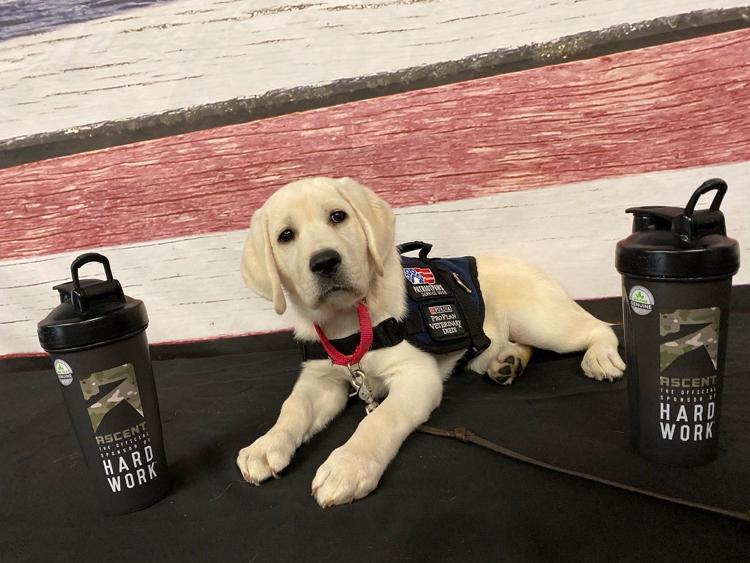 Patriot PAWS Service Dogs, a national nonprofit based in Rockwall that trains and provides service dogs for disabled veterans, recently received a $14,000 donation from Ascent Protein.  Ascent is a family owned company based in Denver, Colorado that is well-known in the fitness and sports industry for producing clean, pure, made-in-America protein and pre-workout products.
On Oct. 29, Ascent launched a special give-back campaign pledging to donate 20 percent of profits to Patriot PAWS from sales through Nov. 11.  Ascent also gave Limited Edition Veterans Day Blender Bottles to customers who made a purchase in support of the campaign.
Carolina Panthers running back and Colorado native, Christian McCaffrey, generated buzz for the promotion when he personally announced it on his social media channels.  McCaffrey is an official partner with Ascent, and one of the most recent professional athletes to join Team Ascent.
"Thanks to the support of our athlete Christian McCaffrey and our incredible customers, Ascent is able to partner with Patriot PAWS to provide service dogs to disabled veterans in support of their recovery both physically and emotionally," said Ascent's General Manager, Paul Vraciu.  "The entire Ascent team is very proud of the way we are able to help train service dogs for our American heroes."
Ascent Protein, The Official Sponsor of Hard Work, is the benchmark in protein purity.  With over 30 years of experience, Ascent filters the protein in their own facilities, using only milk from trusted dairy farmers.  Like the athletes they serve, Ascent works hard to achieve high-quality results.
"We are extremely grateful to Ascent Protein and all of their loyal customers for making this generous donation possible," said Lori Stevens, executive director and founder of Patriot PAWS Service Dogs.  "With their support, we will continue to train and place these amazing, life-changing animals with the 70 disabled veterans waiting for a Patriot PAWS Service Dog."