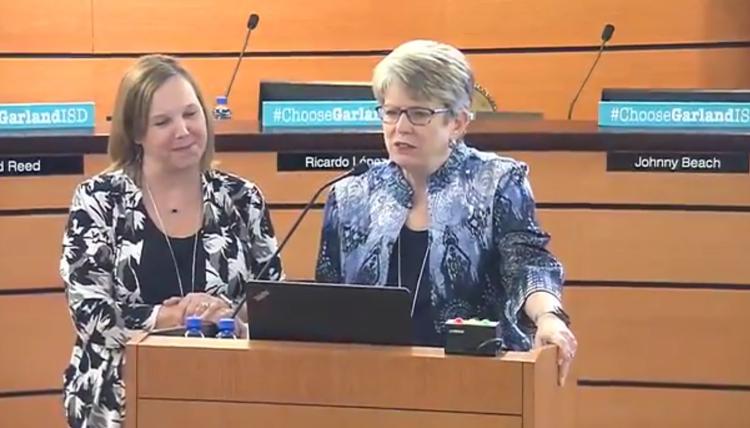 Garland ISD's Director of Intervention Carra King and Lea Ann Schkade, Coordinator of Intervention, presented the GISD District Affairs Committee with information on the implementation of the campus-based Instructional Support Teacher (IST) program at the June 11 meeting.
This program was implemented at the elementary level this past school year (2018-19), and one of the priorities was to provide on-site job-embedded support in the classrooms at the elementary level.
"To do that, we really needed to make sure ISTs were trained and could be participants and facilitators in our professional learning communities; provide instructional planning opportunities," King said.
"By using our coaching cycle of helping and supporting with planning, modeling, co-teaching in the classroom, and then helping teachers reflect on their own practices and to really examine their growth areas, and where they needed to improve and identify best practices for their classrooms," she continued.
The purpose of the instructional support teacher is to assist teachers in analyzing data, support targeted planning, develop instructional and intervention activities, provide one-to-one instructional teacher assistance, and deliver professional growth activities in content and program areas.
This includes the ISTs coordinating with the principal on teacher support and professional development; support instructional planning for all instructional staff; provide teacher modeling co-teaching for instructional staff; participate in professional learning communities and weekly data meetings, analyze all instructional staff with classroom management strategies, and provide support all new instructional staff.
Campus level support was determined by levels. Level 3 includes daily IST support; Level 2 – IST support three times a week, Level 1B – IST support biweekly, and Level 1A – weekly support.
Campuses are assigned a level of support based on accountability outcomes. The higher level identification indicates greater need for support, and ISTs either support math/science instruction or English Language Arts and Reading (ELAR)/social studies instruction.
As a result, data shows growth in student performance in math and reading between fall and spring.
King said that based on feedback from teachers, ISTs and administrators, the following are key areas of IST support that were felt to be most effective: identifying areas of improvement for individual teaches, using data to specifically target individual student achievement, modeling content specific, high yield instructional strategies in the classroom, and helping teachers determine appropriate classroom management techniques based on their needs.
Schkade went over upcoming training 2019-2020, which includes Region 10 Instructional Coach Academy, Region 10 Instructional and Digital Coaches Conference, social emotional learning, effective school framework, and data-driven content specific instructional support.