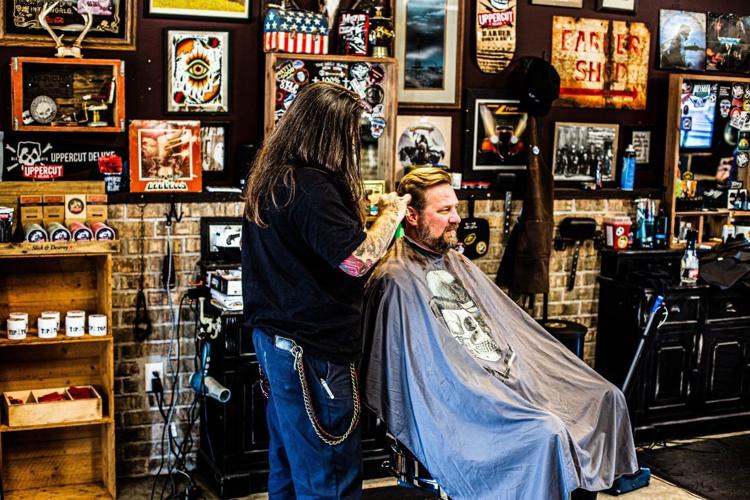 Finalists for the 2019 President's Awards Program were recently announced in Austin. For over 30 years the awards program, sponsored by the Texas Downtown Association (TDA), has recognized outstanding projects, places, and people of Texas downtowns.
 One hundred and nineteen entries were submitted in 11 different categories from communities across the state. Due to the number of entries, the entries were divided up into two categories – Design and Achievement – with separate judging panels for each group.
 A finalist in the Design Category, Redemption Barber Shop is on Main Street in the Village of Rowlett Downtown. A traditional barbershop, they offer classic barber cuts and modern, short styles for men, women, and children, as well as beard trims and shaves, including straight razor.
"We are thrilled and humbled to be one of the finalists. If bikers decorated Cracker Barrel, I'm pretty sure this is what would happen. It's like a honky-tonk with barber chairs. We love it; it's a home away from home. Turns out a bunch of other people like it, too," said Christian "Grimm" Shannon, Owner.
The judges for design entries were: Barbara Brannon, Texas Heritage Plains Trail; Rachel Farrington, Cobalt Development; Ellis Mumford-Russell, Ogee; Dick Ryan, retired architect; and Riley Triggs, City of Austin.
TDA was established in 1985 to connect and serve communities that are committed to downtown vitality. The organization is an independent, statewide nonprofit that represents cities and towns of all sizes, economic development corporations, chambers of commerce, local associations, small businesses, and individuals.
Winners will be announced on October 30 at the Awards Gala held in conjunction with the 2019 Texas Downtown Conference in Georgetown. For more information about the President's Awards or other programs of the Texas Downtown Association, please visit texasdowntown.org. Applications for the 2020 awards program will open in the spring.