During Tuesday night's Rowlett City Council meeting work session, the council received a presentation regarding a proposal to develop Residences at Merritt Hill, an affordable and market rate multifamily rental housing development, using a 4 percent housing tax credit with the Texas Department of Housing and Community Affairs.
Munal Mauladad, director of community development, said this property is being subdivided into several parcels. The proposed location is zoned form-based urban neighborhood district, which allows multifamily by right, a minimum mix of 20 percent of the following types is requires: mixed-residential, shopfront and mixed-use. In this case, the applicant may provide up to 80 percent mixed-residential but must vary the remaining 20 percent with either shopfront or mixed-used. For phase development to occur, a regulating plan is required to establish the mix of lot types as required by the urban neighborhood district.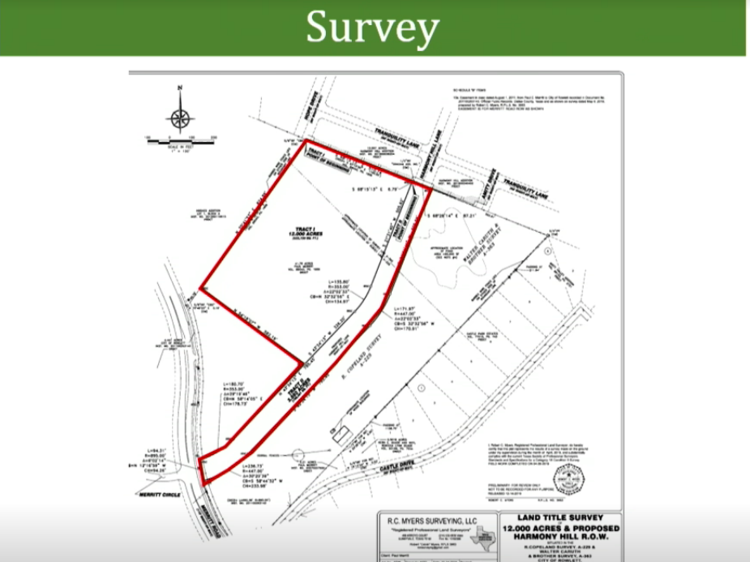 Dan Allgeier with NuRock Companies said there are over 30 acres in the total tract, and the applicant is buying a portion of it that is about 15 acres. They're proposing 260 apartment units on this site, which will be located on the north side of town between Merrit Drive and the President George Bush Turnpike.
"This zoning does require some mixed use," Allgeier said. "We have talked to the land owner, (and) they're planning retail on the balance of this site and actually are working very hard on some developments as we speak."
The development is a proposed three-story structure with covered entries, storage room or closet, covered patios or balcony, breakfast bars, clubhouse – fitness center, business center, meeting/conference hall, community room, picnic/BBQ areas; arts and crafts center; and a swimming pool.
"One thing I do want to emphasize here in this program, everything is extremely energy efficient when you're done," Allgeier said. "It's very energy-conscious because the residents have to pay (the) electric bill, and you want to make it as best for them as you can."
The proposed breakdown is 56 one-bedroom units with an estimated gross rent (rent plus estimated amount of utilities that the resident will pay) of $935; 136 two-bedroom units for $1,122; and 68 three-bedroom units for $1,296.
There is an income requirement, which is based on the Dallas-Fort Worth area median income (AMI) determined by the U.S. Department of Housing and Urban Development (HUD) to be $82,000-$83,100, according to the presentation.
"One hundred percent of this property will be for residents that make 60 percent of that (AMI) or less," Allgeier said.
The developer's request was for a city council resolution of "no objection," which is required by the Texas Department of Housing and Community Affairs for bond approval and issue housing tax credits.
They also had a pilot request. Allgeier said they're partnering with the Rowlett Housing Finance Corporation (HFC); they're issuing bonds for the project and getting a percentage of fees and cash flow, and can buy NuRock out in 15 years after the compliance period and are eligible for tax exemption.
Allgeier said Harmony Lane would be extended from the north to Merritt Road by NuRock at a cost of about $3 million while the current tax estimate for 15 years based on valuations is $2.8 million.
Council agreed to put this item on the next agenda for further discussion to allow the developer time to address some of their concerns regarding the mixed-use/commercial component.