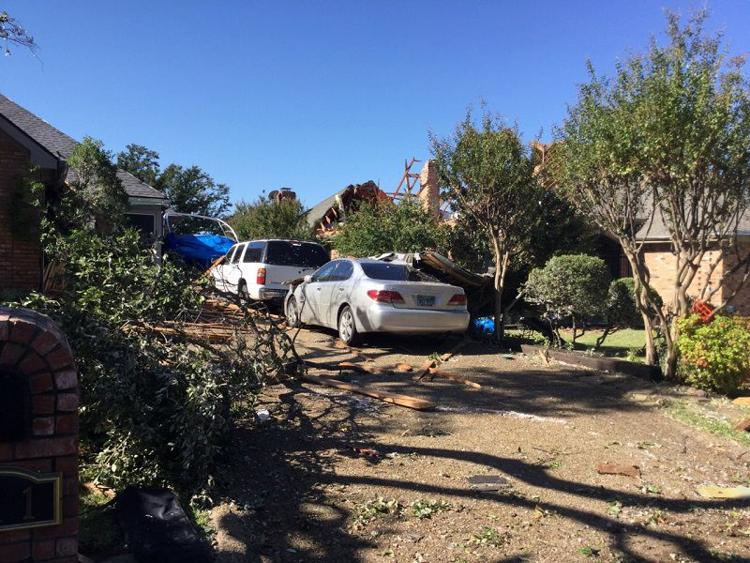 The National Weather Service (NWS) Fort Worth/Dallas confirmed three tornadoes touched down in Dallas County during Sunday night's storms, causing significant damage to areas of Rowlett, North Dallas and surrounding areas.
The first tornado was said to have cause damages in North Dallas consistent with an EF-3 tornado with estimated 140 mph winds that began at 8:58 p.m. and ended about 9:30 p.m. The second tornado caused damage to trees, businesses and homes in Rowlett consistent with an EF-1 tornado. This occurred between 9:36-9:45 p.m. with estimated 100 mph winds.
The NSW reported that the initial tornado damage in Dallas was seen near I-35E and Walnut Hill. The damage path was said to have continued east between Walnut Hill and Royal Lane, through Preston Hollow to near North Central Expressway (US 75) and Forest Lane. Additional tornado damage was observed near the intersection of Audelia Road and Buckingham Road in Richardson. 
In Rowlett, the NSW found EF-1 tornado damage on Hickox Road near the President George Bush Turnpike, as well as Eastview Drive in Sachse. Additional tornado damage was observed on Larkin Lane in Rowlett, elsehwere in the Pleasant Valley area of Sachse, and on Elm Grove Lane in Wylie, and further damage was found in Rockwall.
According to Oncor's website, thousands of customers were affected in Dallas County.
Four Garland ISD campuses canceled school for Monday as a result of the storms. The district reported that electricity was out at Dorsey Elementary School, Park Crest Elementary School, Williams Elementary School and Sam Houston Middle School.