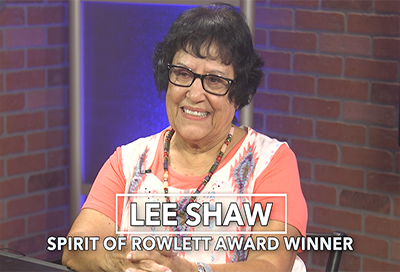 Longtime volunteer for the Rowlett Fire Department Lee Shaw was recently named this month's Spirit of Rowlett honoree. This award is to publicly recognize ordinary residents doing extraordinary things in the community, and the recipients are nominated by Rowlett residents.
Shaw was nominated by Councilman Whitney Laning.
"Lee is the retired director of the 911 Center in North Little Rock, Arkansas, and a very proud mother and grandmother. She is an amazing resource with a wealth of experience, depth of knowledge and a far-reaching network," Laning said. "She was instrumental in publishing the city's Emergency Operations Plan and completing a grant that allowed the city to hire a full-time emergency management specialist. She is also the recipient of the 2009 and 2013 City of Rowlett Volunteer of the Year Award."
Shaw has lived in Rowlett 14 years and said her husband decided on Rowlett after getting a job with the city of Dallas because he knew it was a growing community.
She was also instrumental in getting the Rowlett Fire Department a Staffing for Adequate Fire and Emergency Response (SAFER) grant from the Federal Emergency Management Agency (FEMA) that helped hire non-new firefighters.
Shaw said she knew North Little Rock had gotten a SAFER grant and asked to have a copy of it, and because she came from there they allowed her to have a copy. She then took it to the city manager and fire chief.
"The SAFER grant pays for your firefighters' salaries and benefits for three years," she said. "That was good to bring here because we need it and have needed it."
Laning said this grant saved the city $1.4 million in personnel salaries.
To watch Laning's interview of Shaw, visit ci.rowlett.tx.us