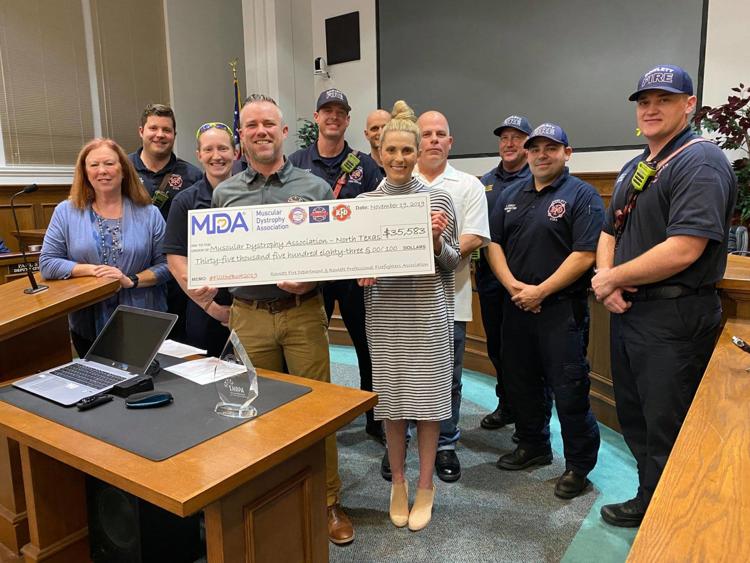 The Rowlett Firefighter Association and Rowlett Fire Department presented a donation to the Muscular Dystrophy Association of Dallas during the Nov. 19 Rowlett City Council meeting. Funds were raised through the Fill the Boot campaign.
Josh Brock, president of the Rowlett Firefighters Association, said for over 65 years fire departments across the country have partnered with the Muscular Dystrophy Association in the Fill the Boot campaign.
"This year over 1,500 fire departments and over 100,000 firefighters participated," Brock said. "Over the past five years the Rowlett Fire Department has really pushed the Fill the Boot campaign and we've seen an increase in our donations ever since."
According to the Mayo Clinic, "muscular dystrophy is a group of diseases that cause progressive weakness and loss of muscle mass. In muscular dystrophy, abnormal genes (mutations) interfere with the production of proteins needed to form healthy muscle.
There are many different kinds of muscular dystrophy. Symptoms of the most common variety begin in childhood, mostly in boys. Other types don't surface until adulthood. There's no cure for muscular dystrophy."
Brock mentioned a resident with muscular dystrophy who grew up attending muscular dystrophy camps that the Fill the Boot campaign helps pays their way.
He presented a check for $35,583 to a representative with the Muscular Dystrophy Association, their biggest donation yet.
For information on the Muscular Dystrophy Association visit MDA.org.