Up one art piece from last year, Rowlett High School has a new record.
Only 133 artworks from the region – Wylie, Rockwall, Mesquite and Richardson – out of 1,777 have been selected to compete at the state Visual Art Scholastic Event (VASE). Of those, RHS is sending 47 pieces.
"I feel blessed to have kids that are capable of doing the kind of artwork that it takes to get to state," said art teacher Chad Wilkinson.
"I think it says a lot about how much the teachers care about the students," he added. "We care about the students, we want them to succeed, we want them to do well and we keep pushing them and every year they rise to the occasion which is great to see." 
The competition is open to any art student. Students are placed into divisions based on how many years of art they've had. Of the state competitors, about 8 percent are awarded with a Gold Seal, which is the highest honor in VASE. Last year Rowlett High received six Gold Seals.
Wilkinson said the Gold Seal pieces go on a traveling exhibition for a year before the students get them back.  One of last year's Gold Seal recipients is junior Deisy Hermida, 17.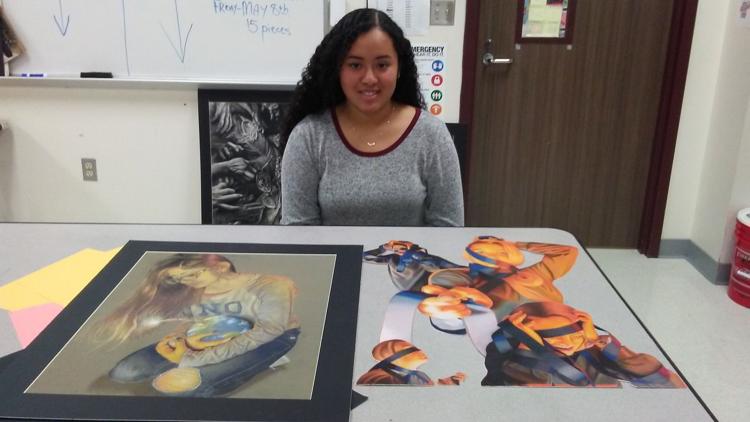 Hermida said she likes to try out new things and techniques with each of her pieces. She's been doing art since the sixth grade and she's happy to see the progress she's made over the years.
"I wanted to make a piece that stood out to people," she said of her current piece. "It's based on (the notion) that everyone has troubles and conflicts that we have to deal with. The blue ribbon represents those conflicts and how sometimes people get tangled up in their own problems, which makes them unable to reach out for help."
"It did not make it to state, but I did get a 4, so I did make it to the gym floor (area judging) and I'm really proud of that," she added.
Hermida is reworking this piece for the Texas Visual Arts Association (TVAA) competition.
"(Art) teaches them how to have focus, patience, diligence, perseverance, the ability to look at their artwork and make critical decisions, which is sometimes hard to do. It's a challenge to decide on your artwork what you're going to be doing," Wilkinson said.
Hermida's Gold Seal winning piece from last year serves to bring awareness that humans can cause damage to the planet and should be mindful of their actions.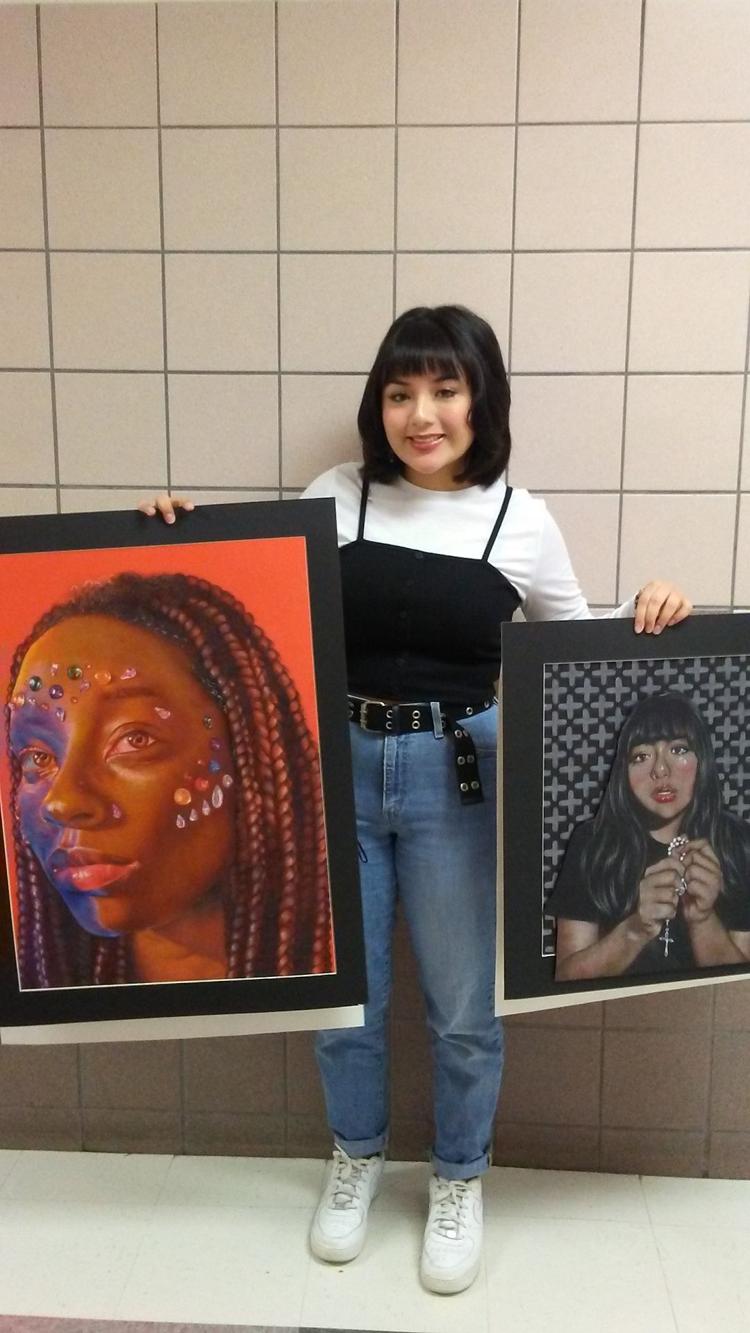 Senior Zahide Torresdey, 17, has two works headed to state this year. She said one piece was inspired by Catholicism and confessions and her feelings about it, the second piece focuses on realism. The latter she said she started in May of last year.
Wilkinson said it's not often that a student gets multiple pieces going to state, often it's because they just don't have the time to do more than one piece, but Torresdey was very determined.
He added that part of the success of their art program is teamwork among his colleagues, fellow Rowlett High art teachers Lynn Wilkinson, Amanda Miller and Diane Clegg, as well as other art teachers in GISD.
State competition is held April 24-25 at San Marcos High School in San Marcos.