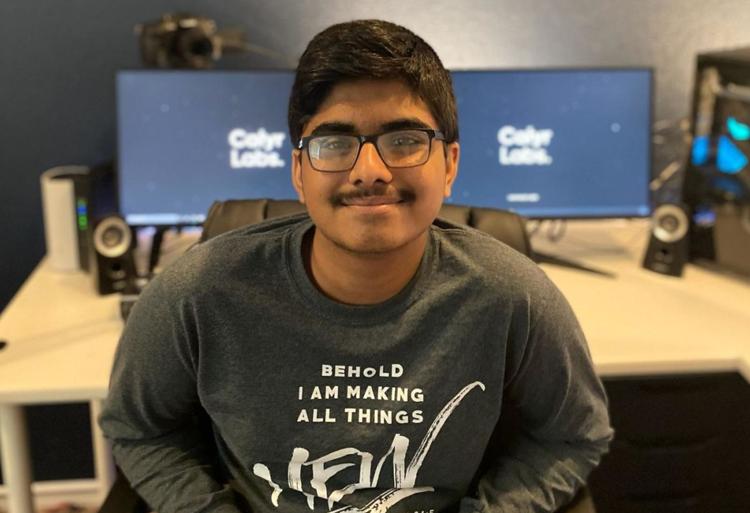 A Rowlett High School student didn't let the COVID-19 closure stop him from accomplishing a goal.
Sophomore Ayush Kurian, 16, had been working on some different media streaming ideas all year, and what began as a project about three months prior to the pandemic became his sole focus during the school closure.
Kurian developed, created and launched a new video conferencing application called Calyr (pronounced like "caller").
This app was one in a long list of projects he had set out to get accomplished.
"I have a small server in my room. I took a day where I wrote about 156 projects to do, (and) project No. 56 was making a video conferencing application. This was about three months before COVID started," Kurian said. "The one thing I wanted to do with Calyr is I wanted to have no accounts with it because I do know that with Zoom and Google Meet, they use accounts, and that's one of the biggest problems with privacy."
He stated that what made his app different from others are the security and privacy aspect, as well as the ease of use.
Kurian tested his creation by calling a friend in India, where he said the internet connection isn't great, and many people use internet sticks on their computer.
His friend downloaded the app on his iPhone, and Kurian gave him a meeting ID and noticed that the video and audio quality was remarkable.
"It's pretty phenomenal because of how internet usage is. If I tried this with Zoom I'm pretty sure it wouldn't sound as a great because of how much data Zoom uses to send video and audio," he said.
From there, Kurian did some tweaking before making the app available for public consumption. The app is free and kept alive by donations, does not require an account and maintains user anonymity.
Kurian also donates a percentage of donations he receives toward UNICEF and the World Health Organization (WHO) for COVID-19 research.
He added that Calyr was meant to be a side business for him, but after seeing how this application has gone over with the public he may make it into something more.
"Even if Calyr doesn't become as big as Zoom or anything like that, I do want people to know that there are people that do care about security and privacy," he said. "I'm so happy to get this far with it."
Aside from Calyr, Kurian also runs a live streaming and video production company called Vertical Media.
You can find Calyr in Google Play or the Apple App Store. You can also find the online version at connect.calyr.online.