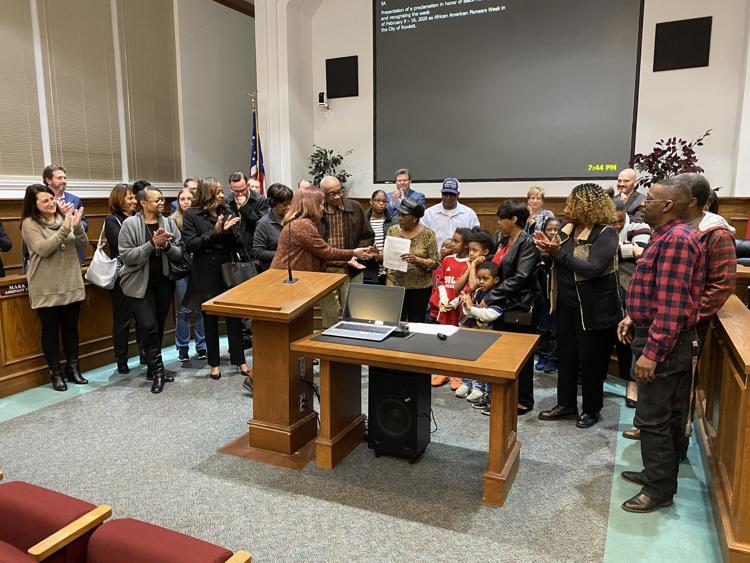 During Tuesday night's Rowlett City Council meeting Mayor Tammy Dana-Bashian presented a proclamation in honor of Black History Month and recognizing the week of Feb. 9–16, 2020, as African American Pioneers Week in the city of Rowlett.  
"African-American families have been a part of the Rowlett community long before the city was incorporated in 1952. One family in particular, Isaac and Naomi Scruggs and their children, have been in the area since 1936 when they joined other relatives," Dana-Bashian said.
She stated that prior to 1952, the Rowlett community was primarily farmland and cotton mills with mostly African-American families surrounding them. The Scruggs family built their home in Rowlett in 1954, two years after Rowlett was officially recorded as a city.
Other notable African-American pioneer families in Rowlett were the Fuquas, Grays, Lees and McGuires, among many others.
Dana-Bashian said the Scruggs family also owned the Scruggs store and gas station for several years, as well as owned farmland and had tenants.
"Isaac Scruggs was very active in the community. He was a member of the Rowlett Chamber of Commerce, the First Bank of Rowlett Community Development Committee, and a member of Zion Missionary Baptist Church," she said.
Scruggs was also said to have served on the Rowlett Cleanup campaign, the Rowlett Save the School Committee and the Needy Children's Fund, and partnered with longtime resident Vernon Schrade to drive the efforts to have a water line extended to the outlying area of the city.
"It is African-American families like the Scruggs and others that have contributed to the foundational values of Rowlett," said Dana-Bashian. "Therefore, in recognition of the importance of the contributions of African-Americans both past and present, we are proclaiming next week as African-American Pioneers Awareness Week."