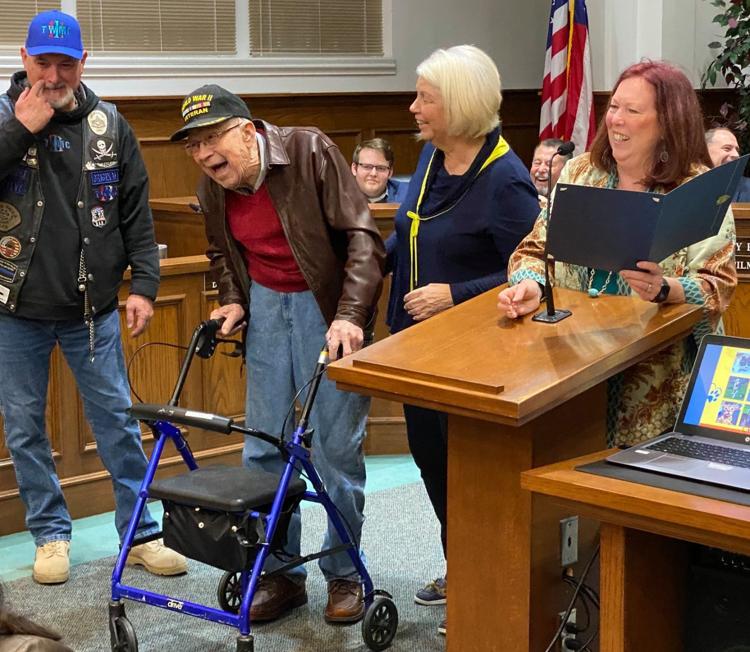 At Tuesday night's Rowlett City Council meeting the city recognized World War II Army veteran Billy Furgerson as part of the city's veteran recognition program.
The veteran recognition program started in 2017 as a collaboration between the city and Third Watch Law Enforcement Motorcycle Club (LE MC) – a brotherhood of police, firefighters and military, both current and honorably retired who share the common goal of assisting and recognizing veterans. The program shows appreciation to those members in the community who have dedicated their time in service to the nation and it helps bring awareness to veterans' issues – what is being done in our community and what is still needed.
Furgerson is the 17th Rowlett veteran to be recognized since the program's inception.
A member of the "Greatest Generation," Furgerson served in the European Theater, 85th Depot Repair Squadron and 44th Air Depot Group, according to the presentation.
He was also presented with a hand-stitched quilt made especially for him from the Quilts of Valor organization.
The presentation can be found at in the Jan. 21, 2020 City Council meeting at ci.rowlett.tx.us/397/Streaming-Video.