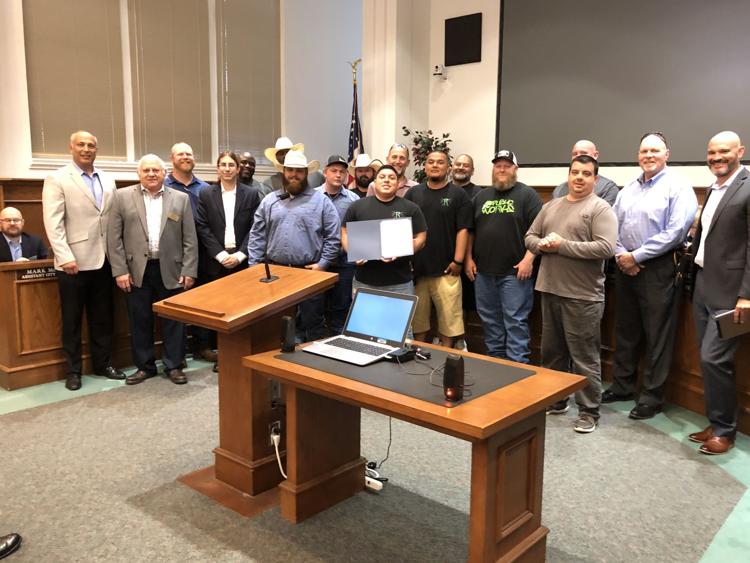 A proclamation recognizing the week of May 19-25, 2019, as National Public Works Week was presented to the Rowlett Public Works Department at Tuesday night's City Council meeting. 
Councilman Matt Grubisich conducted a presentation and encouraged residents to sign up for the Rowlett City Academy to learn about the inner workings of the city, one of which is getting to learn about what all Public Works does.
"Since 1960 the American Public Works Association has sponsored National Public Works Week, a celebration of thousands of men and women in North America who provide and maintain infrastructure and services, collectively known as public works," Grubisich read. 
"They also serve as first responders in emergency events. Across the nation, more than 30,000 members use this week to energize and educate the public on the importance of the contributions of the public works to their daily lives," he continued.
Each year, the American Public Works Association designates the third full week in May as National Public Works Week to shine a light on the services provided in local communities, which are an integral part of our residents' everyday lives. The support of an understanding and informed citizenry is vital to the efficient operation of public works systems and programs such as water, sewers, streets and highways, fleet, public buildings, engineering and emergency response – the health, safety and comfort of this community depends on these facilities and services. 
According to the city, local infrastructure, facilities and services could not be provided without the dedicated efforts of public works professionals, who are engineers, managers and employees from state and local governments and the private sector, who are responsible for rebuilding, improving and protecting the nation's transportation, water supply, water treatment and solid waste systems, public buildings, and other structures and facilities essential for their citizens. Additionally, the emergency response provided by public works assists other first responders to protect the health and safety of their community as well as their surrounding communities during a time of need.
This year's theme, "It Starts Here," represents the many facets of modern civilization that grow out of the efforts put forth by the public works professionals across North America. 
What starts here? Infrastructure starts with public works… Growth and innovation starts with public works… Mobility starts with public works... Security starts with public works… Healthy communities start with public works… The bottom line is that citizens' quality of life starts with public works.