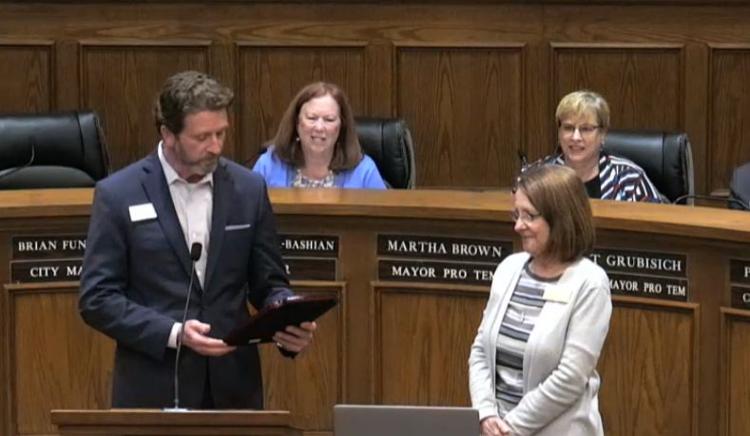 The city of Rowlett honored retiring Rowlett Library director Kathy Freiheit Tuesday night with a presentation for her nearly nine years of service. 
Freiheit was hired Aug. 8, 2011 and officially retired on Wednesday, according to City Manager Brian Funderburk.
"When she was hired, I was doing double duty as assistant city manager and interim librarian," Funderburk said. "She's not your typical library director; she's a fierce advocate for library services and tough enough to tell the city manager how the cow ate the cabbage when asking for budget resources."     
He added that Freiheit and her library staff has served the community through numerous severe weather threats by providing shelter, computer access, information, a listening ear and third-party resources to our entire community. 
"She also weathered several floods at her previous library due to water leaks, but handled it all with grace and finesse, just as she did when she orchestrated two relocations of the library, plus the design of a new library," Funderburk said.
Freiheit is accredited by the Archives Commission as a fully qualified member of the Texas Library system, recognized by the Texas Municipal Library Directors Association for achievement of library excellence award, of which there are only 51 libraries in the state of Texas, making the Rowlett library one of the top 10 libraries in the state. 
She was essential in the transition from an old and failing software system to a new and improved integrated library system with enhanced functionality and improved online public access and catalog for library users. Freiheit and her staff also developed or improved numerous library programs.
She served on the library visioning task force, which was a committee of key stakeholders, council representatives and city staff who researched 21st century trends, made site visits and worked with architects to identify service priorities and make recommendations for interior design for the Village of Rowlett library facility. 
"I cannot overstate how much Kathy has done for the Arts and Humanities Commission," said Jeff Winget, chairman for the Arts and Humanities Commission. "Her fierceness about the arts and about accomplishing things in our community is beyond words. From our contest to our competition to everything that we've accomplished; the displays of art that we have in our community, Kathy is the linchpin in making that happen."