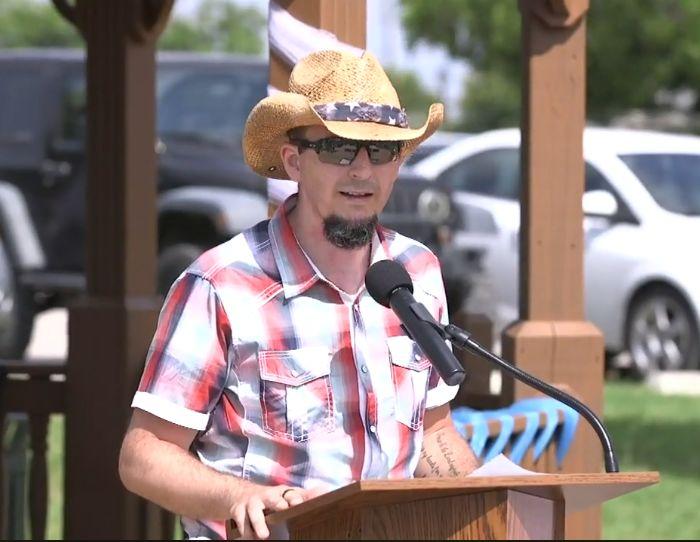 This year's Memorial Day Ceremony was held on May 25 at Veterans Park in downtown Rowlett. 
"We remember all those honorably laid to rest, and we remember those who lie in unmark graves on lonely foreign shores. Those entombed beneath the waves, those who were taken prisoner and never released, and those remain missing in action," Mayor Tammy Dana-Bashian said. 
"We also remember those who served our country proudly but returned home tormented by the hidden wounds and personal demons that follow them from the combat zones. Many never recovered and died surrounded by loneliness, addiction, poverty and squalor. They deserve so much better," she continued. 
This year's keynote speaker was U.S. Army veteran Brian C. Fleming, who is also an author and combat-wounded veteran from the War in Afghanistan. The Purple Heart recipient served as a team leader in an infantry platoon with the U.S. Army 10th Mountain Division while deployed.
Fleming recalled a moment in which he was lying in a ditch on the side of the road in Kandahar at the age of 21, asking himself, "Was this all worth it?" He didn't think he'd make it out of that situation alive and was certain he would die in that moment and would never see his family again. 
"A few years after my injury and finding out about Cody (friend who died in battle), I was speaking near Palm Springs, California, for a military fundraiser. After I got done speaking a lady walks up to me. She said, 'Hello, Brian, I'm Cody's mom.' She told me that one of her greatest fears is that who Cody was and what he did would be forgotten," he said. "But because of my injury and because of the good people that came into my life and helped me move forward I was able to use my story through speaking and write books like I do and dedicate that to him, so that I can meet her six and half years after my injury and put her fears to rest by letting her know that my book is going to outlive both of us."
To answer the question that ran through his mind at 21, he said it was worth it. 
Fleming said one way to honor those who died in service is to help those who did return home get back on their feet and heal their internal wounds the way he was helped.