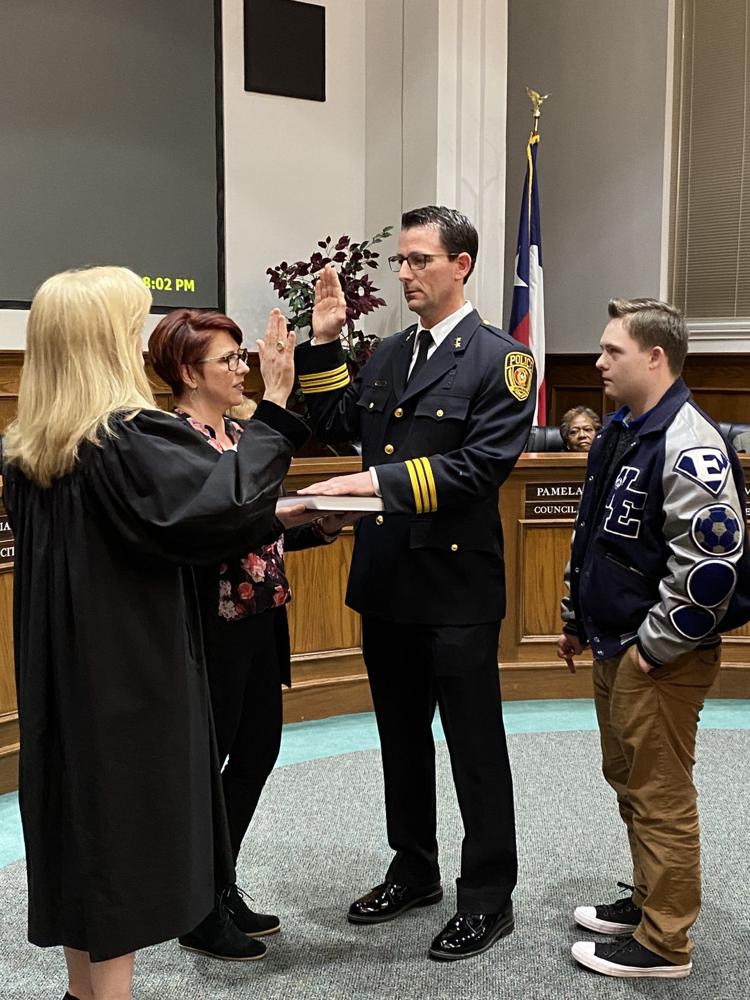 Following the retirement of Rowlett Police Chief Mike Brodnax, Rowlett's new Police Chief Michael Godfrey was officially sworn in during Tuesday night's City Council meeting.
Godfrey began his career in law enforcement in 1996 when he joined the Terrell Police Department. While there, he was recognized as Police Officer of the Year in 1998.
He joined the Rowlett Police Department in 1999 as a patrol officer and moved through the ranks of sergeant, lieutenant, assistant chief and now police chief, stated Deputy City Manager Paul Stevens.
"Through his 20-year career in Rowlett, he has gained experience at every level and division within the department," Stevens said. "As assistant chief, he oversaw department operations including patrol, support services, criminal investigations and community services, and has been instrumental in the development and administration of a $12 million departmental budget."
Godfrey is said to have proven adept at managing personnel matters, enhancing staff careers, creating and updating standard operating procedures and coordinating special department programs. He is also very experienced with department and citywide strategic planning, creating and updating council resolutions and ordinances and working with numerous multidepartmental city committees.
He has received several awards during his service in the Rowlett Police Department including Police Officer of the Year in 2003, Public Safety Employee of the Year in 2008, Chief's Award for Excellence in 2003 and Supervisor of the Year in 2009 and 2013.
"This is just an absolute incredible opportunity for me. I don't think I can even begin to tell you how excited I am, how honored I am, how proud I am to be the next chief of police of this great community," said Godfrey.
Stevens said as the new chief, Godfrey has established several departmental goals, which include: establishing and maintaining a positive working relationship with municipal court; increased programs related to community involvement; expand mental health and illness awareness; implement the new Rowlett First Responder Post Traumatic Stress (PTS) Program; focus on de-escalation and compassion-based policing programs; encouraging the professional growth of all employees and developing the next generation of leaders in the Rowlett Police Department; and holding employees accountable for their actions and behaviors.