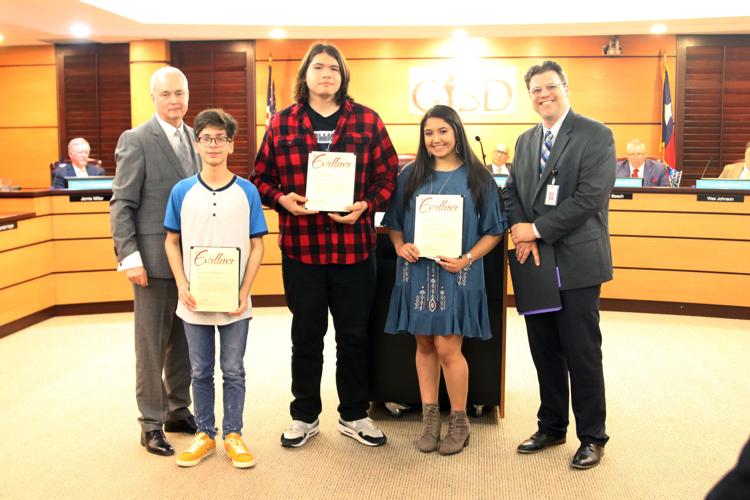 Six of Garland ISD's art students were honored with the Evidence of Excellence at Tuesday night's GISD Board of Trustees' meeting. These six were this year's State Visual Arts Scholastic Event (VASE) winners. 
Every year all seven of GISD's high schools compete in the Texas Art Education Association's Visual Arts Scholastic Event (VASE). David Sanders, coordinator of visual aarts, said they compete by regions, and Region 10 East is so large they had to compete in three separate events. This year the district hosted Region 10 East at Rowlett High School.
"Not only did we host the Region 10 East event, we dominated," Sanders said. "This year just for our event alone, there were 1,730 works of art registered to show up at Rowlett High School. Each one of those pieces is checked in, and every student comes in and sits with a juror and talks about their artwork and the score is based visually on their artwork, and also their knowledge of visual arts and the piece they created."
There were 16 school districts to compete in the Region 10 East event, and at the end of the day there were 128 pieces that qualified to advance from their event to the state. 
"Nine of the school districts competing didn't even have one piece qualified to advance to state, while Garland ISD had 62 advance to state. That's 48 percent of all the pieces going to state from our region, belonging to our district," Sanders said.
At VASE the students went through the same judging process, and at the end of the day 40 out of the 62 pieces that went to state had received a score of four, which is the highest honor out of Garland ISD.
Ten percent of all the fours are judged again to receive the top honor of Gold Seal. This year Garland ISD had seven Gold Seals from two high schools – Rowlett and North Garland. Every Gold Seals from Region 10 East this year went to GISD, Sanders said.
The six GISD VASE winners are Salvador Estrada, who received two Gold Seals for two separate works, Chris Johnson, Deisy Hermida, Jessica Olvera and Renata Garcia from Rowlett High School and David Moreno-Rebollar from North Garland High School. 
Their artwork is among approximately 150 statewide winners and 30,000 pieces to enter VASE competition. 
Their artwork will tour the state of Texas and return to them in November.