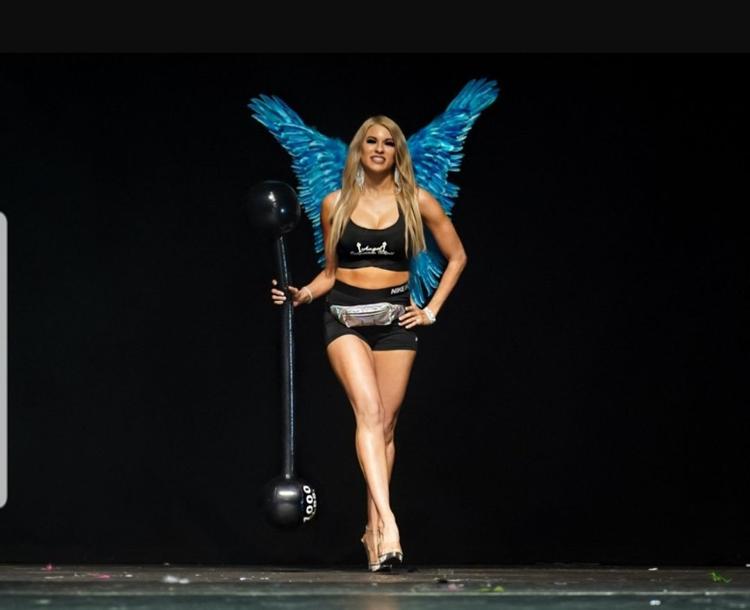 Coach Crystal Lynn Sanders does it all. She's a nationally certified master trainer, certified sports nutritionist, fitness instructor, dance instructor, author, model and more. Sanders authored the book "The Healthy Little Handbook Fitness Devotional," which can be found on Amazon Prime, the creator and founder of Fairytale Fitness, and competes in bikini fitness competitions. She can be found teaching classes at the Rowlett Community Centre and on Youtube where she produces fitness videos and reviews on fitness and health products to help inform her followers. Find her on Youtube at Coach Crystal Lynn.
What classes do you teach at the rec center?
I teach Get Energized (senior fitness class) and line dancing classes. I also have a company called Fairytale Fitness, which is a mommy and me fitness program. I train instructors to take it to different communities.
Explain Fairytale Fitness.
It's a mommy and me fitness program that teaches them the fundamentals of fitness; it's their first introduction to fitness. It's for kids from 6 weeks old to until they start school, about 5 years old.
There's modification for everything; for the little ones the moms will use the babies as weights and work out with them, and then there's something for the older kids who are trying to do workouts on their own.
When did you get Fairytale Fitness started?
It's been around for seven years. There weren't any programs like that for moms and their babies, and I wanted to do something to get the kids started in fitness at a young age and embed it into them so it becomes a way of life. 
What else do you do?
I also do boot camps, master training, personal training sessions and I partner with gyms. Really, anything fitness I'm there.
What drew you to the field of fitness/nutrition?
I have a cheer and dance background and started out as a cheer coach. I did that for five years and really loved it. It was when my husband's father suffered health issues that it made me want to go back to school and get all my certifications so I can help people with their health and fitness.
Tell us about your book.
It's called the "Healthy Little Handbook Fitness Devotional: 31 Days to Healthier Mind, Body, and Soul." It contains every scripture that spoke to me that was motivational, inspirational and strengthening that has to do with health and fitness. 
It was kind of a God-given book because I didn't have to think about what I was going to write, it just flowed from me. It was fast and easy.
Tell us about competitions you've been involved in.
I'm doing an NPC (National Physique Committee); it's coming up on Nov. 2. It's a bikini fitness competition, they judge your muscles, it's basically the Super Bowl of the fitness industry. 
My first competition was Ms. Health and Fitness, and the lowest I got on that was top four, which was a big deal because I was competing against women from all over the country, and the money donated in that competition went to Wounded Warriors (a charity and veterans service organization). 
Right now I'm competing in the Maxim Cover Girl contest (donations also go to Wounded Warriors). I had to fill out an application and send in a ton of pictures, and then the contestants are hand-picked to compete, so even just getting hand-picked to compete in it is a big deal. 
I was also in an Angel Bikini Fashion Show; Angel Competition Bikinis is the biggest distributor of fitness suits, and I got picked out of 2,000 athletes that applied to walk in the fashion show. From that 2,000 it dwindled down to 400, and from 400 down to the top 100, who got to walk in the fashion show. 
It was such a big deal for me to be able to get picked as an athlete/model to walk in that fashion show.
What made you want to compete?
I'm just very into health and fitness and I'm also very competitive, and this was just taking it to the next level.
What else have you been involved in?
I recently did Battle of the Badges (Monroe City, Louisiana). I was voted in to be a ring girl, and all the money from that went to special needs. I was so excited to get picked for that. 
What keeps you motivated?
Music, high beats per minute, longevity, being around for my family and just being healthy.
If you were to win the $25,000 from Maxim, what would you do with it?
Med school. My daughter is pre-med and she's going to be an anesthesiologist. 
What do you enjoy most about what you do?
Just seeing the change and improvement, whether they're doing fitness or dance, and seeing them have more energy is what makes me happy. 
Whether it's fitness or dance we're fighting dementia, heart disease and muscle atrophy, and knowing that I'm giving them a healthier life and longevity is so rewarding to me. I love investing in people.