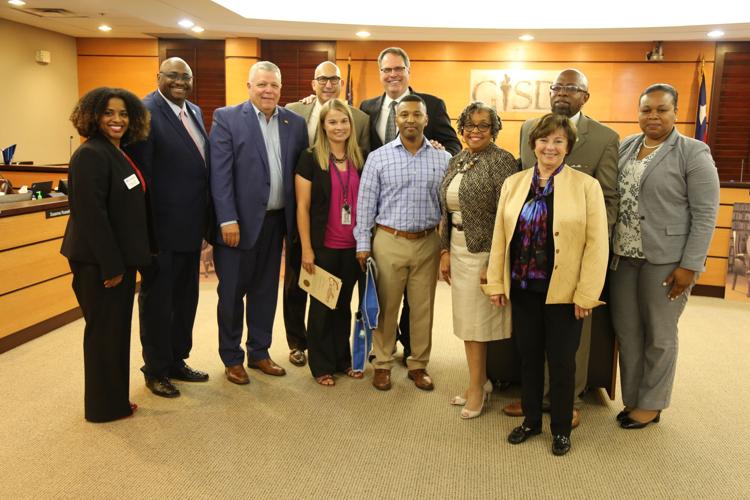 Garland ISD believes in College for All and offers many opportunities for students to earn college credit before they graduate high school, but the district also takes advantage of partnerships to offer tuition assistance.
During the Sept. 24 Board of Trustees meeting the district recognized one of those partnerships with the Evidence of Excellence award.
Texas A&M University-Commerce is partnering with GISD to help keep higher education affordable and accessible. The organization's Pride Promise programs pay the remaining balance of a student's tuition that is not covered by other financial aid or scholarships, said Mida Milligan, executive director of communications and public relations.
"Thanks to the work of some GISD advocates and Texas A&M University-Commerce Distinguished Alumni, tuition assistance for graduate degrees is now being offered to district staff. I'd like to take a quick moment to say a big 'thank you' to Mrs. Griffin, Synda Gordon, Dr. Wells and Texas A&M-Commerce leadership for this amazing opportunity," Milligan said.
In the spring, a call was sent for applicants interested in grants or full-ride scholarships and more than 20 educators applied, but only two were chosen for the full-ride scholarship – Jessica Tanguy from Abbett Elementary School and Robert Navarro from Daugherty Elementary School.
Tanguy is a second-grade teacher at Abbett, but she has aspirations of becoming a librarian. She will attend Texas A&M-Commerce for a master's degree in educational technology-library science.
"Jessica's application says that she has loved books since she learned to read. She wants to help every student find that perfect book that inspires them to stick with their reading even when it's difficult," Milligan said. "Beyond books, though, she wants to create a library that brings students together and allows them to collaborate and learn from a variety of resources."
Navarro is a fourth-grade bilingual teacher, and he will pursue a master's degree in educational leadership. According to the presentation, he joined the U.S. Air Force right out of high school and decided to begin undergraduate studies 12 years after enlisting.
"Due to several deployments and relocations, it took him 10 years to complete his bachelor's degree. After serving in the Air Force for 22 years and earning his diploma, Robert entered the teaching field. He has aspirations of pairing his graduate studies with leadership experience in the Air Force to serve as a principal one day," Milligan said.