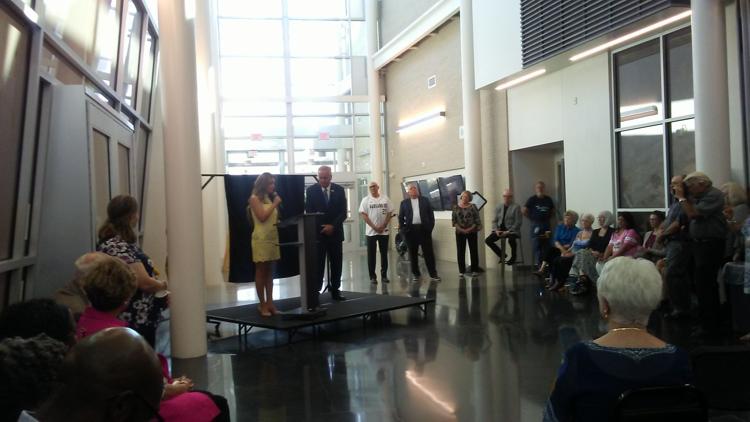 The first floor of Garland ISD's Gilbreath-Reed Career and Technical Center was packed last Thursday with friends, family, colleagues and students of CTE Director Phil Gilbreath to celebrate his retirement after 52 years of service to GISD.
With the help of his predecessor J. Clarence Reed, Gilbreath's innovative vision led to the CTE program GISD boasts today. 
"He represents everything that's fine about this great district – faith, family and friendships," said Superintendent Ricardo López. "That's the biggest legacy that we're going to carry from your tenure. We are going to lead with faith, we're always going to prioritize our family, and we're always going to lock arms with the friends that we're surrounded by."
A representative with Senator Bob Hall's office presented a proclamation to Gilbreath. He was also presented with an ironwork creation made by students to be welded onto a gate at his farm, and the firefighting department presented him with a fire chief helmet. 
Gilbreath has worked under six superintendents, taught for seven years, was a consultant for eight and served as the CTE director for 37.
"For an individual to able to stand the changes of time, changes of leadership and the changes of expectation is by sheer definition, and honorable man. And he has survived, he has served and he has brought forward the continuation of the key aspect of our community, and that is looking after students, making sure they have a vocation regardless of what the trends in education would be in because he has survived the trends of vocational career being important and then only college being important, and then them both being important, and now that we have a combination of those things, he has move forward with making sure that every child has everything that they need to be successful and by example, those students also know what it means to be honorable," said Board Trustee Jed Reed.
Gilbreath said he lived with his grandmother who worked in the school cafeteria. At the time he was too young to stay home so he'd go to school with her and help out while he waited for his friends to get to school. He has an appreciation for everyone in GISD who has a part in caring for students. 
"I love teaching and working to build relationships for students, parents, teachers and the total education community," he said. 
"I remember the time in the college classroom when I decided exactly what I wanted to do and that career dreams has come true in Garland, Texas," he continued. "You've given me trust and confidence in teaching and planning programs, and facility designs in different campuses. It's very rewarding to work with students in planning their work in designs and creativity and then to see the student success."
52 years of service to Garland ISD