At the corner of Marauder Stadium, cleats and running shoes hang from the fences — flanked by everything from photos to jerseys, signs and championship trophies — all in his memory.
A bit further down, just behind the visitor's section of the stadium, are a series of red solo cups decorated to read, "Coach T" with a heart in the middle.
And at the intersection of Morriss Road and Dixon Lane, right in front of Marcus High School, sits his picture.
For all that Steve Telaneus accomplished over 30-plus years on the job as the Marauders' head cross country and track and field coach, his impact resonated beyond any manner of wins and losses accrued throughout this career. It's the impression left on a community, not just within Marcus or the town of Flower Mound, but across a sport that was rocked by the sudden news of his death on April 30 at age 60.
"He was very well known across the district and a lot of what he accomplished really advanced cross country and the whole persona of cross country teams there," said Tim Ford, Lewisville ISD athletic director. "He was very well known across the state and had a great reputation for what he brought to the district."
"He was iconic. Everyone knew him from every school. A lot of coaches here wanted to be like Steve Telaneus," added Kevin Atkinson, Marcus head football coach and campus athletic director.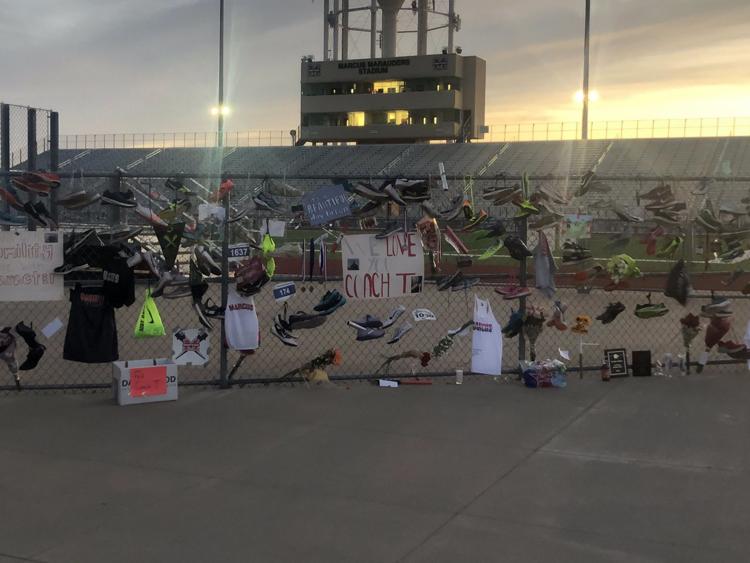 The only head cross country coach in school history, Telaneus built the program into a perennial juggernaut — including a quartet of UIL state championships won in 1996, 1999, 2000 and 2015. Accruing a score of district and regional titles along the way, Telaneus coached three student-athletes to individual state titles in cross country — Amani Terrell in 1996, Renee Metivier in 1999 and Craig Lutz in 2009 and 2010.
On the track, the Telaneus-led Marauders developed a reputation as one of the most well-rounded programs in the state. The Marcus girls accrued three consecutive top-10 team finishes at the Class 6A state meet from 2016-18 — highlighted by a second-place finish in 2018 that featured a pair of individual wins for alums Quinn Owen (1,600-meter run) and Mackenzie Hayward (pole vault).
"He always was able to get kids to do what they didn't think was possible. That's a true talent in any great coach and he exemplified that," Atkinson said. "He was hard but fair. He was loving but tough. He's going to make sure that all the kids that ran track put forth their best effort, and that's something that's remarkable and something that we all try to do. He was a master at that."
Just as indelible a quality from Telaneus' peers was the attention to detail exuded in coaching up his student-athletes, regardless of their talent level.
"He was a very competitive person and he wanted his teams to be successful," said Andrew Cook, Flower Mound head cross country and track and field coach. "Just watching him, being a former athlete and now a coach, just seeing the way he took time to interact with each athlete — if they finished a race, be it first or last, he always took the time to talk to them. He looked them in the eye and told them what they did well and things they could improve on."
That influence expanded to Telaneus' peers, as he built countless relationships since getting his start in Lewisville ISD as an assistant coach at Griffin Middle School in 1983 — later joining Marcus in 1986 as the football program's first wide receivers coach.
"I was hired 13 years ago at Flower Mound High School and have hopefully improved a lot of that time, and I think a lot goes back to what he was able to help me out with over that time," Cook said. "Being in the same position, he was always so willing to help others and I'm really thankful that he took the time to help out a rival coach."
"I got to know him in 1992 when I was an assistant coach here. While he was out of football then, he was instrumental in helping me as a young coach to know how to handle not only receivers but young men and young ladies in the classroom," Atkinson added. "He provided that for me and when I got back here in 2017, he was still going strong. He always had a great outlook on life and was a phenomenal person."

Telaneus married influence with inspiration later in his career, suffering a heart attack at the district cross country meet in October 2002 during which his heart stopped for more than 30 minutes. Despite the near-fatal episode, the efforts of health care professionals and his own rehabilitation helped Telaneus eventually resume his coaching career. Track and cross country outlet Texas MileSplit chronicled Telaneus' recovery in the documentary, "Heart of Marcus."
"He lost memory of a lot of things. He didn't remember how to coach or train kids and in some ways he had to start from ground zero and build himself back up again," Cook said. "He's such a resilient person and for him to go through that is really inspirational and really makes you look at yourself and wonder, 'What am I complaining for?' At one point, this man dropped dead, came back to life and found a way to build a successful program."
A Hall of Fame one, at that. 
In 2004, Telaneus was inducted into the National High School Coaches Association Hall of Fame — an accolade that went alongside five Cross Country Coaches Associations of Texas Coach of the Year awards, a National Cross Country Coach of the Year in 2000 and the National High School Coaches Association Cross Country Coach of the Year in 2002. 
"Obviously, the program he's built has been phenomenal and I think a lot of that helped impact the other cross country and track programs in the district," Ford said. "That became the standard that everyone was shooting for, and as a result, I think the whole district has moved forward because of his efforts."
Telaneus' impact on the rest on Marcus, LISD and the statewide running community have been plenty evident in days since his passing. Cars lined the streets of Flower Mound for miles on May 3 during a memorial procession for Telaneus and a bevy of coaches and Marcus alumni have reached out through social media to offer support and kind words on "Coach T."
"Just seeing the outpouring of support from his former athletes really speaks a lot," Cook said. "Considering he coached some of those athletes 30-plus years ago, for them to come out on Facebook and talk about how much he meant to them is pretty special."
The Marcus cross country and track and field booster club created a GoFundMe page, with proceeds benefiting Telaneus' family. To donate, click here.