FLOWER MOUND — It's only one match, but Flower Mound head volleyball coach Jamie Siegel already felt like she saw more of her players on the attack during Tuesday's season opener than from last year.
Seniors Kaylee Cox and Angelique Cyr fueled the charge, as figures to be the case most nights for the Lady Jaguars, but had plenty of help elsewhere around the net as Flower Mound turned away a stingy effort by McKinney Boyd in three sets (25-20, 25-21, 25-20) for its first win of the young season.
"It's just about getting some kinks out," Siegel said. "We had only played a couple scrimmages and it's really just about working on trust and still getting in that groove. The talk has got to pick up for our hitters, but that's stuff that will come with more matches."
The Lady Jaguars were among the top teams in the state last season, bowing out in the regional quarterfinals in a four-set bout with eventual Class 6A state champion Trophy Club Byron Nelson.
As Flower Mound looks to forge a different path in 2020, Siegel was pleased with the initial progress made from the team's two scrimmages the prior week — most notably how the Lady Jaguars diversified their attack on Tuesday.
"It was great. Everyone knows what [Cyr] and Kaylee can do out there, but I thought it was good that we were mixing up our sets," she said. "It felt like we had more people getting attacks than we had last year."
With senior setter Caroline Dykes at the controls, six different Lady Jaguars recorded kills during a wire-to-wire win in the opening set. Flower Mound led by as many nine points before Boyd chipped away for an eventual three-point deficit at 22-19. Junior Avery Calame had three kills during that stretch and finished the night with eight total.
"I thought they did a solid job. We want to play teams that are tough so we're able to see what we need to work on," said J.J. Castillo, Boyd head coach. "We obviously need to work on being a little bit more consistent."
The Lady Broncos flashed moments of brilliance on Tuesday, most notably during the second set when Calame and fellow junior Hannah Billeter combined for nine kills to complement an organized, aggressive defense led by junior Claire Russell to pace Boyd to a 17-13 lead.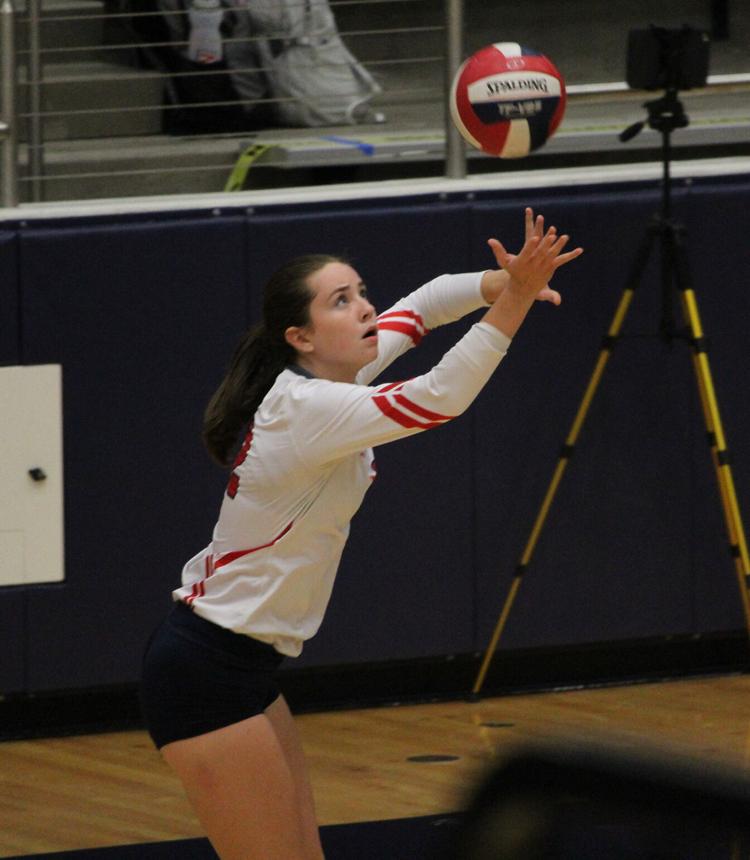 "We're scrappy. We've always been that way," Castillo said. "Once we started relaxing a bit and just started playing, we really began to rally around our defense. They did a good job on that end tonight."
The Lady Broncos' most productive stretch of the evening promptly gave way to a string of errors that helped pull Flower Mound even at 19-19. From that point on, Cox took over — hammering down three consecutive kills, including one to halt a spirited rally, and regain control the Lady Jaguars didn't relinquish.
Cox finished with 14 kills and Cyr tallied 10 in the win. In addition to Calame's eight kills, Billeter caught fire with 14 put-aways of her own — attacking the Flower Mound defense from the front and back rows throughout the contest.
"It helps our offense a ton and helps the other hitters too. It helps when the other side has to see a different angle from what they might be anticipating," Castillo said.
Flower Mound up on McKinney Boyd 2-0 after taking set 2, 25-21. Dominant close to the set by Kaylee Cox, who swung momentum in FM's favor w/ 3 straight pts, including a kill to end this rally. Hannah Billeter stayed hot w/ 5 kills for Boyd. pic.twitter.com/vT7VujhySD

— Matt Welch (@MWelchSLM) September 16, 2020
Flower Mound limited that duo to just four combined kills in the third set, however, mostly on the strength of an imposing block that rejected four shots by the Lady Broncos in the final frame. Sophomore Maddie Cox, a standout for Flower Mound's girls basketball team, contested plenty at the net, as did junior Bella Ortiz and senior Hailey Hutchings. Ortiz, last year's 6-6A newcomer of the year, got in on the offensive with four kills in the third set to turn away the Lady Broncos for a 1-0 start.
"They finally picked up the timing. We had been working on closing the block with our middles and picking up that timing and it finally started clicking in the third set," Siegel said.
Siegel looks for more when the Lady Jaguars return to the court at 6:30 p.m. Friday for a home tilt against Prosper. Boyd is back in action Saturday with a doubleheader at McKinney North. The Lady Broncos take on Frisco Liberty at 11:30 a.m. and the rival Lady Bulldogs afterwards at 1 p.m.