For over an hour last weekend, James Hasty thought he was going to die.
Now, he and his fiancé Nekima Horton are praising the bravery and determination of a Corinth man for not letting that happen.
Hasty and Horton, who live in The Colony, are calling Lamar "Buster" Woodham a hero for his actions that kept the couple from drowning at Lewisville Lake on Aug. 14.
According to Horton, the couple and a friend rented jet skis at Jet Ski Rental Dallas, located at Lake Park in Lewisville, and set out for a fun afternoon on the lake.
Horton said the skies looked ominous that day, but that didn't deter the three from getting on the water.
"In the distance we saw some storm clouds, but they didn't look close to us and looked like they were going in the opposite direction," Horton said.
At first the three were having fun – the couple on one jet ski and the friend on the other. Soon the friend, who had never been on a jet ski before, headed back to the ramp, and Hasty and Horton remained on the lake.
But the storm that appeared far off shifted. And the calm breeze quickly turned to 30-40 mph wind gusts. Waves reached 5 feet.
"My fiancé said we should head back," Horton said. "As we made a U-turn a wave hit us and flipped both of us off the jet ski."
Horton said the current pushed the jet ski away from the couple. She tried to swim toward the jet ski to reach it, but that proved difficult as she was also trying to protect her phone, the only lifeline they had at that point.
"I could only swim with one arm because I was holding my phone up so it wouldn't get wet," Horton said.
Once she realized she wouldn't reach the jet ski she turned around and went back to Hasty and began calling Woodham, operations manager at Jet Ski Rental Dallas, for help. But she couldn't get a signal.
While she was focusing on her phone the currents pushed the two away from each other as the storm blew in. Soon they lost contact. They eventually reconnected, but the currents separated them again.
Hasty said fear consumed him once he and Horton became separated.
"I thought when I lost sight of her that she was dead," Hasty said.
He was concerned about his own well being, too.
"I didn't think there was any way they would find me because I had no phone," Hasty said.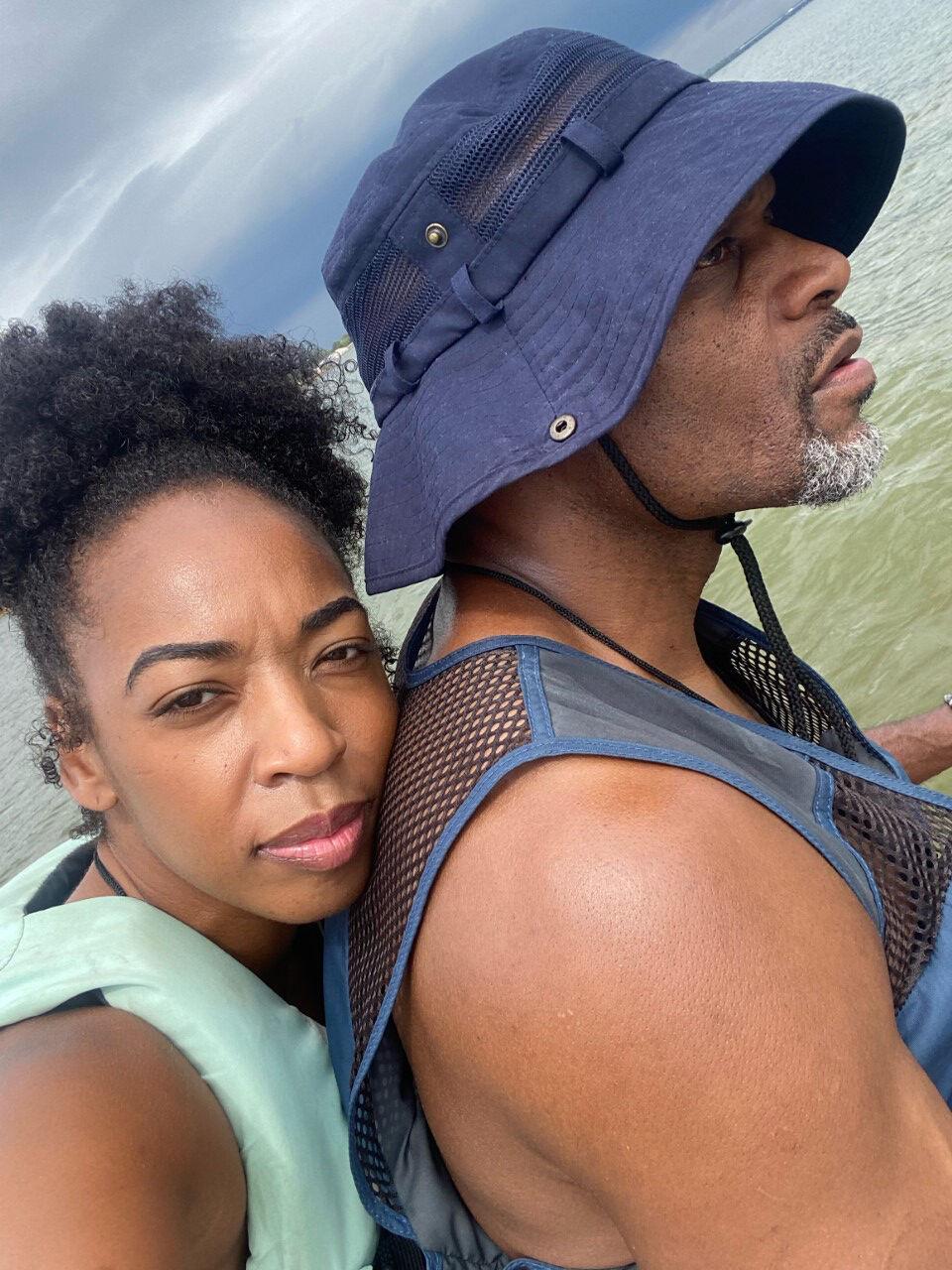 Horton said she finally got a hold of Woodham, who had just left the rental facility to get supplies. Once he got Horton's call he made a U-turn and sped back to the park where he jumped on the friend's jet ski since it was already on the water.
"I had to do this on the fly," Woodham said. "Time was of the essence. I've never lost anyone before, and I didn't plan on starting anytime soon."
Woodham headed out to locate the couple but couldn't find them at first. He said he called Horton and told her to send a pin drop through her phone to give him an estimated location. When that didn't work he told her to take a screen shot of her location. Finally Woodham tracked down their vicinity and he raced out there again.
"I surf in the ocean," Woodham said. "This felt like the ocean. There were 5-foot swells, there was lightning and rain pelting on my face. It was wild."
Woodham said he prayed he would find the couple and soon after heard Horton yelling. He pulled her aboard and the two soon located Hasty nearby.
But then came a tough decision. Woodham's jet ski could only hold two people.
"He said three people can't get on, but we can try," Hasty said. "So he disregarded his own safety rule. But in the midst of us trying to get on we capsized two times."
Woodham said he suggested taking Hasty to the closest surface possible, which was the dam, first since he was exhausted. The couple had been wading for an hour and a half.
"She knew that James was tired, and he was on the brink of passing out," Woodham said. "Nekima did what she could to conserve energy. So I told him I'm going to get him to land ASAP."
Hasty was hesitant at first.
"James said 'no,'" Horton said. "He was adamant, like any man would be to leave a woman in a storm."
Ultimately Hasty agreed, and Woodham took him back to the dam, returning 15 minutes later to pick up Horton.
Looking back the couple said they are lucky to be alive.
"I thought I was going to die," Hasty said. "This was the closest I ever came to death. I know all people perish at some point, and people wonder what their circumstances might be. I had to come to grips with this. It was very difficult."
Horton said her faith kept her calm through the ordeal.
"I prayed, and God gave me peace knowing we were going to be OK," Horton said. "I wasn't physically tired or worried about that at all. I knew he was gonna bring us out."
Woodham said his company always preaches safety habits, including wearing life jackets, which he said made this rescue possible.
"This isn't my first rodeo," Woodham said. "I've probably saved eight or nine people. So I'm experienced in these conditions. Minus the lightning and the rain."
The couple is thankful Woodham could save them, too.
"He took that risk," Hasty said. "And if he hadn't come out there two times we wouldn't be here today."