You'd be hard-pressed to find this many people lined up to look at toilet seats.
But then again it's not often you see steer horns on a commode lid.
Barney Smith made a name for himself in South Texas with one of the more interesting collections in the state – The Toilet Seat Art Museum. And now it's in The Colony.
Smith recently relocated his collection to The Truck Yard, a beer garden that is located in Grandscape, just west of Nebraska Furniture Mart. It's set to open July 17, but a few guests got a sneak peak of the restaurant Saturday.
The event also allowed friends, family and other invited guests to help Smith celebrate his 98th birthday.
Smith has spent several decades of that time adding to his toilet seat collection thanks to parts and seats people would donate, though donations are not being accepted now.
"I never dreamed of it looking like this in the last of my days," Smith said last weekend, as he sat in the back of a room with hundreds of toilet seats mounted on the walls, all while taking occasional sips of a nutrition drink.
Smith said the collection began after a hunting trip of all things.
"My dad and I were hunting, and I killed a deer," Smith said. "If it was a doe, I was going to put a certificate around the leg. If it was a buck, I was going to put it around the horn. Later I said I was going to put the horn on a toilet seat. And that was the start of it. I liked it so much I started putting more horns on it.
Then more ideas came to him.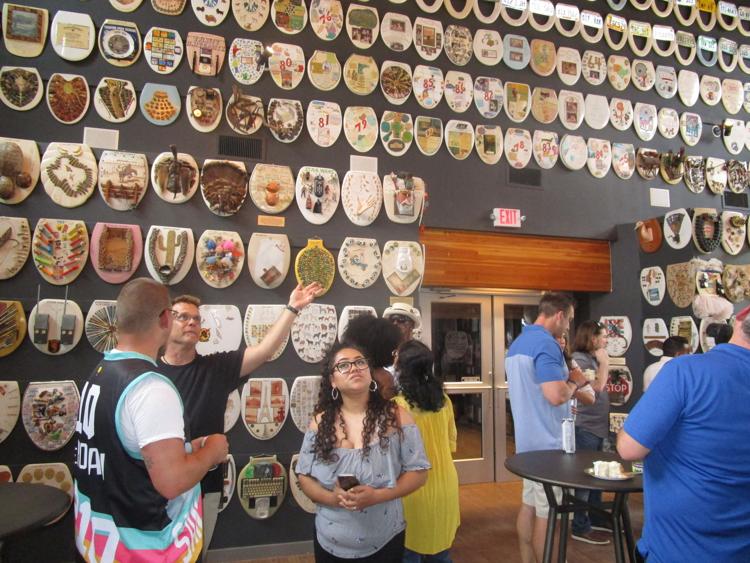 "I did more. Anything I could think of," Smith said. "I have one with old tools on it that were used on Model T's during my day."
Fast forward several years and Smith has about 1,400 toilet seats. Most of them tell a story of his life, and each of them have a different image or item affixed to it. Some he has etched or painted himself. 
"I haven't bought a one," Smith said. "They've all been given to me. People will give me a seat with things that they want me to put on there, and then it's up to me how I put it on there."
That's when the creativity begins.
While a walk through the museum shows what appears to be random pieces, but they all have a story. In fact, select seats have a plaque underneath to explain how that creation came to be.
There is the Saddam Hussein seat, which includes a piece of the toilet found in Hussein's bunker, made possible by Retired Navy Commander Ben A. Krause.
"One of the people who met Barney brought this to him," said Amanda Boso, Truck Yard chief of staff. "He was serving in the military and got to be in (Hussein's) bunker after it had been bombed. And the toilet seat was not destroyed, so he was able to bring this back to be part of the Toilet Seat Art Museum."
There's a seat that was in the airplane used to carry the body of Jackie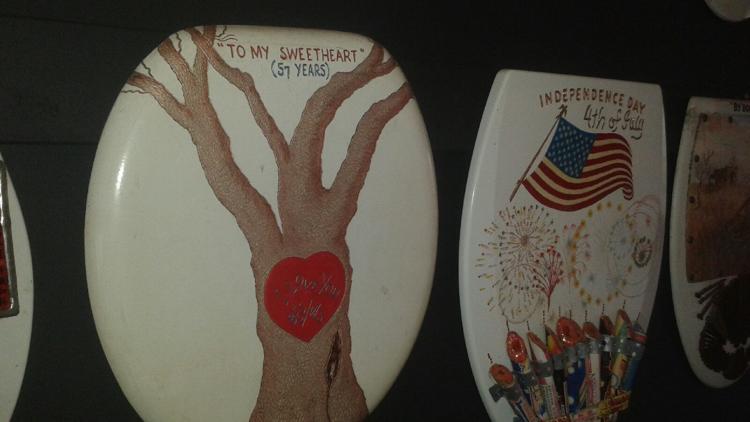 Then there are several created to celebrate the anniversaries with his wife, Velma. One in particular has a drawing of a tree with both of their initials carved into it.
Many of the seats pay homage to random things – Pez candy dispensers, the game Scrabble and a roller derby league.
One seat brings Route 66 a little closer to home. A chunk of concrete from the famous road, picked up just east of Flagstaff, Arizona, is attached to a seat.
But Smith's favorite seat is one that pays tribute the poem "When Earth's Last Picture is Painted" by Rudyard Kipling. A copy of the poem is attached to the seat and includes a painter's palette and communion cups.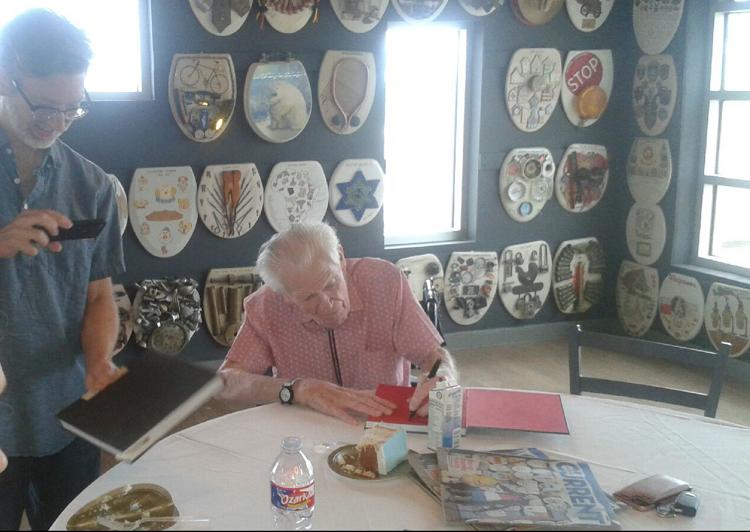 He will recite the poem whether you ask him to or not.
The poem is faded now, but people can scan a QR code on the seat with their smartphone to pull up a video of Smith reciting the poem.
So how did the museum end up in The Colony? Truck Yard owner Jason Boso saw an article online about Smith deciding to sell his museum.
"We called Barney the next day," Jason Boso said.
Now it's just one attraction to restaurant that Jason Boso expects to be a major draw.
Upon arriving at the restaurant people will be greeted with a row of 28 vintage and rusted half-buried cars lining the walkway, Stonehenge style.
Something interesting to look at while patrons listen to live music, drink beer and eat from food trucks or, what Jason Boso also expects to be a favorite, his Steak Me Home cheesesteak kitchen.
"People won't be able to expect what this is," Jason Boso said. "There's a Cadillac graveyard, a toilet seat museum, Easter eggs all around and a dancing Elvis. So people probably won't be expecting that."