The American Heroes: A Salute to Veterans festival has grown so much in popularity over the last few years that The Colony is stretching it to two days.
This year's event will take place Nov. 8-9 at The Colony Five Star Complex, 4100 Blair Oaks Drive. The carnival, which runs in conjunction with the festival, will run Nov. 7-10.
Now in its 12th year, The Colony's Veterans Day celebration has evolved since its early beginnings. David Swain, recreation manager, said the event used to be part of the city's Fourth of July festivities until 2007 when the event was postponed because of flooding.
"We pushed it to Labor Day, but then we had to postpone it again because of the same thing," Swain said. "Then we tried it one more time on Veterans Day. We had such good feedback. People really liked that were weren't out there when it was 105 degrees."
In 2008 what's now known as The American Heroes: A Salute to Veterans began as its own event. And Swain said it gets more popular by the year.
"It's grown to be such a big event," Swain said. "When you look at the enormous stage, the huge tents that we have to put up for this … we thought we would get much more bang for the buck if we had a two-day event."
The City Council agreed, voting to increase the funding to have it span over two days.
The Nov. 8 festivities begin with the carnival at 4 p.m. and a sponsor expo at 6 p.m. Cory Morrow takes the main stage at 6:30 p.m., and Jack Ingram headlines the evening at 8:30 p.m. In between the two performances will be an inaugural kickball match between The Colony police and fire departments.
"They've had a couple of other activities against each other so we wanted to get them included in the event," Swain said. "It should be a fun addition."
Things ramp up Nov. 9 with a heavier lineup. The day will begin with the "Honor and Remember" ceremony at 11 a.m. at Veterans Memorial Plaza. The guest speaker will be Dave Carey, a former Navy pilot who was a prisoner of war in Vietnam. Now he's an author and motivational speaker.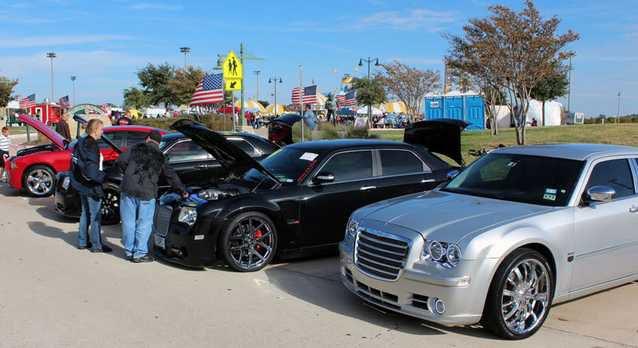 After the ceremony the carnival, Heroes Hut, silent auction and sponsor expo begins. Proceeds from the silent auction will go to the 22 Kill and Operation Comfort Warriors organizations.
Throughout the day there will be vendors, as well as live performances from local entertainers on the community stage.
Live music on the main stage begins at 1:30 p.m. with Sundance Head, followed by Shenandoah at 4 p.m. and John Michael Montgomery at 6:30 p.m. followed by a fireworks show.
Swain said the event has always been somewhat of a regional draw.
"There are other Veterans Day ceremonies, but they're geared toward the local communities," Swain said. "This is the biggest Veterans Day event around here that I'm aware of aside from the Dallas Veterans Day parade."
And now there are two days for people to enjoy it.
"We're excited to have another day," Swain said. "We hope people spend both days with us."