Flower Mound's Planning and Zoning Commission on Monday recommended amending standards in two subzones of Lakeside Village so that structured parking can be phased in. This would be done by allowing a temporary surface parking lot.
Jimmy Archie, managing director at Realty Capital, said the parking lot is needed to handle vehicles at the hotel and restaurants within the entertainment area, which will be located along the southern end of the project.
Lakeside Village is a 35-acre, $1.5 billion project located west of FM 2499, south of Lakeside DFW. It's set to include office and residential towers, single-family villas, restaurants, hotels, retail and public open space.
Archie said the original idea was for a tax increment reinvestment zone (TIRZ) district to finance all of the public infrastructure, including parking garages, up front. The commercial pieces would then be built, using money generated from that to pay back the TIRZ.
"That didn't happen, but the good news is we still have the demand down there," Archie said.
With the text amendment a 430-space temporary surface parking lot would be constructed to allow the restaurants and hotels to move forward.
"What we're trying to do is put all the public infrastructure in and put the parking in to serve the restaurants and hotels now so we can build those projects now," Archie said, "rather than phase in the infrastructure and work our way down to that area once those land pieces have been sold."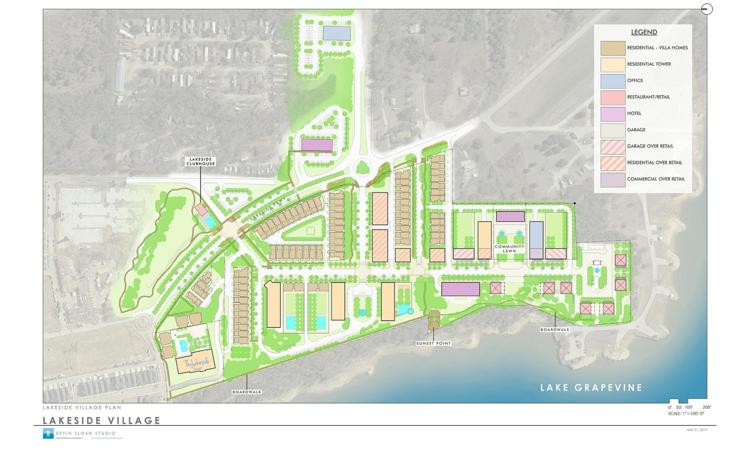 Archie said the parking lot would handle parking for a hotel, the amphitheater and two restaurants.
Archie said five additional restaurants at the far southern end of the project would be served by a 230-space underground parking garage, and he said those would be built at the same time.
As more value comes in, Archie said, the parking lot would be replaced by a second parking garage, plus more residential and commercial pieces.
Archie said the plan, pending council approval, is to break ground on the public infrastructure in the spring. He said the residential towers, commercial buildings and the parking lot will each have to come before P&Z for site plan approvals.
"The goal is to put all of the public infrastructure in in one phase," Archie said.
The commissioners recommended a sunset review of three years for the text amendment. The majority of the commission supported the change.
"It's a creative way to get the project done," said Commissioner Brad Ruthrauff. "They have the financing. And what's going to be built is what we want to see built first and foremost."
Commissioners Adam Schiestel and Philip Del Vecchio opposed the motion as they wanted the amendment to be contingent on completion of the underground parking garage.