There was a time when it looked like Lewisville ISD seniors may not get to formally celebrate reaching the end of their long academic journey.
The COVID-19 pandemic had forced the cancellation of previously scheduled graduation ceremonies at the University of North Texas, and seniors were faced with the possibility of not getting to walk the stage.
But when Texas Motor Speedway, Denton County and local school districts reached an agreement to have the ceremonies at TMS, suddenly that special moment was back on.
It was different, but appreciated.
"It was awesome," said Bostyn Burris, who graduated from Marcus High School. "It wasn't your traditional graduation, but it was something I'll always remember."
Students said the effort by administrators to pull the ceremony together was important.
"I'm really grateful," said Gavin McDaniel, who graduated from Flower Mound High School. "A lot of my plans for the summer got canceled, but to know that they were working hard to make something happen really means a lot."
But it was a challenge to pull it all together.
"It took weeks and weeks of meetings to handle all the logistical pieces among TMS and all the schools involved," said Superintendent Kevin Rogers. "But at the end of the day, we could not have asked for a better outcome."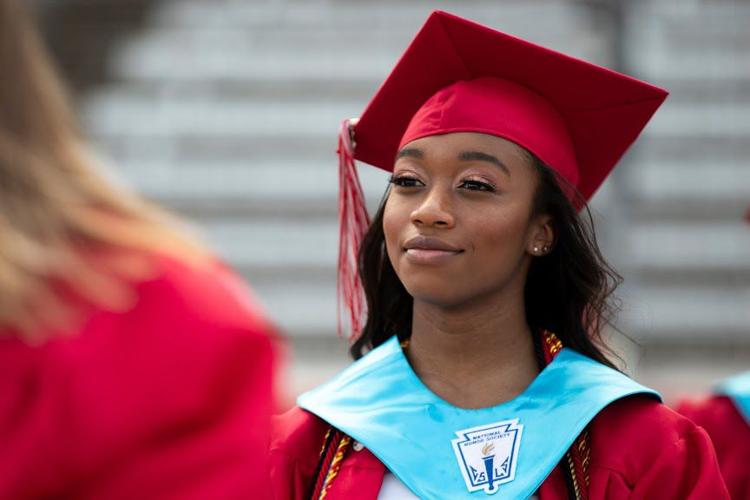 Rogers said it was important that the seniors got recognized especially after the unusual spring semester they had.
"Graduation is the culmination of a student's K-12 experience, and it is always my favorite time of the year," Rogers said. "We know when students leave LISD, they are ready for whatever comes next in their lives. These seniors had to deal with a lot of uncertainty and missed several milestones that most students look forward to. So for Texas Motor Speedway and our great Denton County leaders to come through with a unique way to end the year on a positive note – it was huge. I've heard from so many grateful families, and I am grateful, too."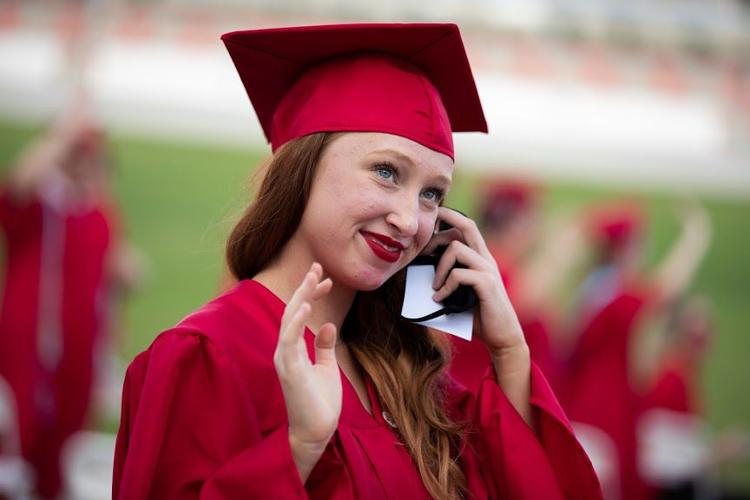 TMS was used because of its large footprint and ability to provide social distancing. Students sat 6 feet part on the race track during the ceremony, and students were provided face masks.
Video of the ceremony was played on "Big Hoss," TMS' 12-story, 218-foot wide video screen.
Families parked in the infield, and they honked their horns – or air horns brought from home – once their graduate's name was called out.
"My favorite part was just grabbing my diploma," Burris said. "That was the end of 13 years of hard work. So finally finishing that and having proof that I finished it was great. And I liked crossing the finish line and getting to wave to my parents."
Students said they while they understood the need for social distancing, they wish they could have been a little closer.
"It was hard not being able to see my friends and not being able to go up and give them a hug since we hadn't seen each other in a while," Burris said. "They did a good job of keeping us apart by 6 feet, but it stunk not being able to see people I haven't seen since spring break."
LISD staff members monitored the students as they prepared for graduation. 
"I think it worked about as well as it could," Rogers said. "When you have that many people in one area, you do your best to put guidelines in place, and then you depend on the people involved to follow those guidelines and make good decisions."
But at the end of the day, the students were happy the district persisted in giving them an in-person ceremony.
"My favorite part was just getting to see everyone in person," McDaniel said. "A digital ceremony just wouldn't have been the same. It could have been anywhere, but this was all about the people."