Inside Mark Clark's Flower Mound home is a room that resembles an antique musical instrument museum.
Clark has built all of the instruments over the years, and he is proud of them. So much so that he names them all.
"Dixie is my favorite, but don't tell the others," he said, laughing.
But upon closer inspection, there's something different about Dixie and the other 15 instruments that are showcased underneath a spotlight. They're not made of the standard materials usually found on acoustic and electric guitars.
Some of the parts were found on the side of the road.
Clark, 59, is part of a growing community of musicians who use old materials to create new instruments. He custom makes his items.
For example, Dixie is a banjo using a drum head for the banjo and a dresser drawer pull for the tailpiece. There are trumpet pieces randomly attached to the bottom of Dixie, which Clark said was simply to reflect his goofy sense of humor. 
A cigar box serves as the banjo's body.
In fact, Clark said the cigar box is the common theme to the homemade instrument movement everywhere.
Clark said he bought a cigar box at a garage sale and used it to make his first guitar. He was hooked, he said.
Clark said he uses different types of wood based on the cigar box he gets – cedar, oak, walnut, mahogany. Sometimes he puts finish on the box, other times he leaves it as is.
The neck of the guitars come from whatever he finds – a chair leg, mirror uprights.
Clark said these homemade instruments have a history that go back to the late 1800s when slaves would make them out of found objects. Now, companies sell kits to make them, and it's a growing trend.
"A lot of people are guitar players, but they don't think they have the skills to build a guitar," Clark said. "Being a luthier takes years. But if you have basic knowledge in carpentry and instruments, you can build a three-string guitar. It just takes patience."
And a keen eye for junk. Clark has built several guitars with objects that few would think ever belong in music.
There's Lolli, a three-string guitar that uses an antique mold as the body, an antique trivet as the sound hole cover and old radio knobs for the guitar's volume knobs.
"When I saw that, I saw a guitar," Clark said of the mold. "If it can be repurposed, I'll find a way."
Then there's Big Ben, a six-string guitar that has an antique clock face embedded into the cigar box body. Clock gears are used as the sound holes, and they are also inlaid along the neck. 
Tootsie is a guitar made out of an old wooden salad bowl, a cutting board, a trivet and a drawer pull.
"I saw it curbside, so I went over there with a screwdriver," he said. "That's one less thing in the landfill. I'm doing my part."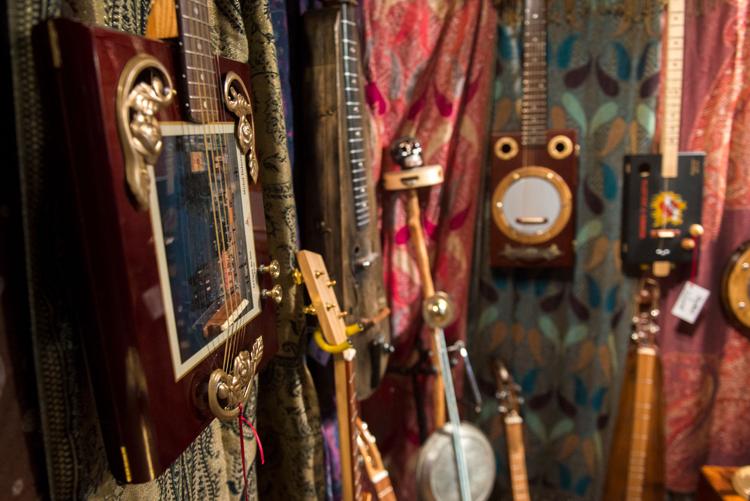 Another piece is The Hunter, a guitar Clark built at the request of his friend Todd Hamilton, a pastor at Elevation Church in Flower Mound.
The guitar used a cigar box, arrowheads, deer antlers, boar tusks and turkey feathers. It was finished in camouflage paint, and on the back a picture of Jimmy Martin's family, friends of Clark's and Hamilton's, was laminated. The guitar was given to Martin in September 2014, three months before he died.
"Mark is incredibly talented," Hamilton said. "He sees something that the general public sees as trash, and he sees it as a treasure that needs to be transformed. I'm not at all surprised at what he is able to do, and when I saw what he used to make The Hunter, I was blown away."
Clark doesn't limit his creations to guitars. He went outside the box, literally, when he built Gertie, a hurdy gurdy that takes its shape from a violin case. He used an old coffee grinder for the crank, which turns the fiddle wheel that vibrates strings to produce a sound. Side buttons press tangents against the strings to change notes. 
And on those days Clark wants to add some rhythm, there's the stumpf fiddle, which is a long stick with a several other pieces attached for a variety of percussion sounds. He's built two of them and has used pie plates, door screens, a bois d'arc, a child's banjo and a child's triangle.
He also made a one-string diddley bow using an outdoor faucet handle, a water nozzle and garden sheers (without the blades) – all attached to a shovel handle.
"When I'm at festivals, I like the look on people's faces when I tell them what items I used to build these," Clark said.
Some of the smaller instruments can be plugged into an amp, which Clark makes out of antique radios and clocks.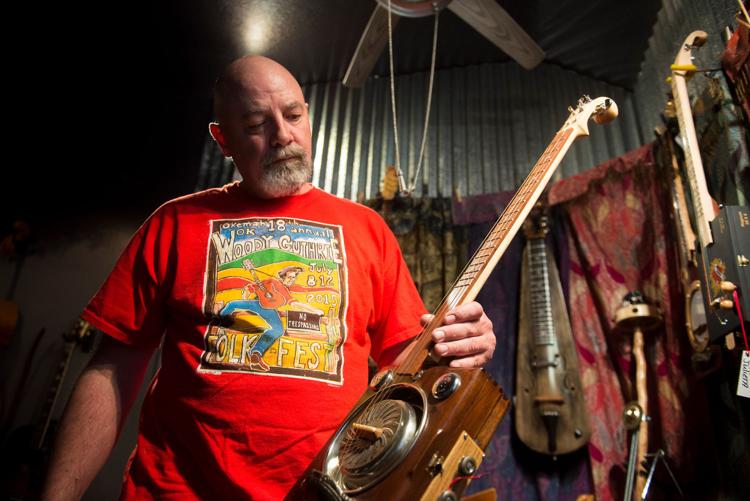 Clark said all of the instruments are playable, which he is easily able to demonstrate given his musical background. He played in bands growing up and has written his share of songs.
"I would be a full-time songwriter if I could," Clark said.
Instead, he builds the instruments, plays them and shows them. His next chance to display his work will come Oct. 15-16 at the Edom Festival of the Arts in Edom, Texas. Clark was one of 60 artists selected by the artist jury to participate in the festival out of hundreds who submitted their work.
He hopes people buy his work. He also hopes they play it once they buy it.
"They need to be in the hands of musicians," Clark said. "It's a good conversation piece, but they need to be played because there is beauty in their sound."
To see more of Clark's work, go to meloddities.com.